Is this famous Memphis dive bar haunted? A twice-told ghost story.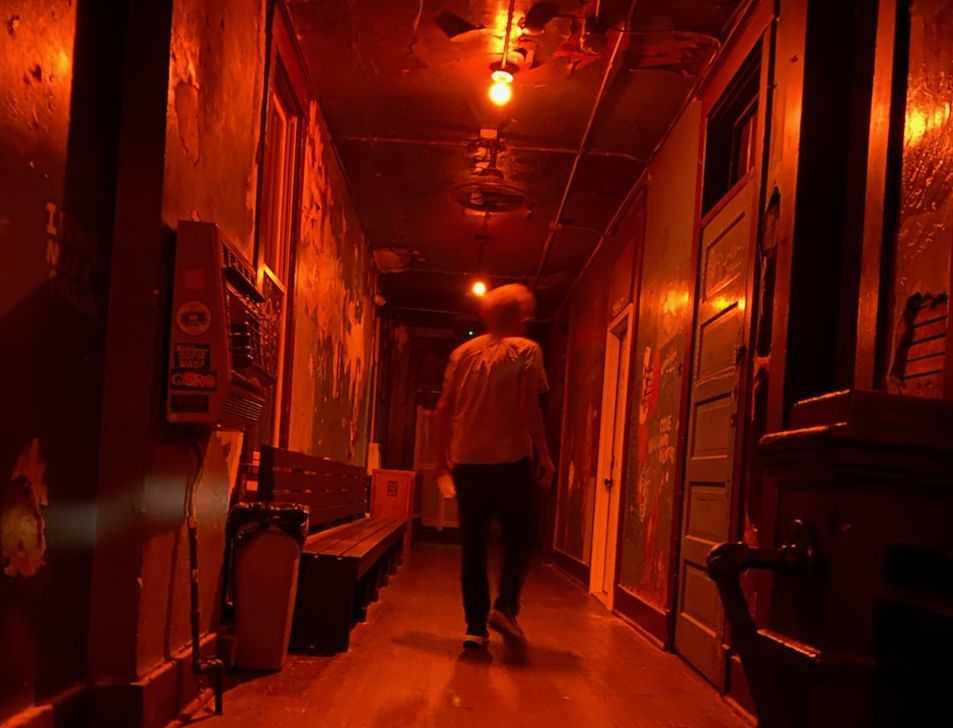 Julian. It was after 9 at night, but Mark wanted to check out Earnestine & Hazel's in Memphis. I wanted to do laundry, write, and go to sleep. But I said yes. Mark was excited.
Mark. It's true. I was excited. Earnestine & Hazel's is a dive bar in Memphis with a wild history. It used to be a brothel and an after-hours hangout for Wilson Pickett, Otis Redding, and Ray Charles, among others. The Rolling Stones paid a few late-nights visits, inspiring "Honky Tonk Women": "I met a gin-soaked barroom queen in Memphis. She tried to take me upstairs for a ride." It's also haunted, or so they say: Patrons report hearing unexplained noises on the second floor; the jukebox plays on its own; and, a few years ago, bones were discovered in the walls. Why wouldn't I want to go?
J. The place was empty. The cook, who's also the doorman, was outside smoking when we pulled up. I asked him if it's normally like this. He said Wednesdays are slow, but it's live on Fridays and Saturdays. He told me to check out the faded photos on the wall: B.B. King, Danny Glover, Ella Fitzgerald, Woody Harrelson.
M. I ordered a Knob Creek, and a Coke for Julian.
J. The jukebox was awesome. Old and broken. You couldn't flip through it. Didn't matter. The cook said it had a mind of its own. You punch in the numbers and it plays whatever it wants.
M. The bartender said the second floor was closed, but we could walk up if we wanted. There are "spirits," she said, but they wouldn't hurt us. She handed me a photo that, she said, shows a ghost, a spectral presence. I couldn't see it.
J. I've seen "The Skeleton Key." That stuff only works if you believe it.
M. For the record, I didn't believe it either.
J. I ordered an Uber for 10:30 and we went upstairs.
M. There's a long, dark hallway. The walls are all messed up, with holes in the plaster. A few doors were padlocked. Others were open. There was a grimy old tub in one room, a dingy, derelict fridge in another.
J. It's definitely creepy, but nothing a few light bulbs and some paint couldn't fix. We looked in a few of the rooms and tried to imagine what terrible things happened. It wasn't hard. One room looked like ground zero for a million walks of shame.
M. It was grim. A slashed-seat leather couch, ashtrays, a busted lamp, and nicked-up coffee table.
J. All of a sudden, Mark did one of those horror-movie head swivels. "Did you hear that?!"
M. It was crazy. We were standing in the doorway and a woman's voice said, "Hey!" Not a whisper. Clear and loud, as if she were right next to me. I jumped. Freaked out. I asked Julian if he heard it.
J. Nope. I told Mark I've seen this movie. I'm Black. If I say yes, I die in five minutes and he's running from a ghost for the next two hours. I only survive if Jordan Peele's directing.
M. It was terrifying. For real. Nothing like that had ever happened to me. Julian thought I was doing a bit.
J. I told him our Uber's here. He kept trying to get me to say I heard something. I kept trying to get him to the Uber.
M. Downstairs, I felt dizzy. I waved weakly to the bartender and kept walking. She waved back. She wasn't kidding. There are spirits, I thought.
J. Ghosts. Cool story, bro.
Join the discussion: Comment on this story.
Credits
Reporters:

Julian Benbow, Diti Kohli, Hanna Krueger, Emma Platoff, Annalisa Quinn, Jenna Russell, Mark Shanahan, Lissandra Villa Huerta

Photographers:

Erin Clark, Pat Greenhouse, Jessica Rinaldi, and Craig F. Walker

Editor:

Francis Storrs

Managing editor:

Stacey Myers

Photo editors:

William Greene and Leanne Burden Seidel

Video editor:

Anush Elbakyan

Digital editor:

Christina Prignano

Design:

Ryan Huddle

Development:

John Hancock

Copy editors:

Carrie Simonelli, Michael Bailey, Marie Piard, and Ashlee Korlach

Homepage strategy:

Leah Becerra

Audience engagement:

Lauren Booker, Heather Ciras, Sadie Layher, Maddie Mortell, and Devin Smith

Newsletter:

LaDonna LaGuerre

Quality assurance:

Nalini Dokula

Additional research:

Chelsea Henderson and Jeremiah Manion
© 2022 Boston Globe Media Partners, LLC