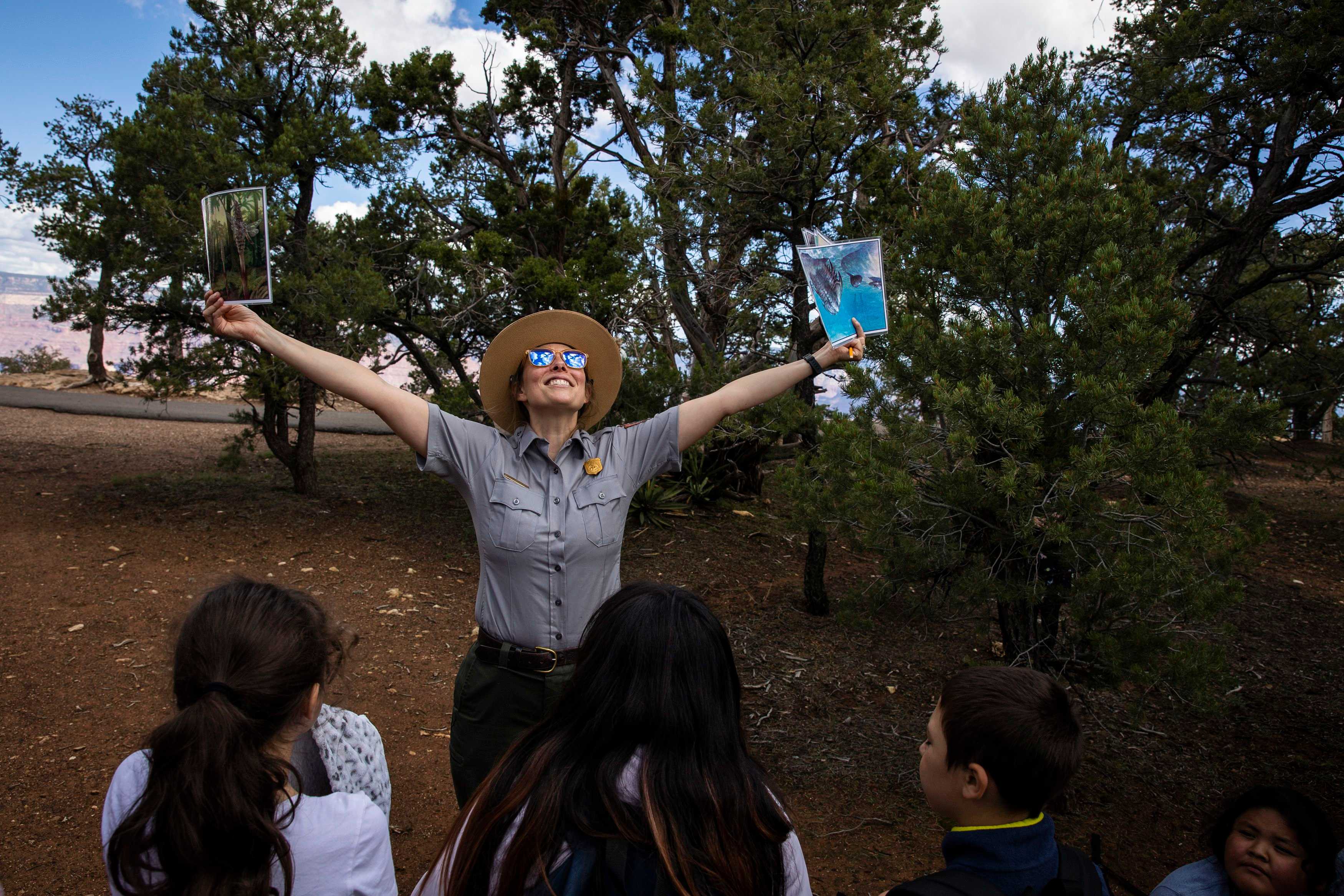 Los Angeles team
Nov. 3, 2022
Every day's a field trip for fourth-graders who live at the Grand Canyon
GRAND CANYON, Ariz. — There are only 20 of them, but as the fourth-graders scurry along the Rim Trail here, it feels like there must be at least a hundred.
At times their unflappable teacher has to tell them to please get off the rocks and walk on the pavement "for safety." They're on a geology field trip, and as they gathered around a park ranger she issued a warning, too. "We're not touching the agave — it's sharp!"
If there's a group of students that already knows the wonders and dangers of the Grand Canyon, it's this one. Most of them live right here, within the boundaries of the park. And their school — just an eight-minute bus ride away — has the distinction of being in the only K-12 district within a national park in the United States.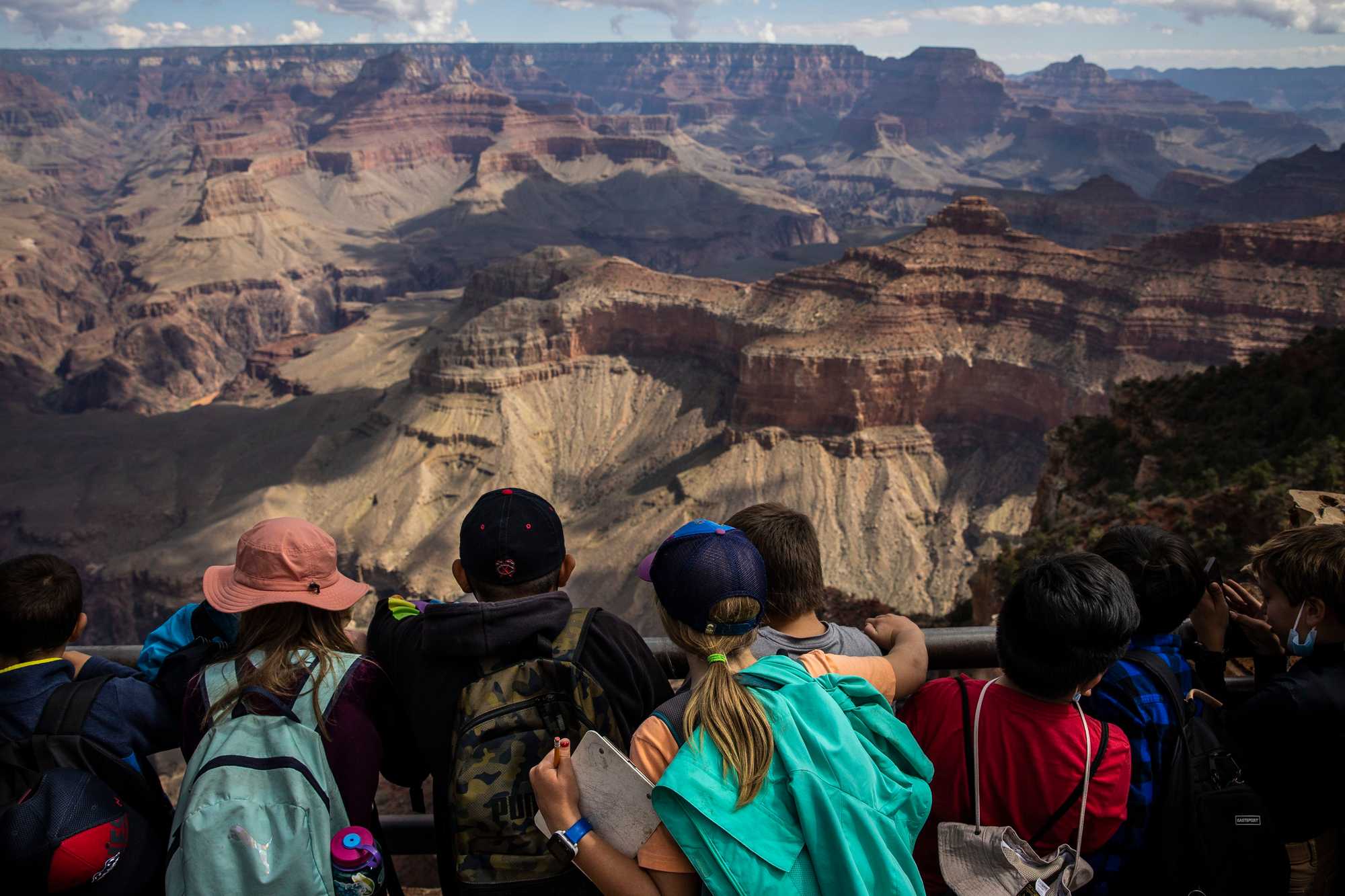 "I don't know if they truly appreciate or realize that they're having a very unique experience as American kids," said Carolyn Harmon, their teacher. "I think it will be something they realize when they go away to college and someone asks them where they were raised."
But for now, the kids behave like kids anywhere else, Harmon said. "They're still interested in Minecraft. They still want to eat Takis every day."
They also still like a good ghost story. Jeremiah, 9, said he likes the Grand Canyon because it is haunted, although he suspects there are other places that are more haunted, such as the state of Pennsylvania.
Others in the class agreed.
School life is otherwise not exactly typical. Like plenty of teachers, Harmon carries a backpack stocked with extra pencils and snacks. But she also lives in what she affectionately calls a "compound" with the other teachers, with her school district as her landlord.
Here, as elsewhere, graduation photos are an important annual tradition, but they recently had to be moved away from the rim of the Grand Canyon because the elk were starting to get too close.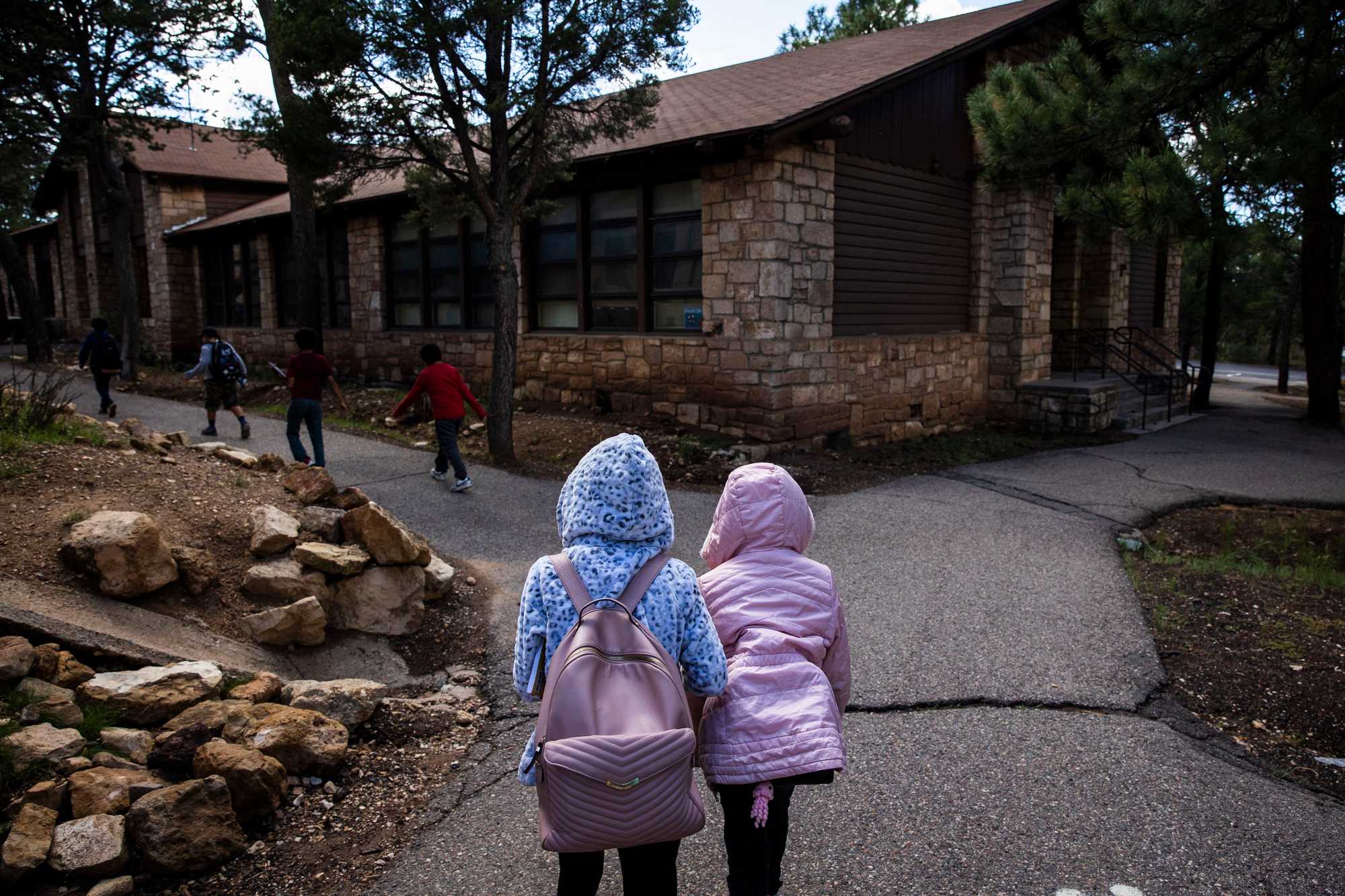 The public school district is older than Grand Canyon National Park, which received that designation more than a century ago, in 1919. And many of the students are the children of park rangers. In a place that can see more than 6 million visitors a year, the district has just over 250 students across all its grades.
The school district works to incorporate the demographic background of the student body into its curriculum — about a third of students are Hispanic, a third Native American, and a third white. Still, there are always lessons to learn: Some years ago, for example, the school administration was slow to realize that Navajo students were going to miss class the day of a solar eclipse, because the event is sacred in their culture. The school scrambled to shut down for the day.
There are also frustrations that come from living in a national park. For the district's sports teams, the Phantoms, named after the park's Phantom Ranch, an away game requires an overnight ride. It can be difficult to recruit teachers and administrators, in part because housing is limited to park-affiliated employees and their families. And to get reliable Internet, the superintendent had to personally travel to Washington, D.C., to lobby the FCC.
But there are perks, too, at least from the kids' perspective: School is only Monday through Thursday, not only so that families can spend more time enjoying the park, but so that on Friday families have time to drive to Flagstaff or Phoenix for groceries or doctor appointments. ("We all run into each other at the dentist in Flagstaff," Harmon said.)
Back on the South Rim of the Grand Canyon, it was almost lunch time and the kids were getting antsy.
"We just want to eat!" protested one, hearing of yet another activity they had to do.
The park ranger passed out tambourines and rattles and other musical instruments, explaining that each represented a different part of what created the Grand Canyon ("heat!" "and pressure!" and "the mighty, mighty Colorado River!"). The ranger asked them not to play the instruments until they heard their role called, but the temptation was too great, and many of them began to shake and fiddle with them anyway.
The nearby tourists probably assumed the kids were just another group of visitors, not realizing that they were walking past resident experts.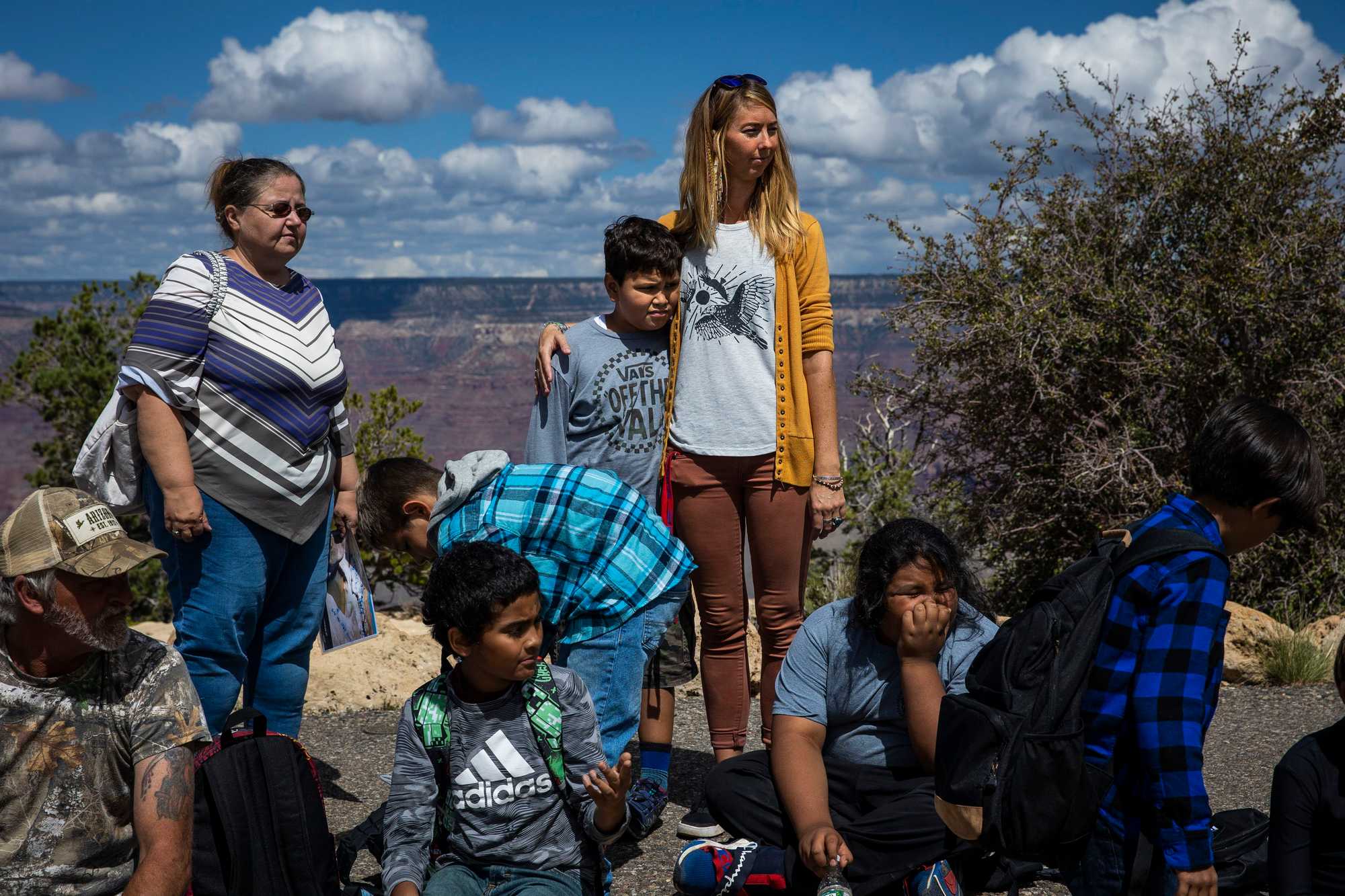 Additional reporting by Annalisa Quinn
Join the discussion: Comment on this story.
Credits
Reporters:

Julian Benbow, Diti Kohli, Hanna Krueger, Emma Platoff, Annalisa Quinn, Jenna Russell, Mark Shanahan, Lissandra Villa Huerta

Photographers:

Erin Clark, Pat Greenhouse, Jessica Rinaldi, and Craig F. Walker

Editor:

Francis Storrs

Managing editor:

Stacey Myers

Photo editors:

William Greene and Leanne Burden Seidel

Video editor:

Anush Elbakyan

Digital editor:

Christina Prignano

Design:

Ryan Huddle

Development:

John Hancock

Copy editors:

Carrie Simonelli, Michael Bailey, Marie Piard, and Ashlee Korlach

Homepage strategy:

Leah Becerra

Audience engagement:

Lauren Booker, Heather Ciras, Sadie Layher, Maddie Mortell, and Devin Smith

Newsletter:

LaDonna LaGuerre

Quality assurance:

Nalini Dokula

Additional research:

Chelsea Henderson and Jeremiah Manion
© 2022 Boston Globe Media Partners, LLC