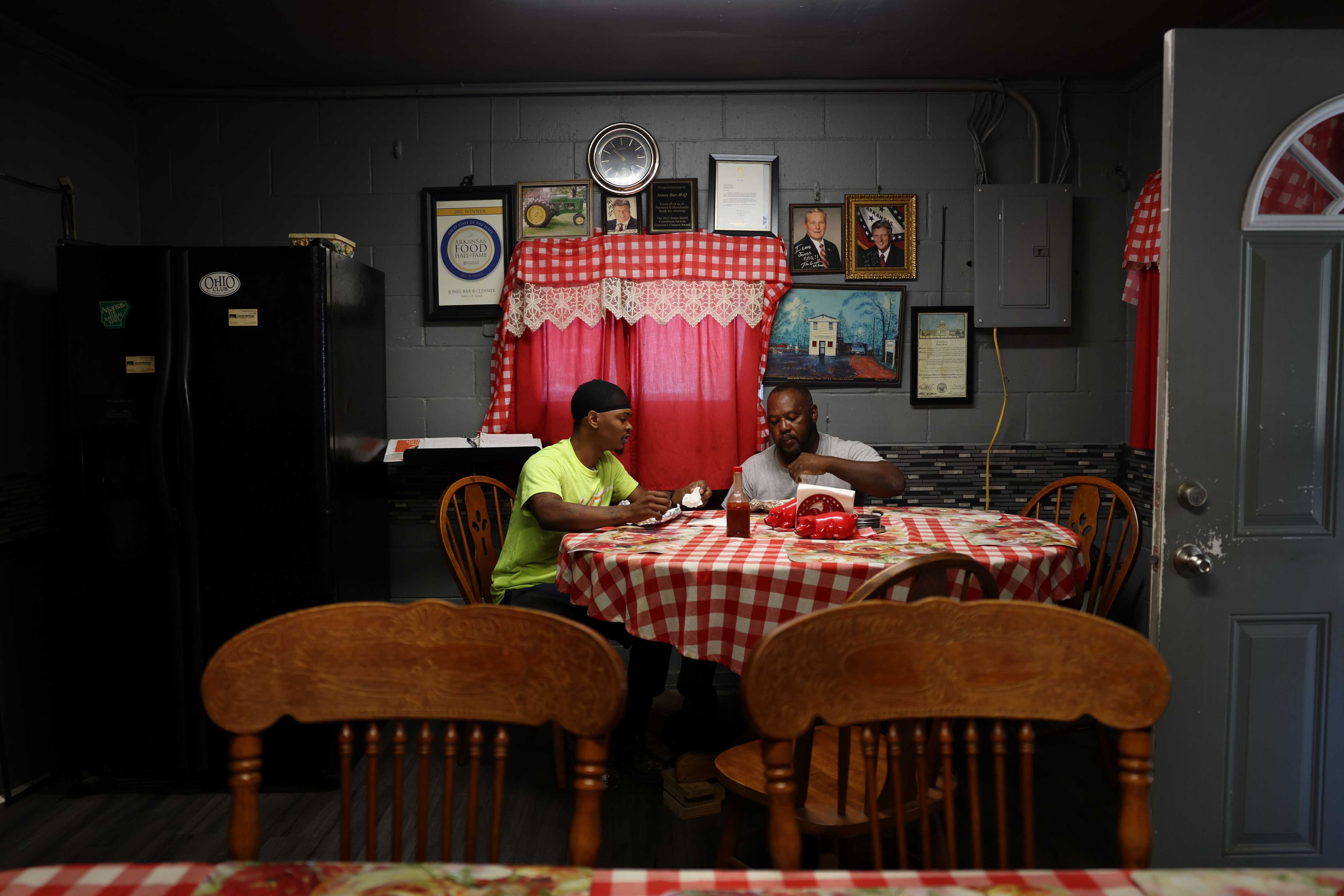 Just chopped pork? Yup, and at Jones' Bar-B-Q Diner, it's perfect
MARIANNA, Ark. — Pulling into the gravel driveway of Jones' Bar-B-Q Diner, you wonder if you're in the right place.
This cinder-block building with a worn picnic table in front and a jumble of stumps and split wood out back is the ballyhooed barbecue joint that in 2012 won the first James Beard Award in Arkansas history?
Yup, this is it.
On a ramshackle residential street in this poor Mississippi Delta town of no more than 3,000, mostly Black residents, 77-year-old James H. Jones is proprietor and pitmaster of the restaurant — deemed an "American classic" by the Beard Foundation — that his grandfather, Walter Jones, founded in 1910.
Today, it's actually a fourth-generation family member, Jones's son, James Jr., who greets us. A 47-year-old middle school teacher, bus driver, and basketball coach in Pine Bluff, James explained that his father has some health issues — nothing serious — that would keep him away from the restaurant for a few weeks.
Simple and unpretentious doesn't quite describe Jones' Bar-B-Q Diner. But authentic does. There are only two tables and the menu isn't long: chopped pork. That's it. A couple of faded photos and tributes hang on the wood-paneled walls, including a rave from Governor Asa Hutchinson and a framed plate bestowed by the Arkansas Food Hall of Fame.
"He couldn't pick up the award 'cause he was still cooking," James said of his father. "He didn't know he was gonna get it, and he'd already started cooking and couldn't leave the pit."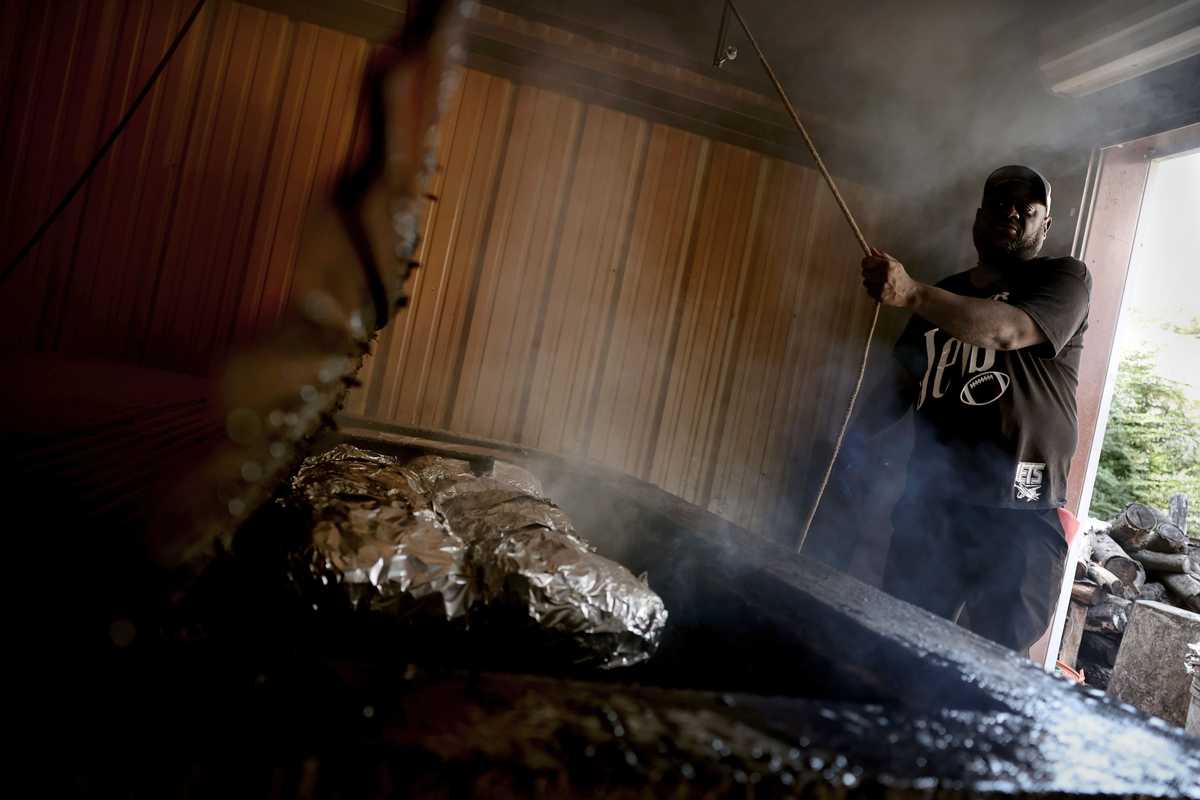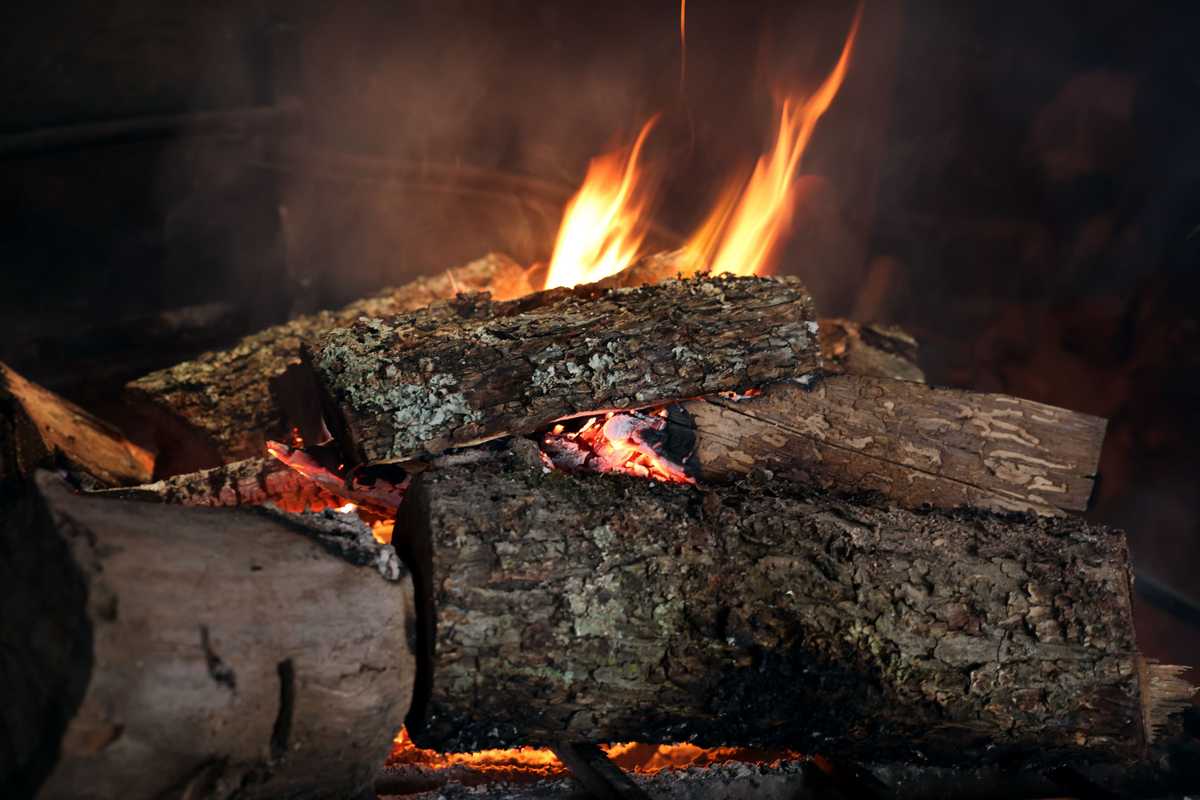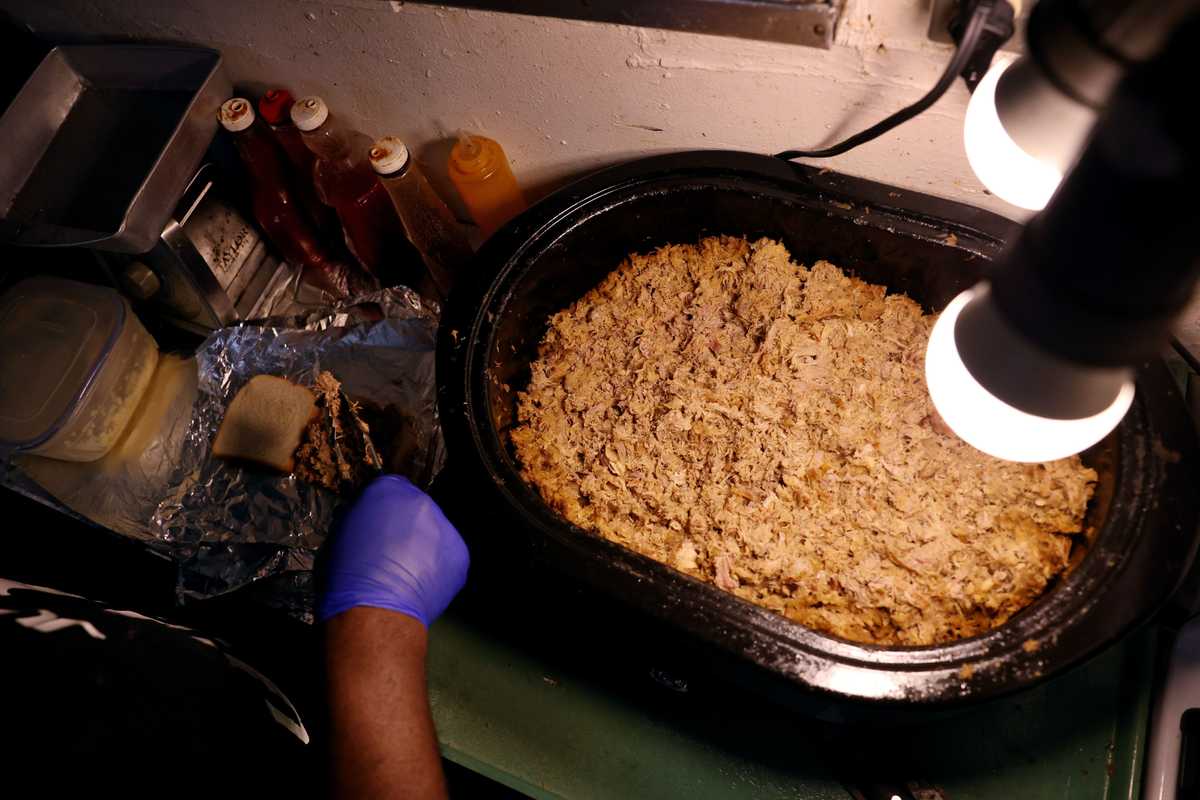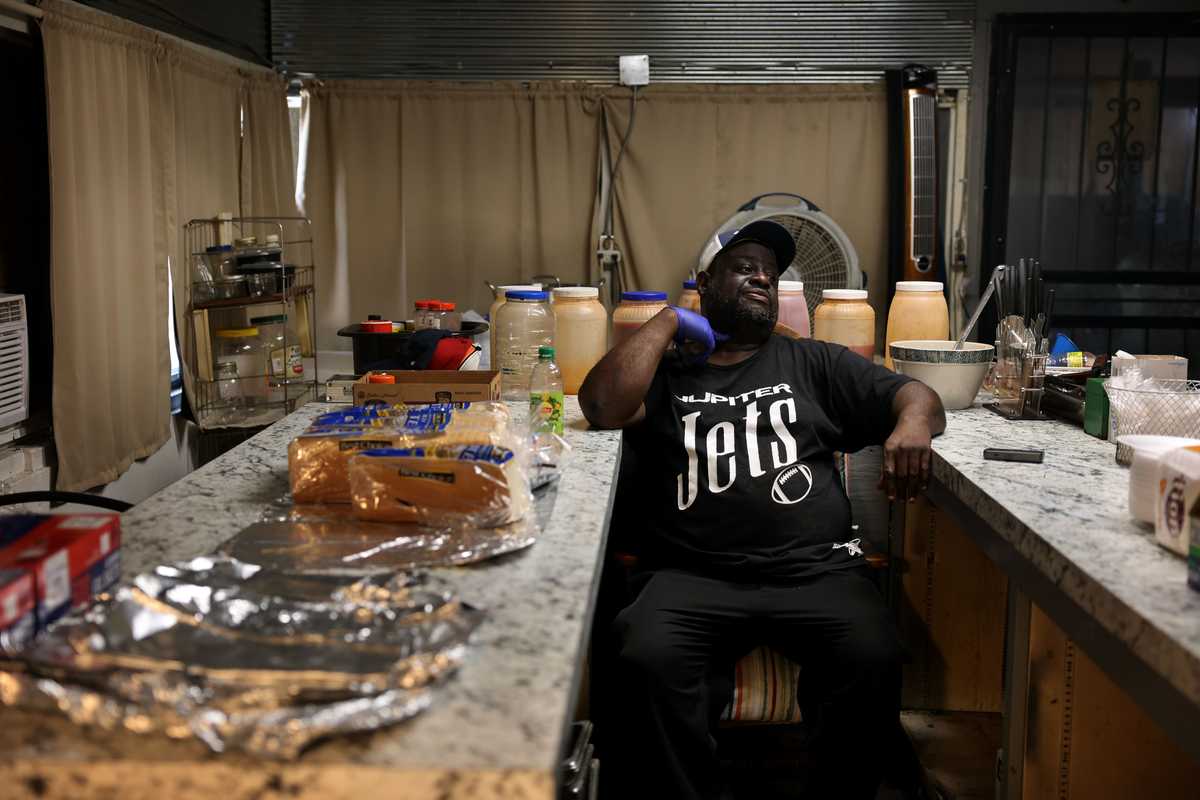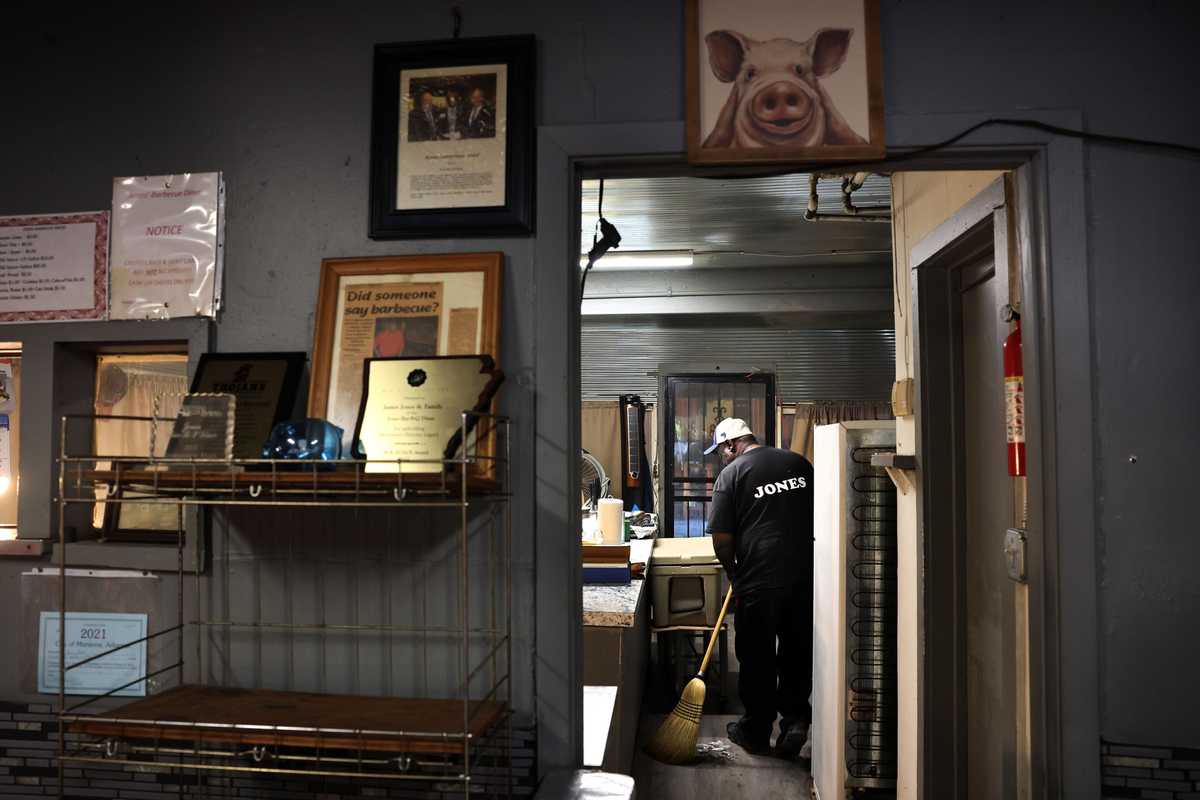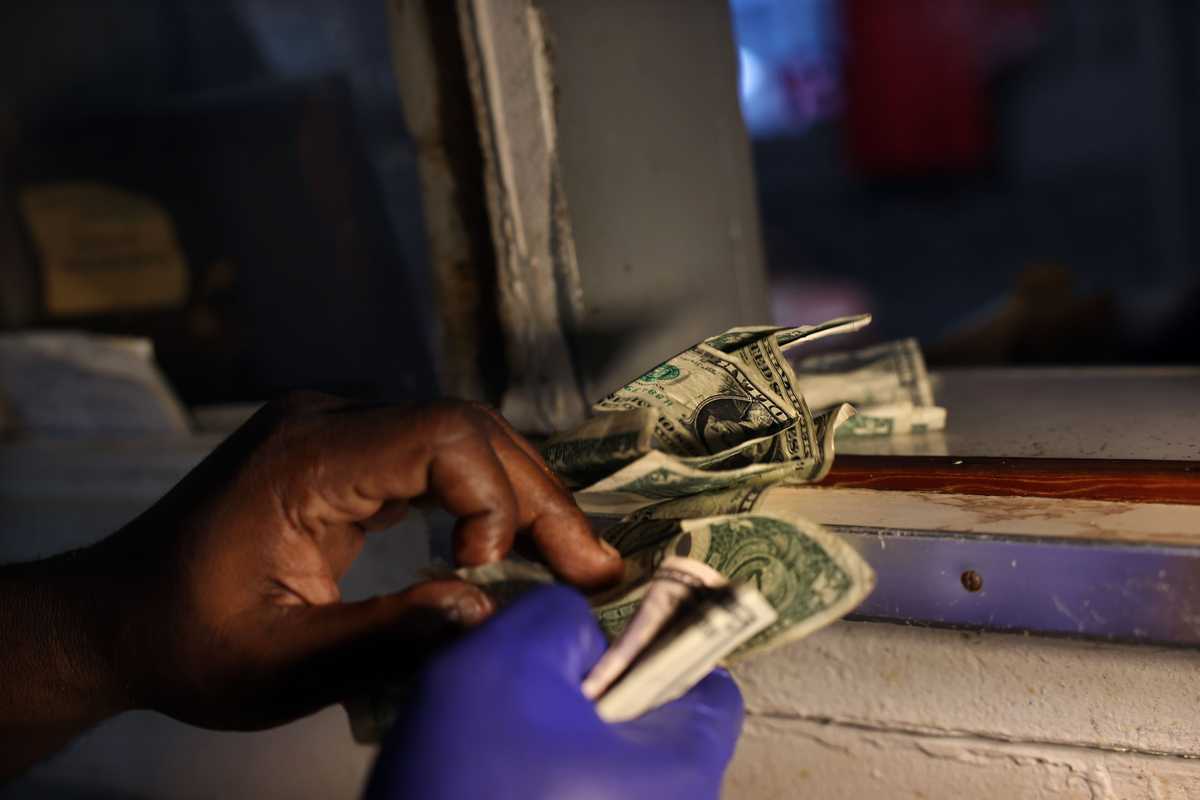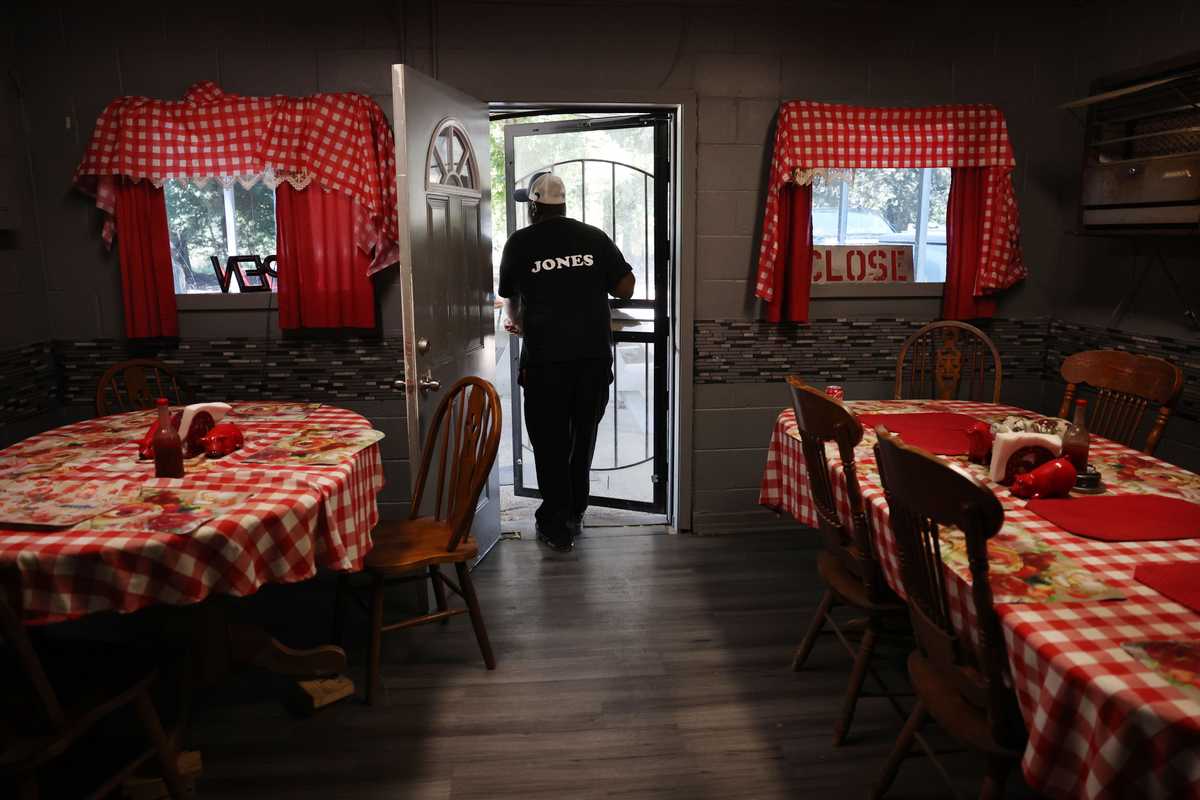 A door leads into a small kitchen, where the Boston butts and shoulders that are smoked out back in a converted garage for eight hours are finely chopped, then seasoned with a tangy vinegar-based sauce, before being served — with a dollop, or not, of homemade coleslaw — between two pieces of store-bought white bread and wrapped in foil. Trust me, it's damn tasty.
"I heard about this place on the news," said Melvin Isom, a contractor from Wynne, Ark., who walked in for lunch with his son, Marcus. "We're doing a job in Marianna and wanted to try it."
"It's real good," he said, grinning.
James, who's on leave from his teaching job while filling in for his father, got up today at 4:30 a.m. to kindle a fire in the fireplace. Throughout the day, white-hot coals are shoveled into a concrete smoker that's covered by a charred tin plank to maintain the heat at 400-plus degrees. His father burns a combination of oak, hickory, and, sometimes, pecan, to achieve the flavor his customers have come to expect.
And there's no shortage of customers. The front door opens at 7 a.m. and people on their way to work at the nearby prison or schools are usually waiting. "We got people coming in every day for years," James said, "like the guy on the garbage truck comes in every day and gets one without slaw and a drink." (There are cans of Coca-Cola in the fridge.)
Jones' Bar-B-Q Diner stays open until the meat's gone, which is often by 1 p.m. On a normal day, James says, his father will cook a few hundred pounds of meat, but it can be twice that on holidays and weekends. This isn't fancy food. No special brisket injections, sauces, or marinades. No truffle fries or side salads.
"No, sir," James said. "We kept it like it is. We ain't changed nothing. It's just my dad operating it by himself, or me, so we kept it simple."
The Beard Award was good PR, but the restaurant started getting attention a few years before, when John T. Edge, founding director of the Southern Foodways Alliance and the author of several books about southern food, wrote a terrific essay touting the joint. (Edge believes it's one of the oldest Black-owned restaurants in America.)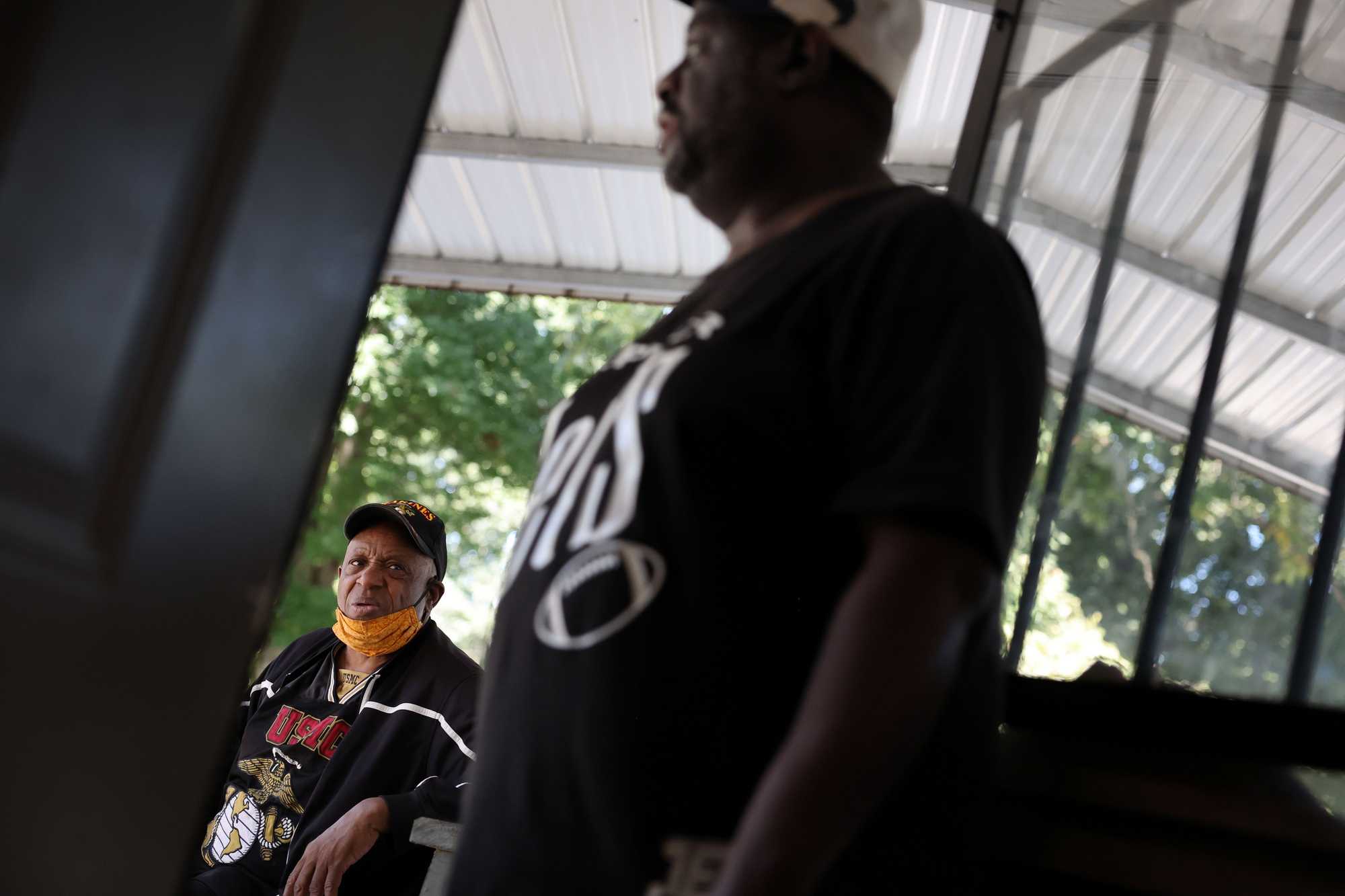 "People reading that wanted to know where it was," James said. "Then after that James Beard Award, business kind of took off."
We were just about to leave when Jones's 72-year-old cousin, Irish Williams, pulled up in a pickup. A retired high-school principal known to folks around here as "Coach I," Williams offered his opinion of the family business.
"You got to come here not 'cause they're kinfolk," he said, "but because it's goood."
Join the discussion: Comment on this story.
Credits
Reporters:

Julian Benbow, Diti Kohli, Hanna Krueger, Emma Platoff, Annalisa Quinn, Jenna Russell, Mark Shanahan, Lissandra Villa Huerta

Photographers:

Erin Clark, Pat Greenhouse, Jessica Rinaldi, and Craig F. Walker

Editor:

Francis Storrs

Managing editor:

Stacey Myers

Photo editors:

William Greene and Leanne Burden Seidel

Video editor:

Anush Elbakyan

Digital editor:

Christina Prignano

Design:

Ryan Huddle

Development:

John Hancock

Copy editors:

Carrie Simonelli, Michael Bailey, Marie Piard, and Ashlee Korlach

Homepage strategy:

Leah Becerra

Audience engagement:

Lauren Booker, Heather Ciras, Sadie Layher, Maddie Mortell, and Devin Smith

Newsletter:

LaDonna LaGuerre

Quality assurance:

Nalini Dokula

Additional research:

Chelsea Henderson and Jeremiah Manion
© 2022 Boston Globe Media Partners, LLC