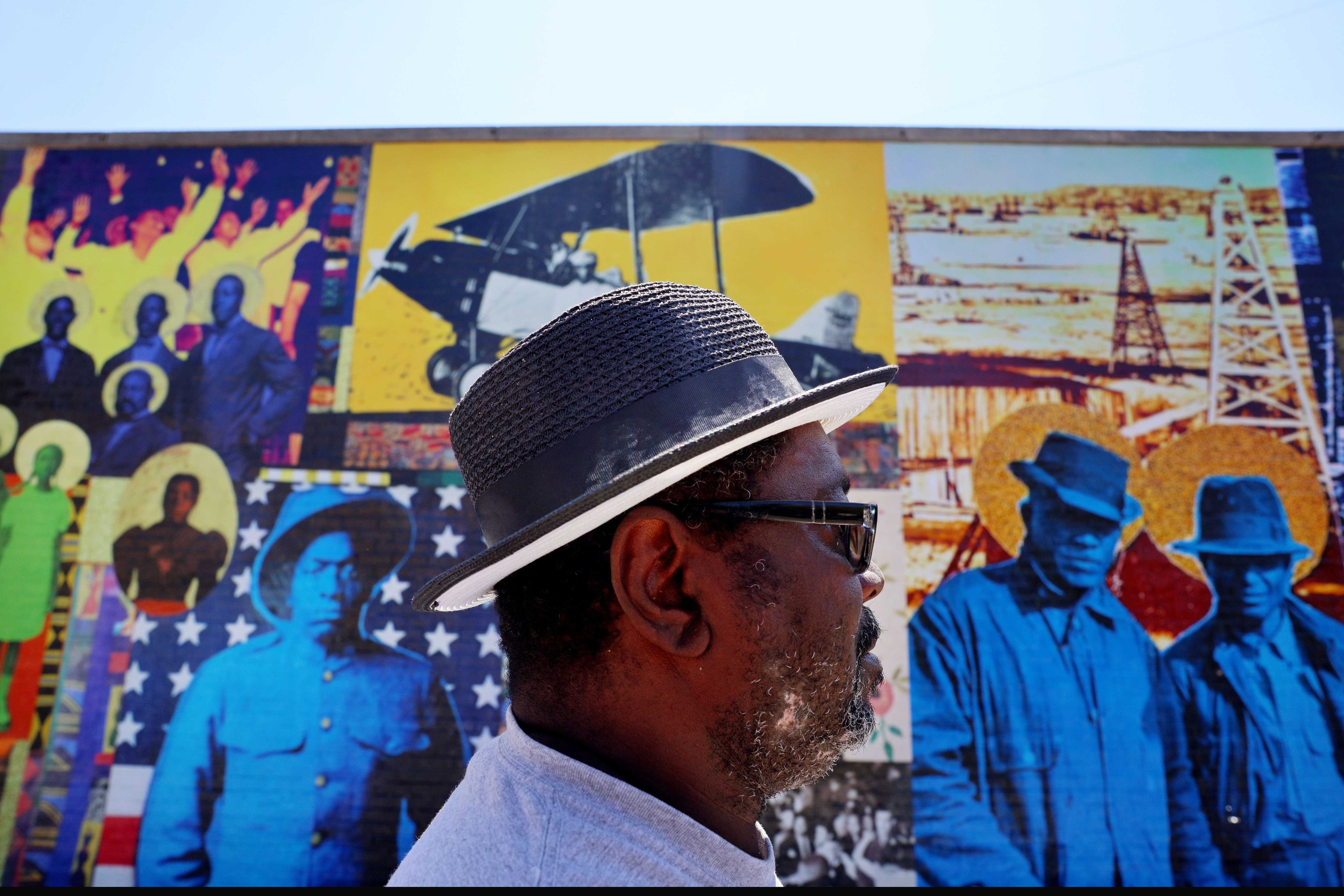 Tulsa's Black Wall Street was once 35 blocks of wealth. Now it's two.
TULSA, Okla. — For a century, the Tulsa Race Massacre was an ugly part of America's history that the country did its best to forget.
The Greenwood District of Tulsa used to be called "Black Wall Street" — some 35 blocks of Black-owned businesses and banks, hotels, movie theaters, cafes, and private homes. It was one of the most prosperous African-American communities in the country.
But then on a day in May 1921, a 19-year-old Black man was accused of assaulting a white woman. The charges were later dropped, but that didn't matter: A mob of white residents soon descended on the area, firebombing schools, businesses, and more than 1,200 homes. Rioters threatened to kill firefighters who came to help, forcing them to leave.
By the time it was over, two days later, at least 36 people were dead, according to official counts. Witnesses put that number at closer to 300, and some think it could be even higher.
"Three hundred?" said Isaiah Harris. "More like 3,000."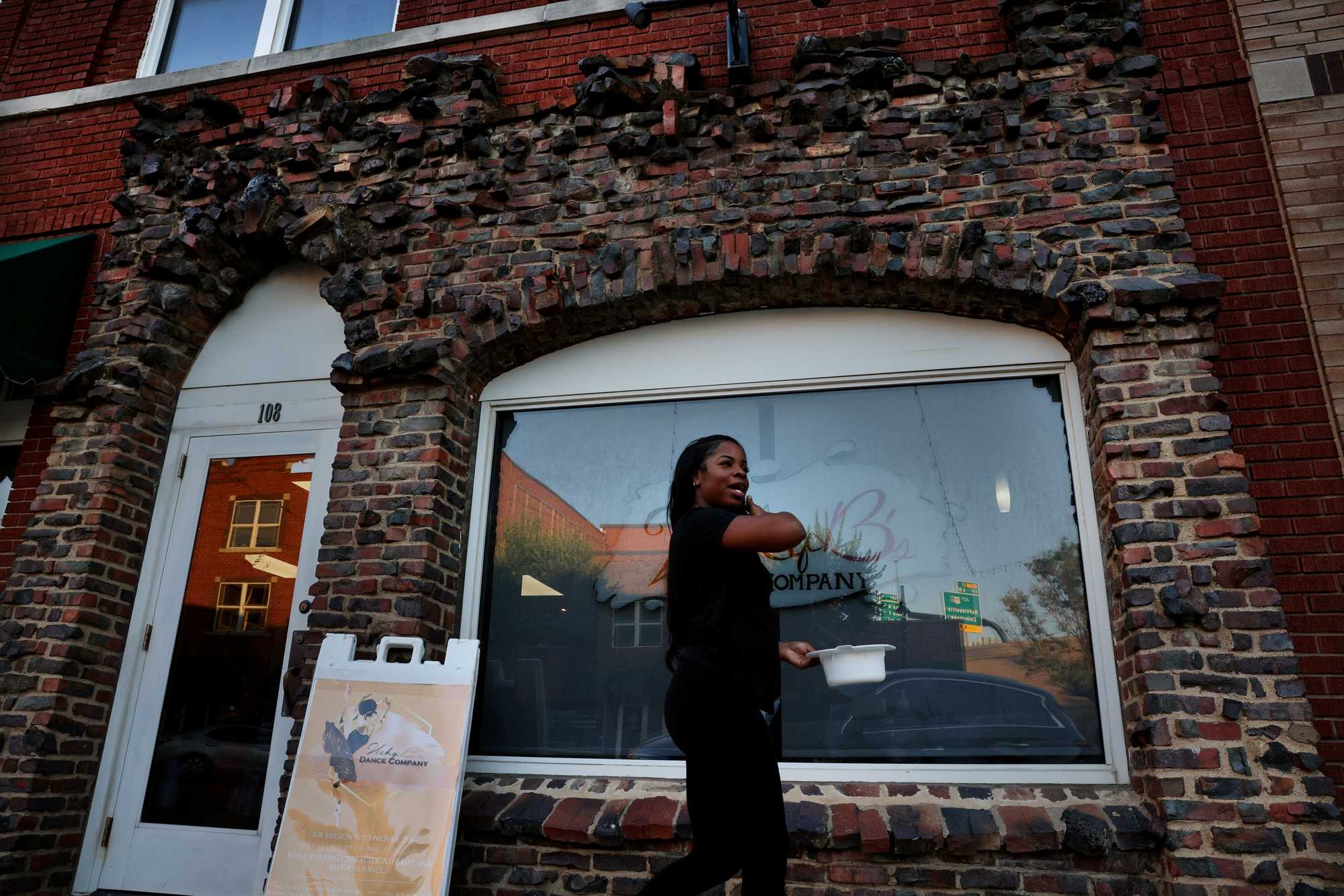 Harris sat in front of his father's shop, Black Wall Street Tees & Souvenirs, in the Greenwood District of today. Where once there were 35 blocks, now there are two.
Although the community immediately built back in the 1920s, a slower kind of destruction took over — one of eminent domain, and "urban renewal," and gentrification. The two blocks of Greenwood, which include a small museum detailing the history of the area, are now circumscribed by Oklahoma State University on one side; a cluster of condos and office space on the other; and a freeway cutting through the old heart of the neighborhood.
Harris can see a minor league ballpark from the shop. After games, the team shoots off fireworks, next to a community that was once burned to the ground. "It's almost like a mockery," he said.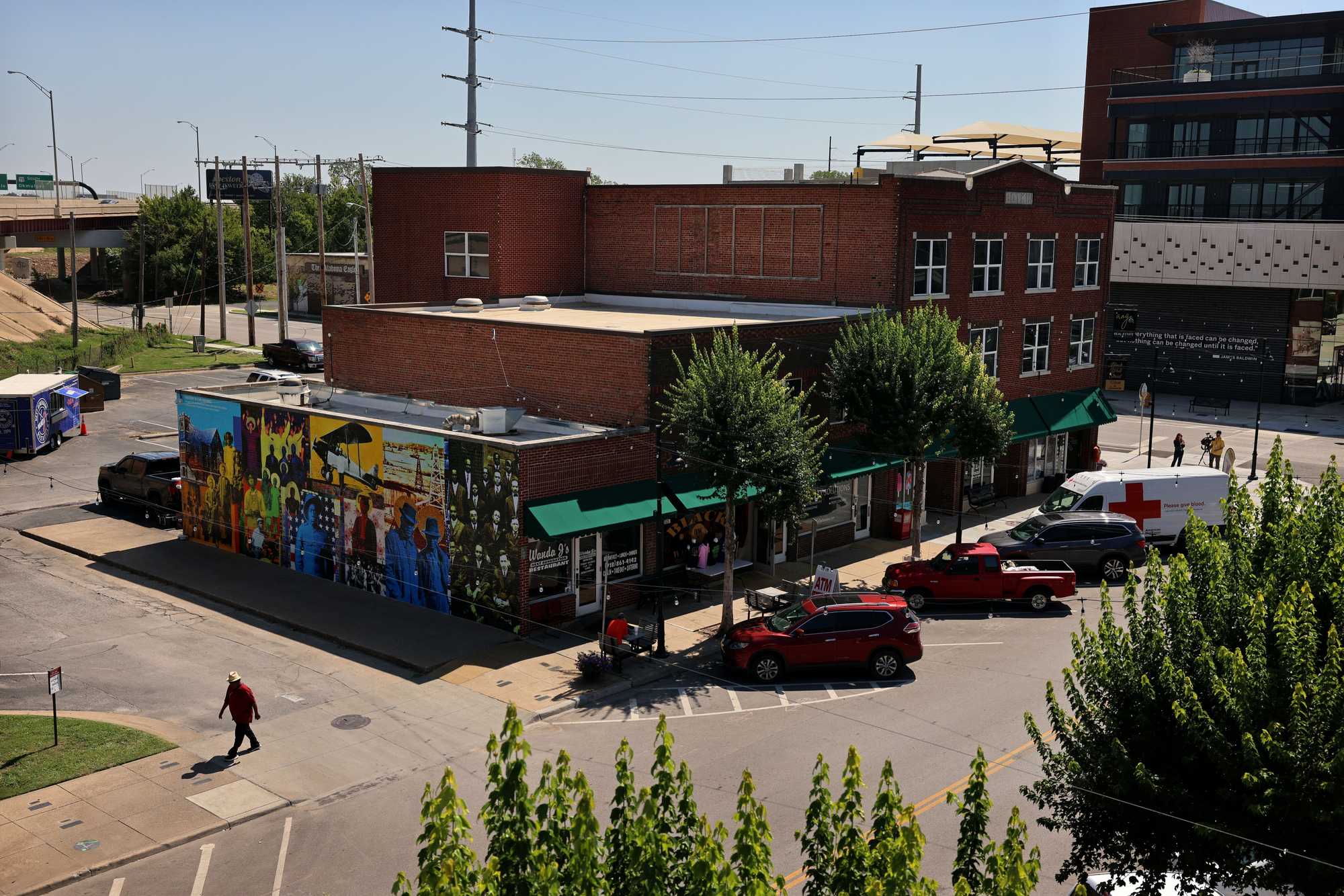 "I tell people, not even I could imagine what it was like back then — just nothing but Black-owned businesses," Harris said. "You don't see that nowadays. And the question that I like to ask people is, 'Why do you think it's like that?'''
"And not only that," he continued. "'Where else do you think this has happened?'"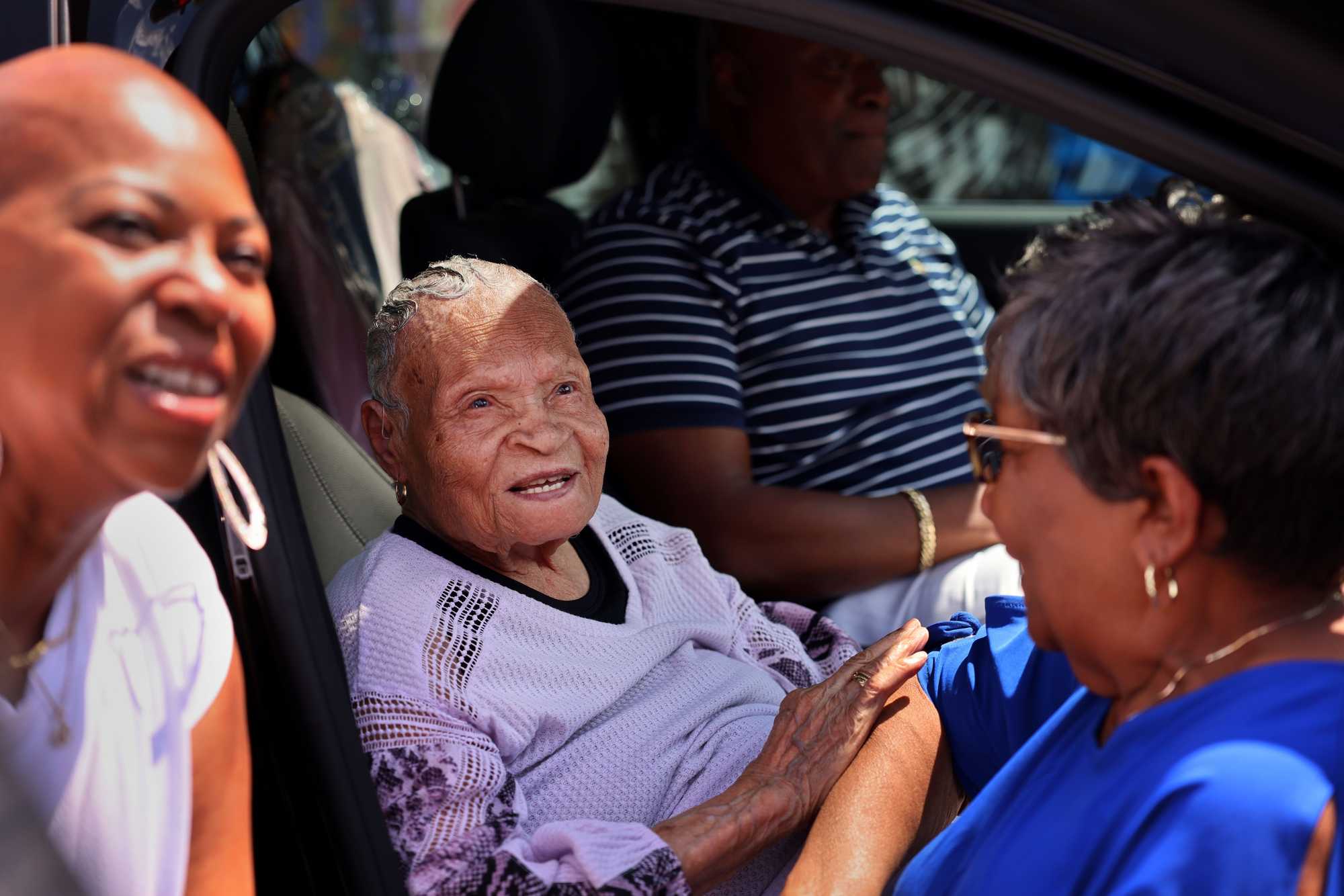 State Street in Chicago. Auburn Avenue in Atlanta. Beale Street in Memphis. Terry Baccus can rattle off a list of other places where it has happened. There are many more.
Baccus, wearing a black fedora and a gray T-shirt that read "Shine and Make An Impact," was born in Tulsa in 1963. "My experience is that it wasn't Black Wall Street to us, it was just Greenwood," he said, sitting at Wanda J's Next Generation, a soul food spot that anchors the district.
In his lifetime, Baccus has seen Greenwood rise and fall and rise again. He's watched it survive fights with the city that threatened to destroy it, and go through infighting that made staying unified even more of a challenge. He's watched Black consumers flock to the area; he's watched them take their business elsewhere.
In the Greenwood of a century ago, a dollar spent within the community circulated 36 to 100 times before leaving, experts estimate. That has changed because there are far fewer Black-owned businesses and, as Baccus sees it, by a degree of choice.
"We stopped circulating our dollar with ourselves," he said. "We felt that the white man's ice was better than our ice. When it came from the same ice company."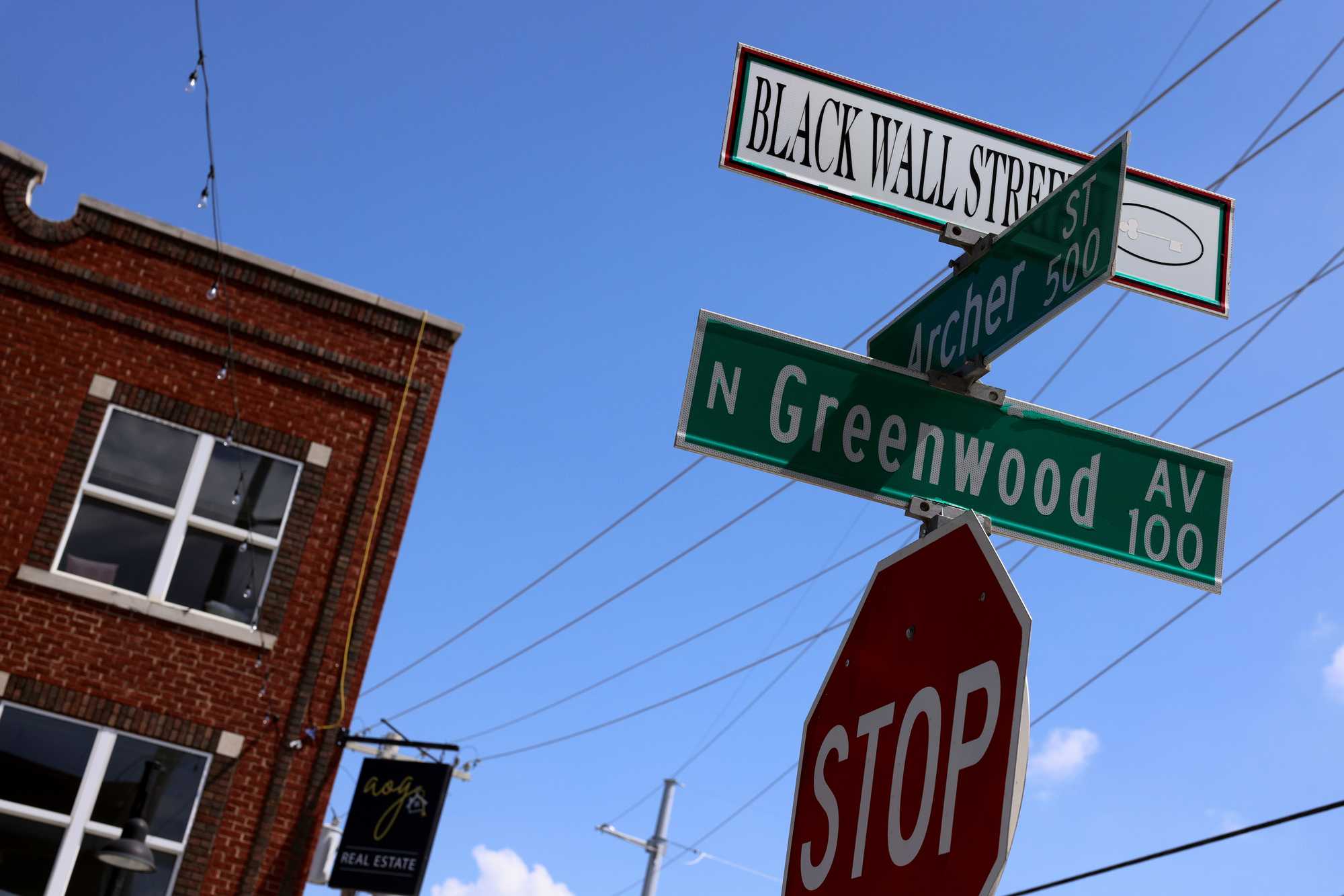 Over the past two years, residents said, it seems like more people are coming to Greenwood. Between the racial reckoning that followed the murder of George Floyd in 2020, and the 100th anniversary of the Tulsa Massacre in 2021, the neighborhood is being more broadly remembered. Tourists are coming here.
"A lot of them come in with a remorseful spirit and they're saddened by the fact that they don't know the history," said Cyndii Cosper, who manages Black Wall Street Tees. "There are some that come in that are not so much apologetic. They come down to learn about the history but then want to put on a defense."
"The only problem, I would say, is when people come down here just to look — and not buy stuff," Harris said.
Stacey Lawrence Maxwell came from Tampa to learn and to spend money. She just turned 51 and was here on a trip with three other women: her sister Verneka Lawrence Rhodes, also from Tampa; Verneka's sister from Los Angeles; and a friend from Atlanta.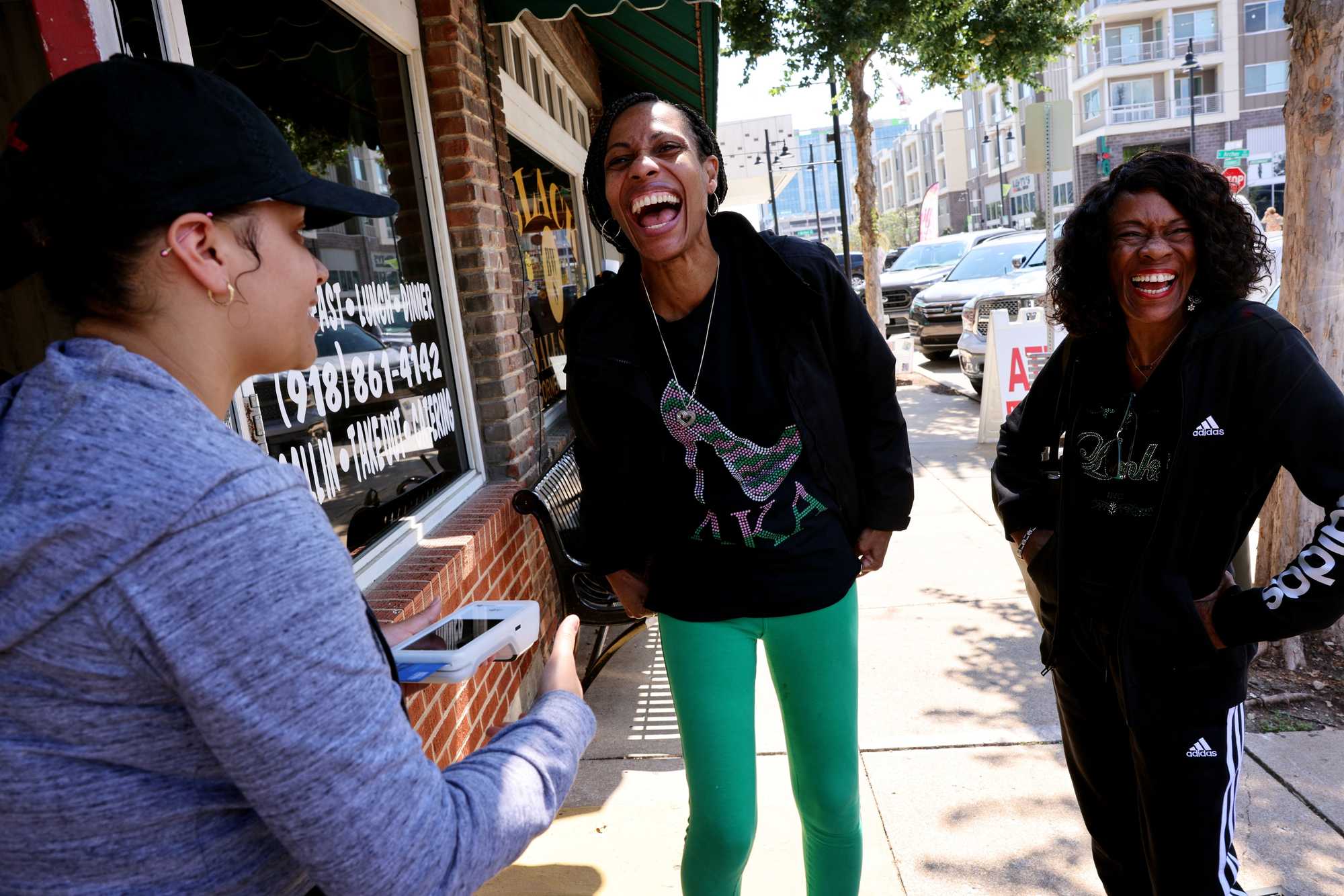 "So we have people coming from the East, South, and the West and we have never been to Central USA," said Lawrence Maxwell, sitting at Wanda J's for lunch. "We tried to find a place that had Black history and where none of us had ever been."
The story of Black Wall Street was something the friends wanted to experience and pass on. "This is something I think everyone needs to see," Lawrence Maxwell said. "Everybody needs to know where we started our own businesses, where we had our own thing. The American dream is always, 'Pull yourself up by the bootstraps.' Then we had people who came and did that and they came and destroyed it."
Through all that Greenwood has been through over a century it still stands as a symbol not only for Black economic empowerment, but also for a community's unshakeable resilience and pride. That's a strong foundation.
"So now that we get another chance to build it so our children can see — and our great-grandchildren for generations to come," Lawrence Maxwell said, laying out a plan for the future. "Then we need to make sure that we're doing everything we can to shore up those memories and build and add to it daily."
Join the discussion: Comment on this story.
Credits
Reporters:

Julian Benbow, Diti Kohli, Hanna Krueger, Emma Platoff, Annalisa Quinn, Jenna Russell, Mark Shanahan, Lissandra Villa Huerta

Photographers:

Erin Clark, Pat Greenhouse, Jessica Rinaldi, and Craig F. Walker

Editor:

Francis Storrs

Managing editor:

Stacey Myers

Photo editors:

William Greene and Leanne Burden Seidel

Video editor:

Anush Elbakyan

Digital editor:

Christina Prignano

Design:

Ryan Huddle

Development:

John Hancock

Copy editors:

Carrie Simonelli, Michael Bailey, Marie Piard, and Ashlee Korlach

Homepage strategy:

Leah Becerra

Audience engagement:

Lauren Booker, Heather Ciras, Sadie Layher, Maddie Mortell, and Devin Smith

Newsletter:

LaDonna LaGuerre

Quality assurance:

Nalini Dokula

Additional research:

Chelsea Henderson and Jeremiah Manion
© 2022 Boston Globe Media Partners, LLC