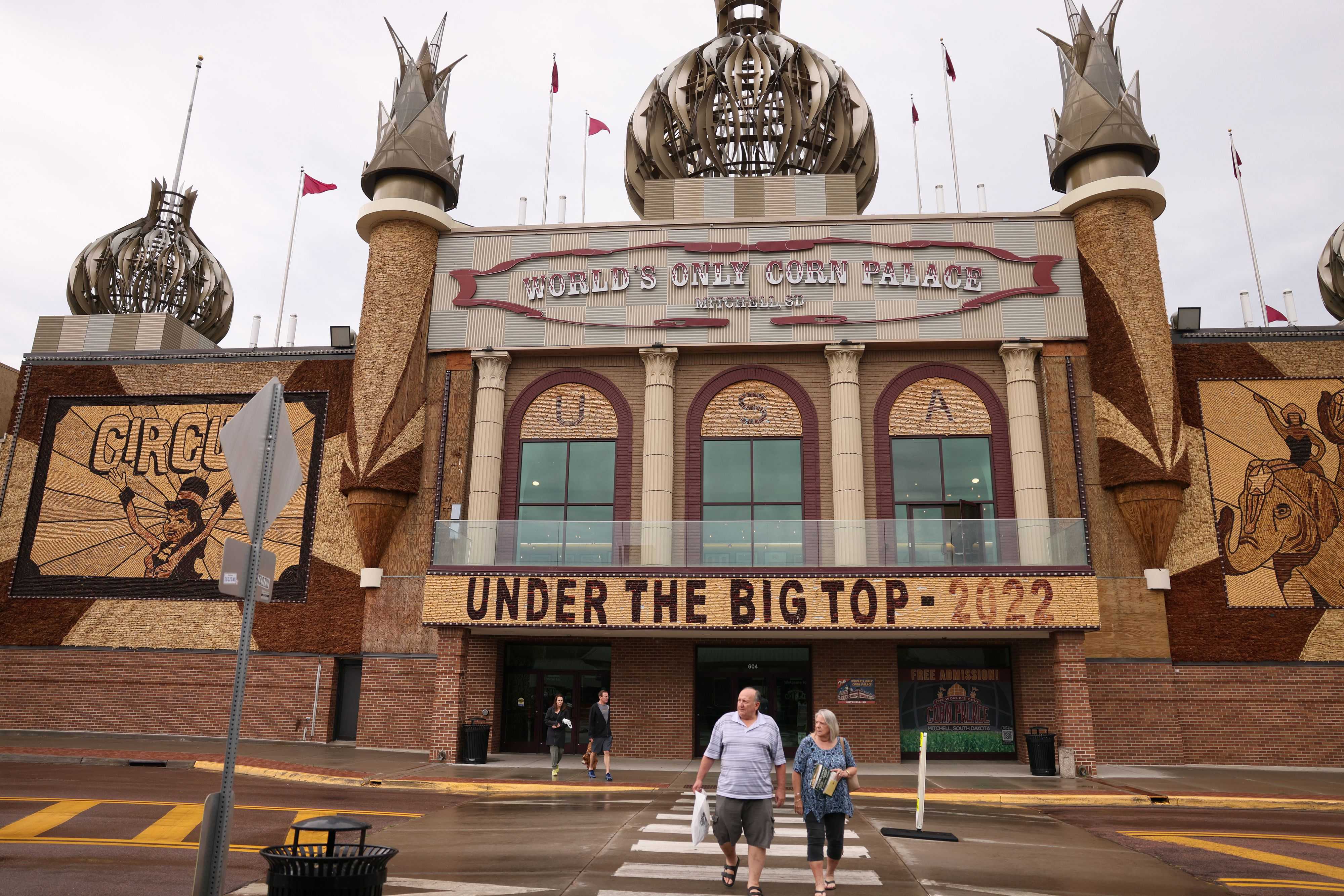 Seattle team
Oct. 27, 2022
The corn is too small for the massive Corn Palace
MITCHELL, S.D. — When word first came that the corn crop had been decimated by drought, Jeff Hanson started worrying. Early in September, the question kept him up at night: How could the Corn Palace be the Corn Palace without corn?
Hanson is the lead decorator for the palace, a role he never dreamed of as a farm kid growing up in a tiny town nearby. Somehow, a job with the City of Mitchell led the soft-spoken 36-year-old to this rare expertise: crafting massive outdoor works of art on the walls of a 43,000-square-foot building — using only grasses, grains, and 250,000 ears of corn.
The truckloads of corn should have already been arriving at Hanson's workshop, ready for their transformation into nine giant portraits of famous South Dakotans, the theme for this year's corn murals. Hanson's crew of high schoolers and college students should have already started work, sawing each ear of colored corn in half, trimming it to fit its designated slot, and hammering it into place, guided by labeled diagrams on huge sheets of roofing paper affixed to the palace walls. ("Like a giant color-by-number," said Doug Greenway, Corn Palace director.)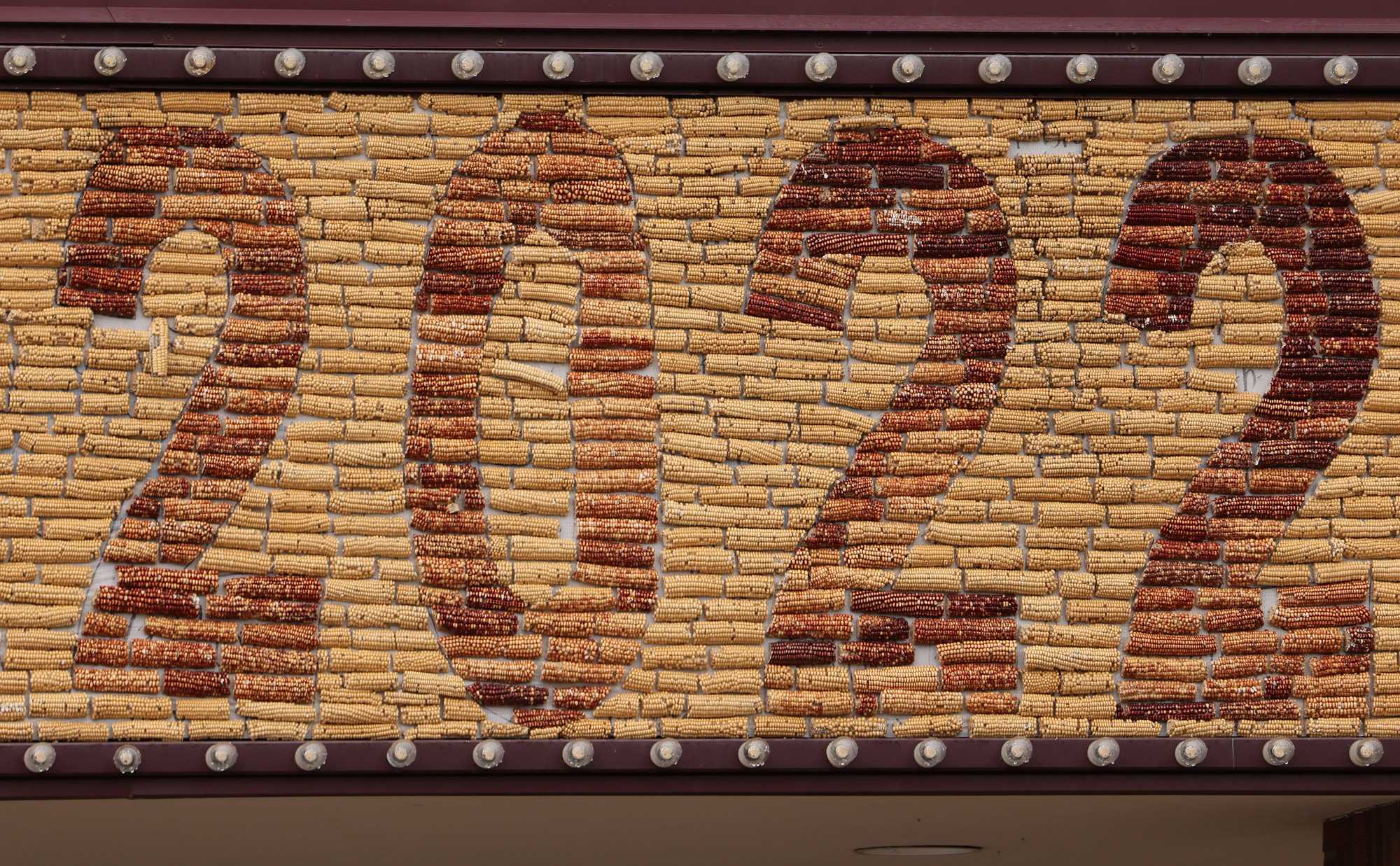 Instead, the corn sat stunted in the field, each ear one-half to one-third the size it ought to be, the consequence of drought combined with extreme heat. While most corn grown by Midwestern farmers is genetically modified to resist drought, the special varieties grown for the palace, in 12 distinctive colors, cannot be altered the same way.
Sure, there would be plenty of yellow. But the murals demanded a richer palette, red and brown and green, and especially black, used to outline shapes and create 3-D effects. But besides the lone farmer who grows corn for the palace, Greenway knows of only one or two others in the United States who might have colored corn less compromised by weather.
"The night I found out, I was lying in bed thinking, 'Oh no — I don't want to be the one who tells people we can't do all the murals,'" Hanson said, as the first rain seen here in weeks fell outside. "It's a lot of stress."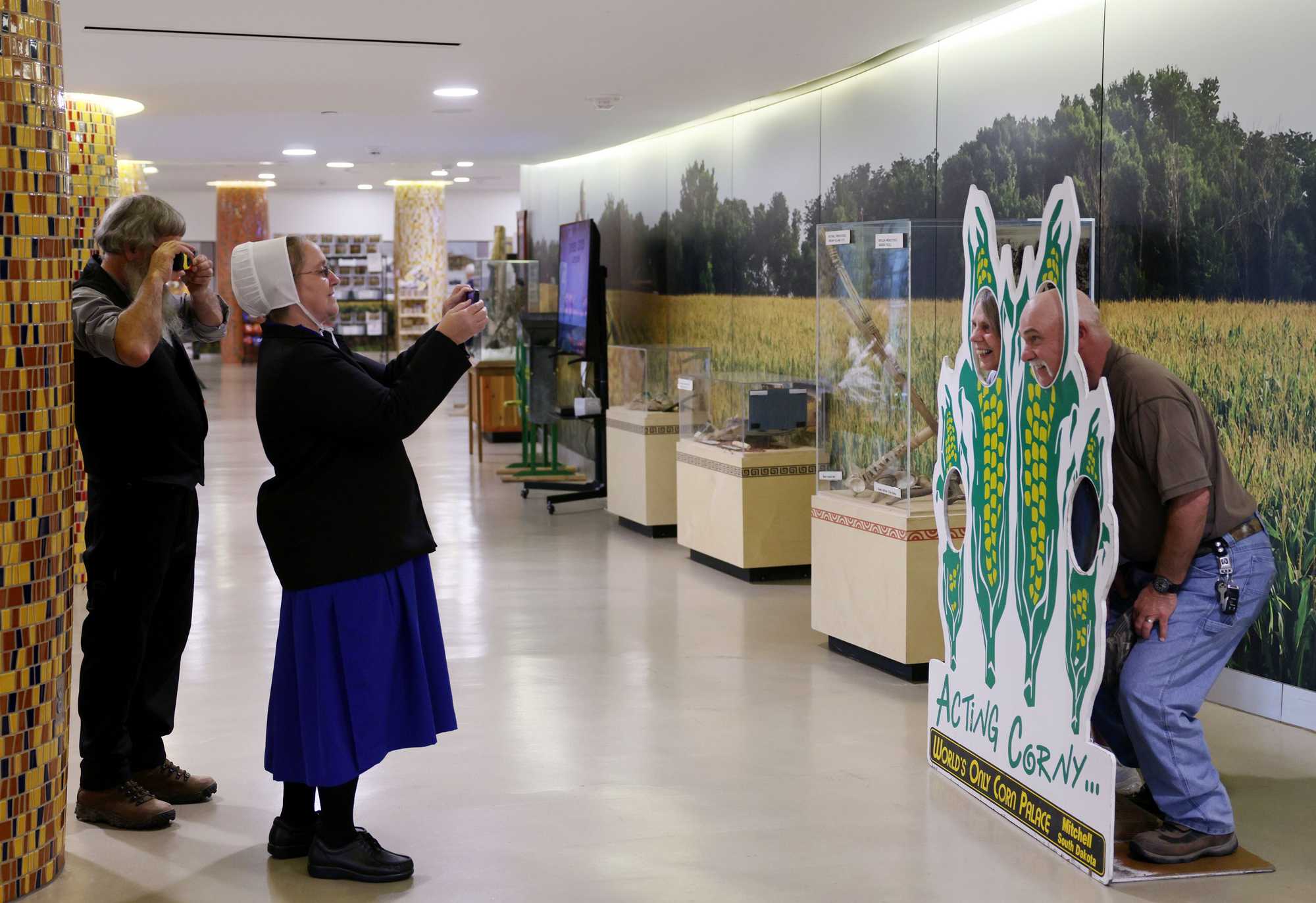 At stake was more than a city's kitschy claim to fame. The Corn Palace drew 400,000 visitors to Mitchell last year, fueling local shops and restaurants. It also keeps a rare folk art alive, practiced nowhere else on earth on such a massive scale.
And the palace is a point of local pride. With an arena that seats 3,000 people — once dubbed "the Boston Garden of the Midwest" by USA Today — it is the gathering place for proms and concerts and championship basketball games. "When the murals don't look good, you hear about it," said Reed Renken, a Mitchell High School junior who works on the palace corn crew.
First built in 1892, the Corn Palace was meant to send a message with its grandeur, convincing distant farmers to give the South Dakota soil a chance. Look at the abundance, it proclaimed: If you come, all of this awaits you.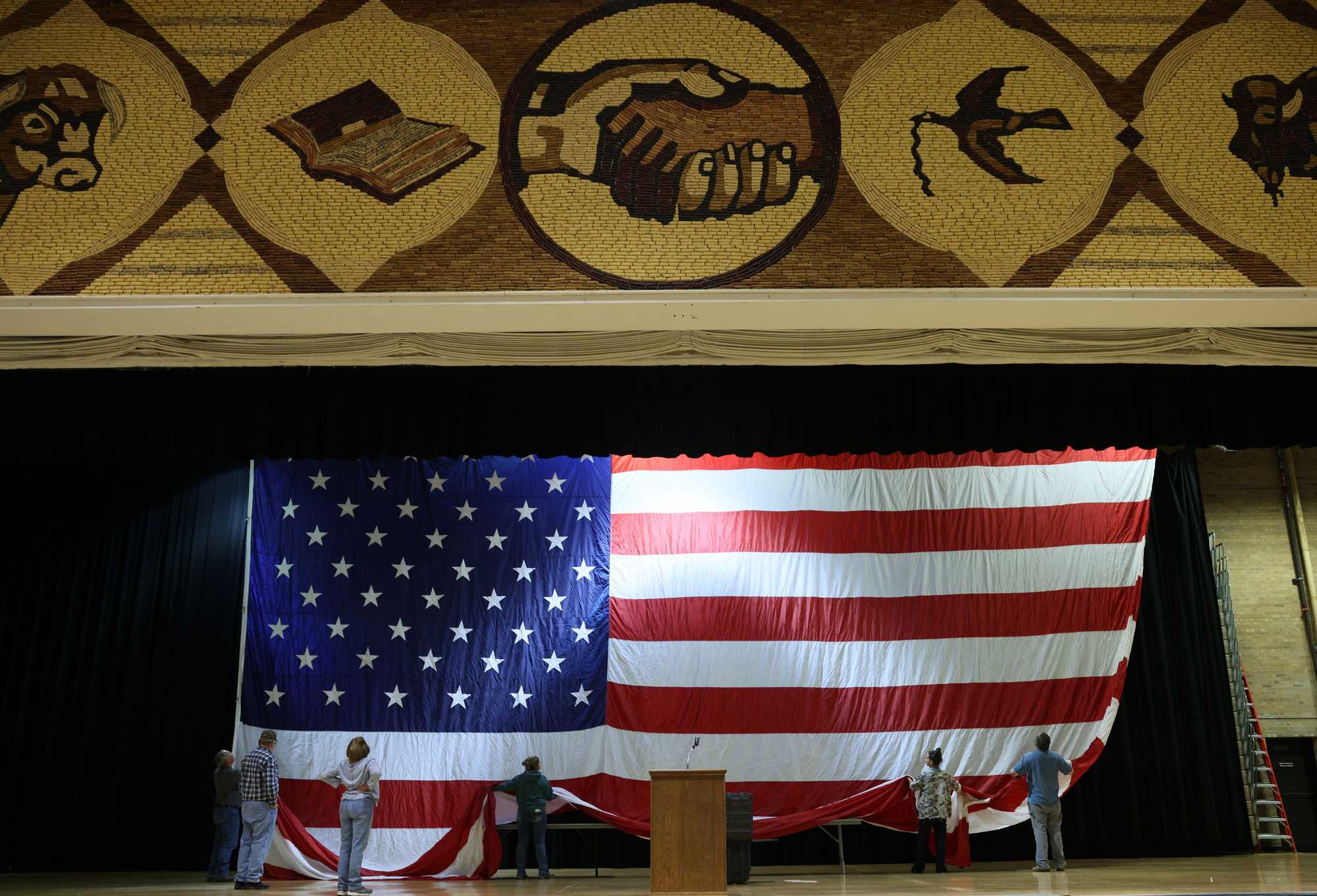 There have been years without murals before — in the wake of dust storms, plagues of grasshoppers, the Great Depression. But his crew has never faced such scarcity, said Hanson, who sometimes finishes installing the murals as late as January, when temperatures can plunge to minus 20, forcing him to use a hair dryer to thaw his hands.
"We've never not had colors," Greenway said. "Last year we didn't have enough, but this is much worse. . . . We would have planted three times the acres, had we known."
In October, palace advisers make the tough decision to forgo the new murals, for lack of corn. For now they will repair the old ones, and hope for more rain and a better crop next summer, so famous South Dakotans like Bob Barker, Becky Hammon, and Wild Bill Hickok can adorn the palace walls in multicolored splendor.
It's a blow, but they know that changes in the climate will continue to affect Midwestern agriculture — and, in turn, the grandeur of the palace — and that adaptation will be essential, as it always has been for those who make their living from the land.
"What we get is what we get," said Hanson, "and so you do the best you can with that."
Credits
Reporters:

Julian Benbow, Diti Kohli, Hanna Krueger, Emma Platoff, Annalisa Quinn, Jenna Russell, Mark Shanahan, Lissandra Villa Huerta

Photographers:

Erin Clark, Pat Greenhouse, Jessica Rinaldi, and Craig F. Walker

Editor:

Francis Storrs

Managing editor:

Stacey Myers

Photo editors:

William Greene and Leanne Burden Seidel

Video editor:

Anush Elbakyan

Digital editor:

Christina Prignano

Design:

Ryan Huddle

Development:

John Hancock

Copy editors:

Carrie Simonelli, Michael Bailey, Marie Piard, and Ashlee Korlach

Homepage strategy:

Leah Becerra

Audience engagement:

Lauren Booker, Heather Ciras, Sadie Layher, Maddie Mortell, and Devin Smith

Newsletter:

LaDonna LaGuerre

Quality assurance:

Nalini Dokula

Additional research:

Chelsea Henderson and Jeremiah Manion
© 2022 Boston Globe Media Partners, LLC