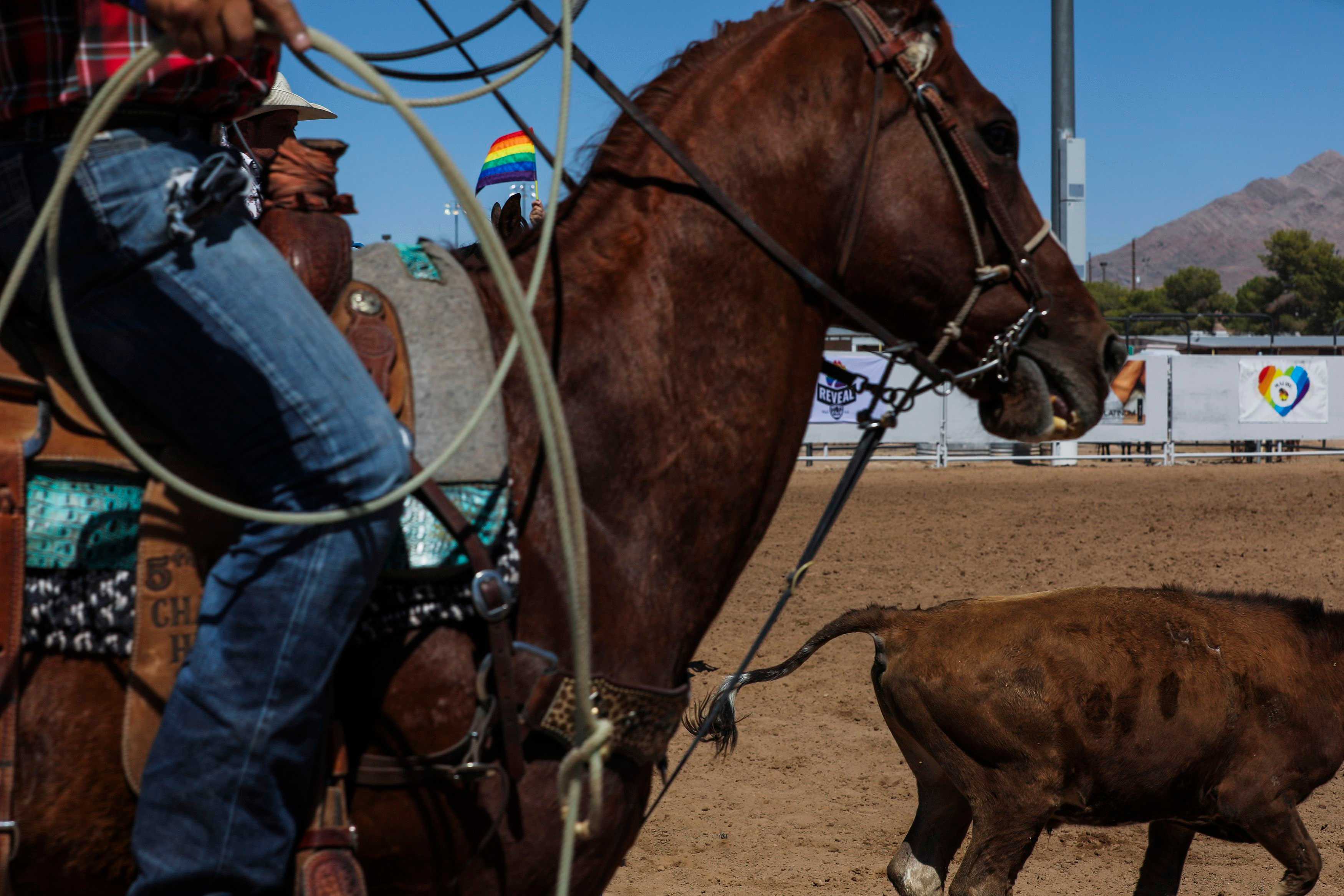 Los Angeles team
Oct. 27, 2022
Passionate about rodeos and inclusivity
LAS VEGAS — Two people worked to control the steer as the drag queen in a white dress climbed on its back. She would try to hold on just long enough to get back across a line drawn in the sand of Horseman's Arena, but didn't quite manage it — the steer bucked and she flew off.
This was "wild drag" at the Nevada Gay Rodeo Association's BigHorn Rodeo on a Saturday in September. It's the type of event you'll only find at a gay rodeo, where people passionate about rodeo traditions have built an inclusive community. And maybe, some of them think, it's the type of space that could carve out a future for a fading sport.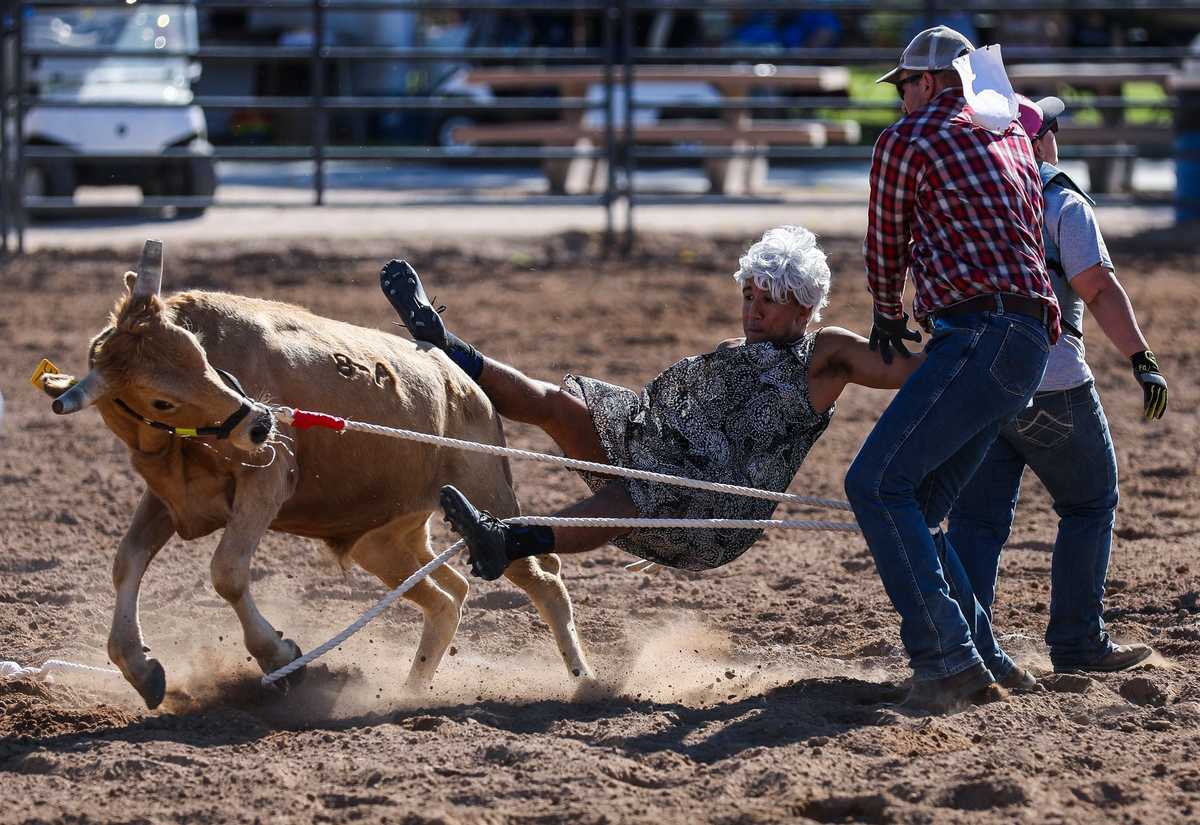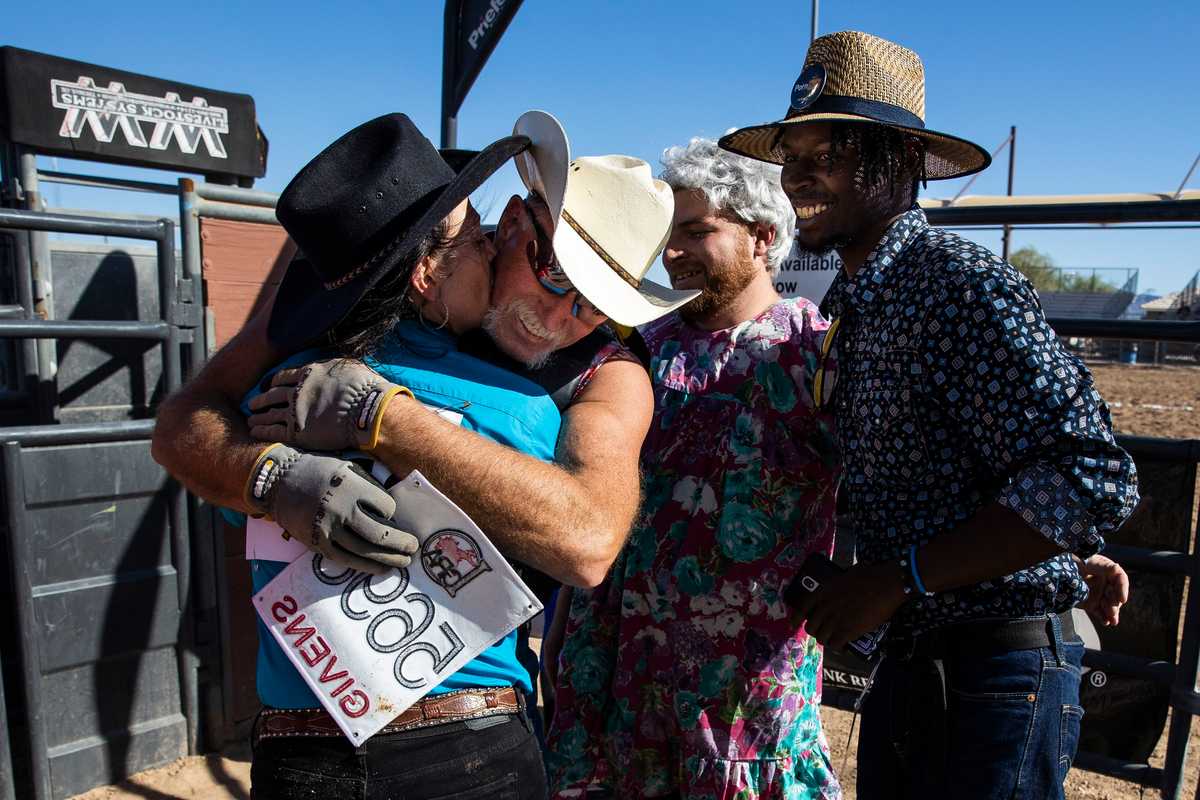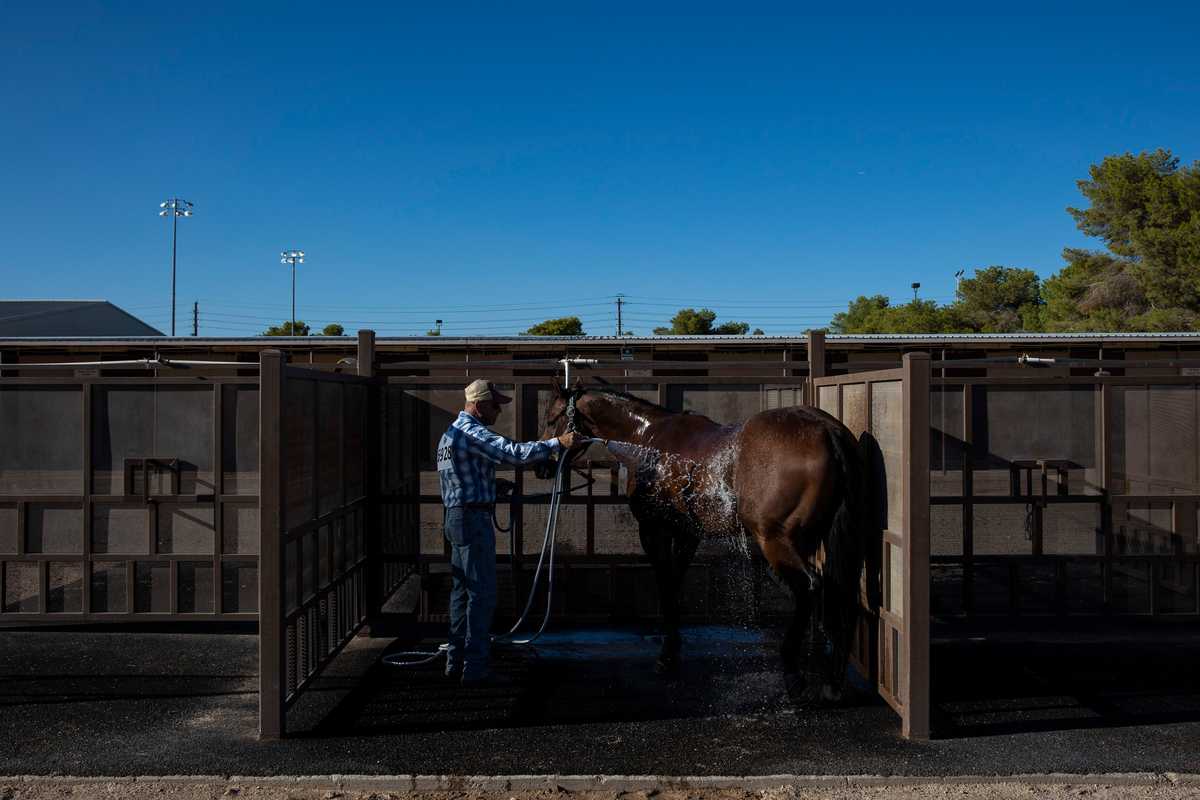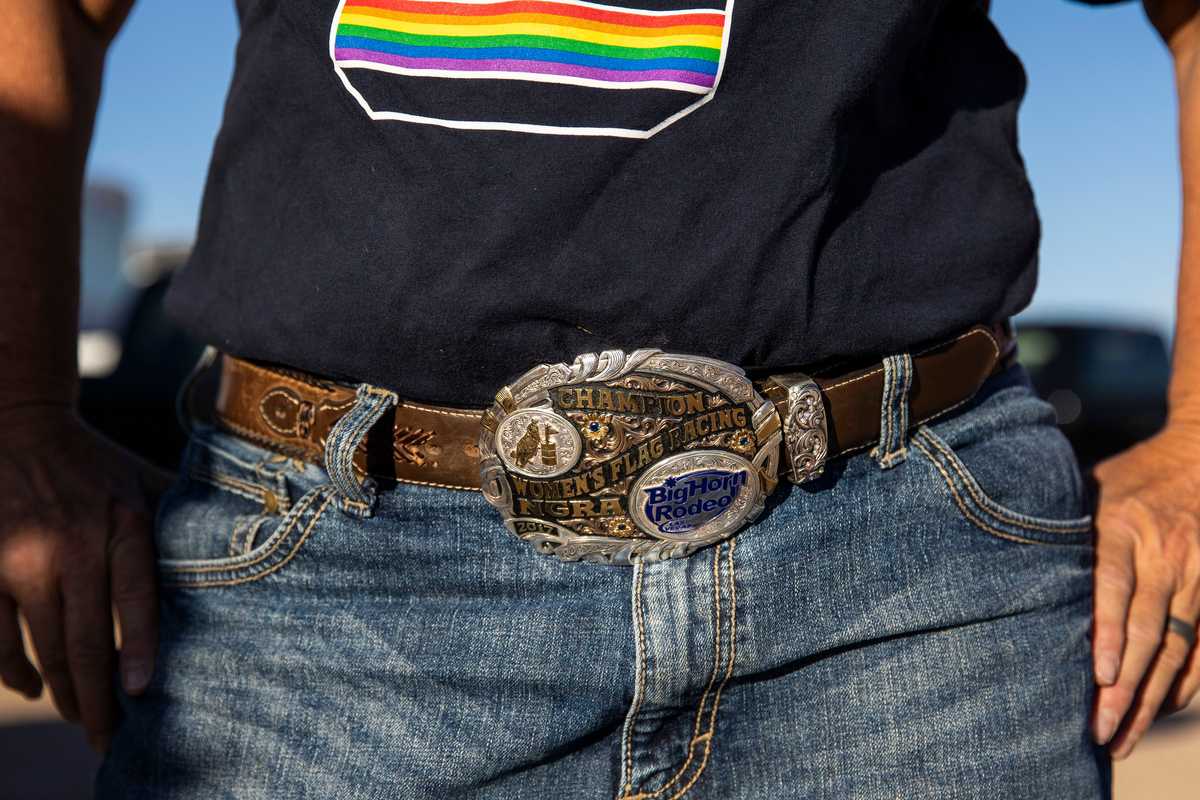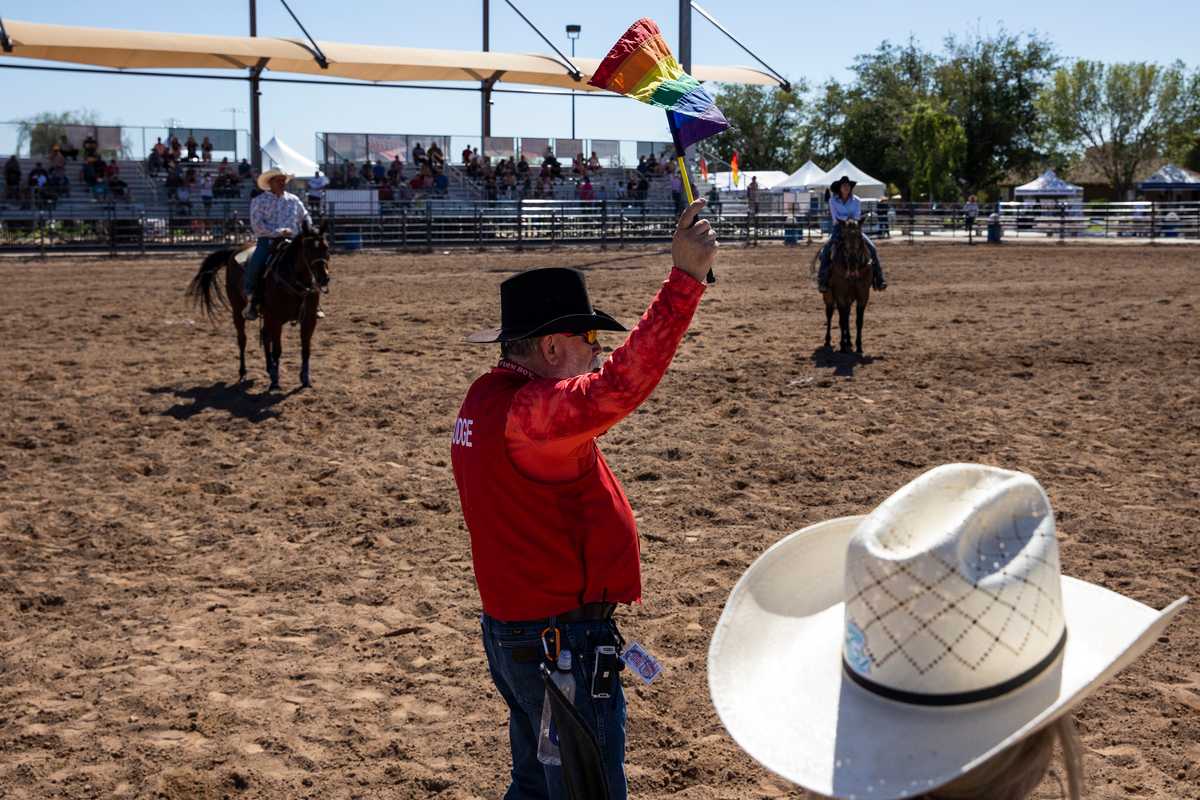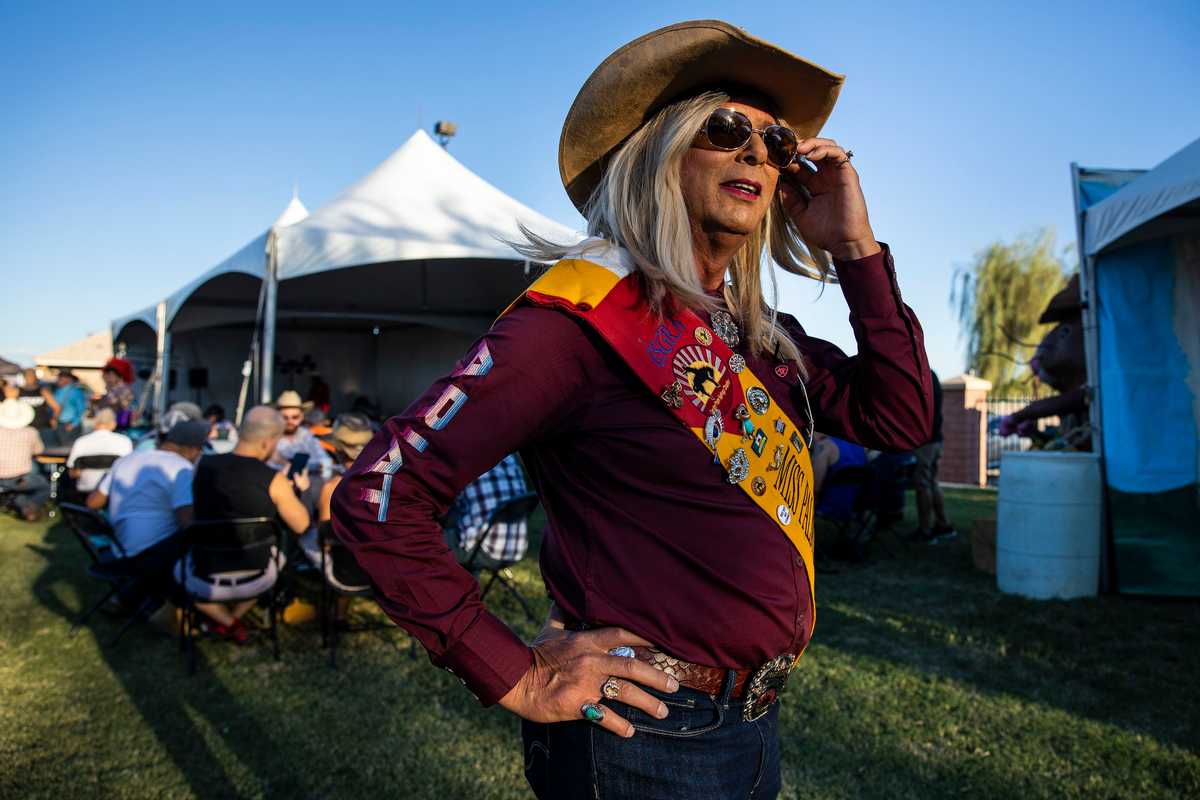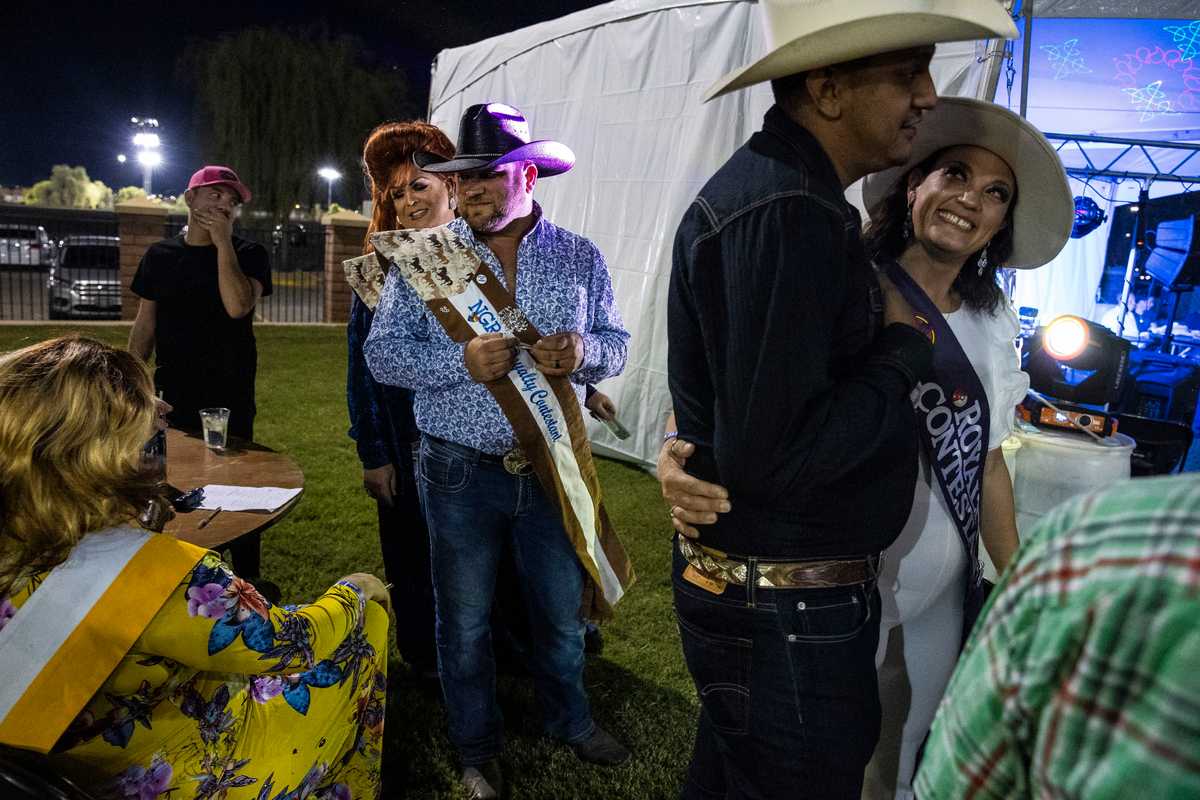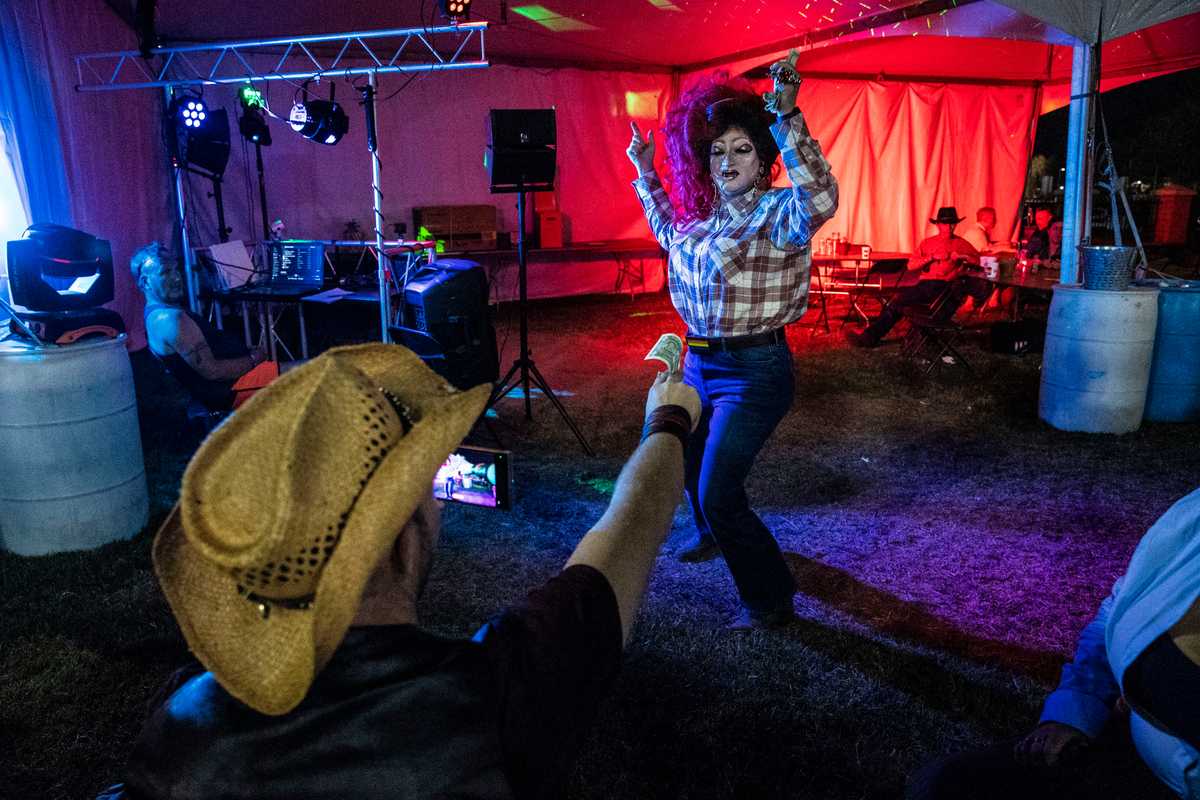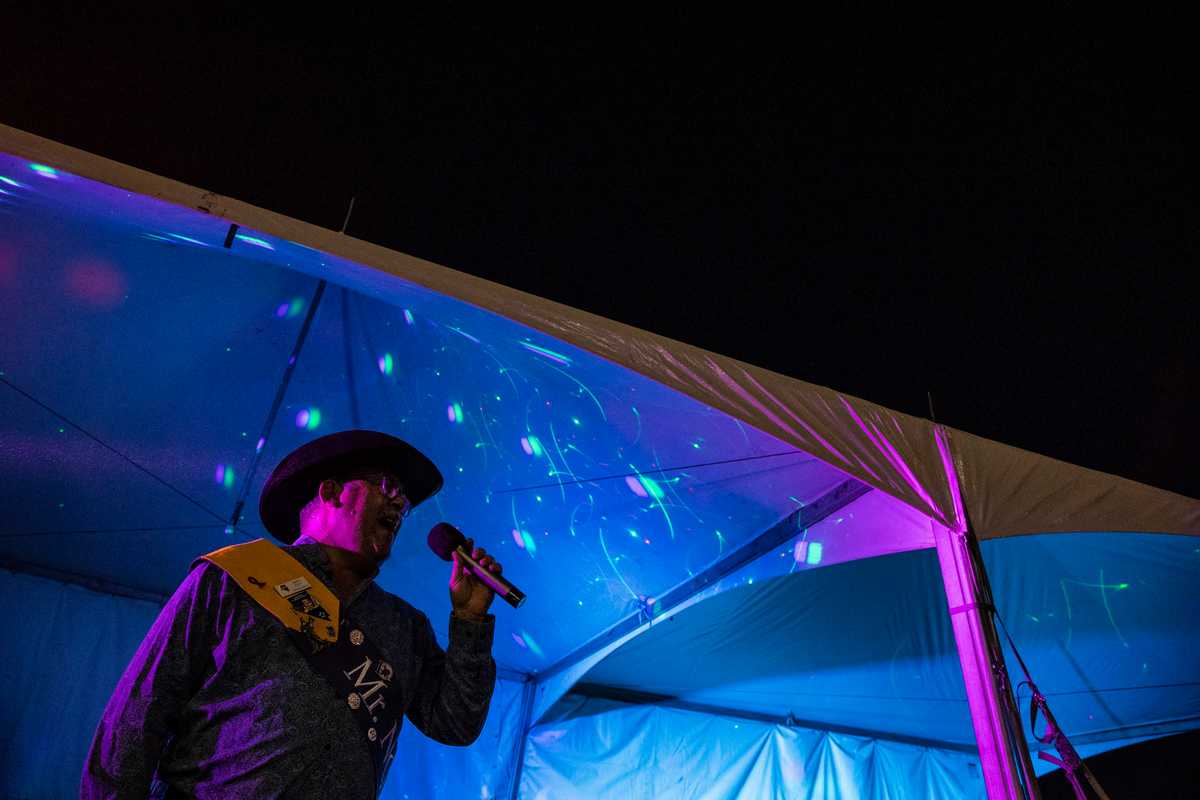 Rodeo is "a Western lifestyle that is, I think, slowly just kind of dying out," said Robbie Harrison-Garcia, a 32-year-old participant from Utah whose husband was cheering him on in the stands, where attendance was sparse. He doesn't own a horse or live on a ranch, so it's not easy. "Trying to keep this little niche in this world alive, it's a lot. It's a lot of our time, it's a lot of money, it's a lot of safety, it's our health, but this is what we love doing."
You do not have to be LGBTQ+ to get involved with the International Gay Rodeo Association — participants say many straight people come because they find they prefer the environment to the macho intensity of straight rodeos. Contestant Luke Dillie grew up around rodeo culture in Colorado, worried he'd never really fit in. "I didn't think I could have this part of my life while being gay," he said. But then he found gay rodeo, where participants and audiences alike are diverse and welcoming.
That doesn't mean there aren't rules: To access the contestant area, the two of us who attended as Globe reporters were required to wear cowboy hats and button-up long-sleeve shirts, which meant a last-minute shopping trip on the Las Vegas Strip (and, later, some awkward expense reports). Back at the rodeo, one of us got yelled at for trying to climb over a fence instead of walking around it (OK, it was me).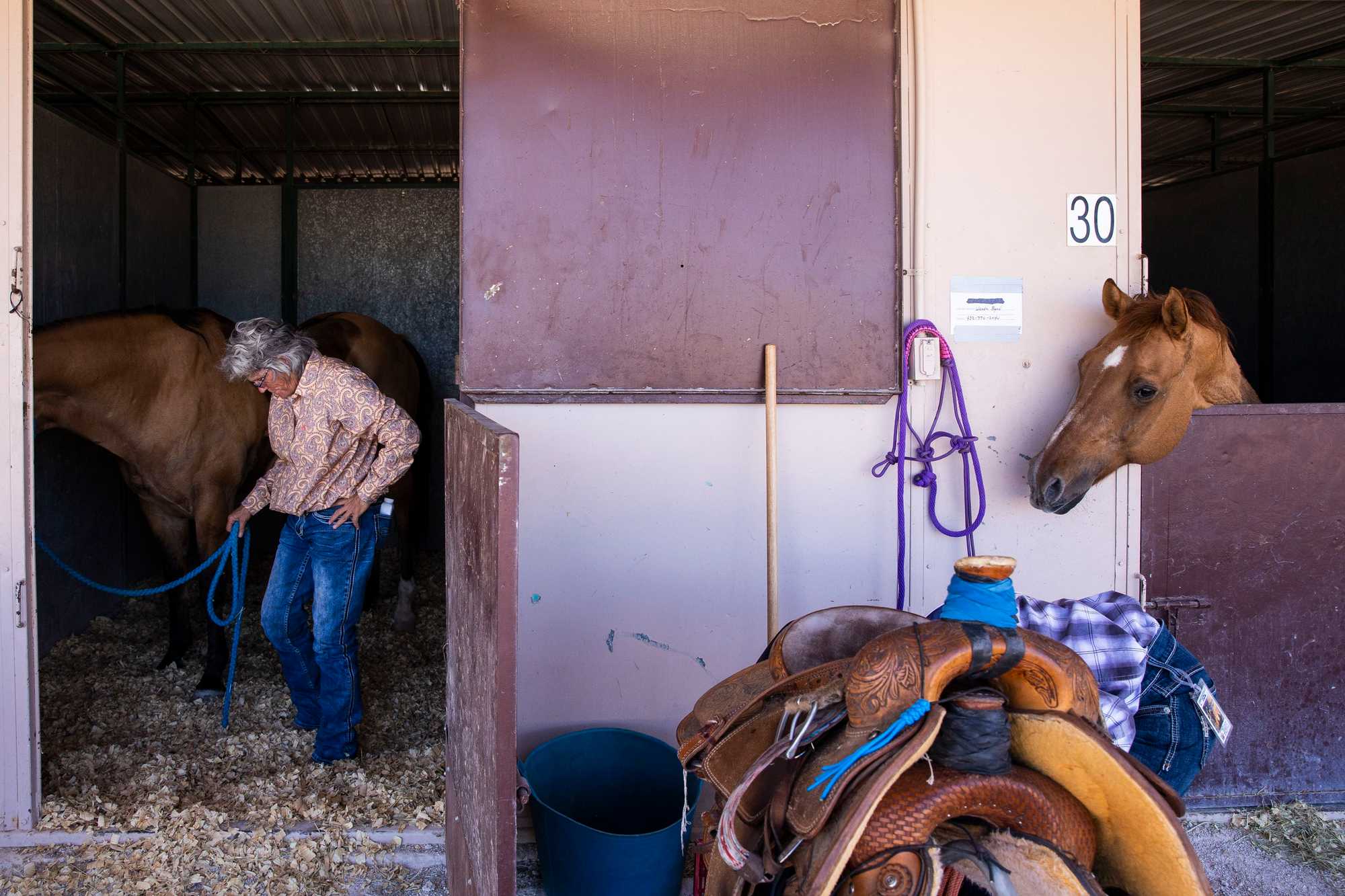 Many participants travel the gay rodeo circuit, which is broad. There's a Facebook group and people who will lend out their horses so others can participate in events. There are people to carpool with, which helps since the travel can be so expensive, and even people who will join your team if you don't have enough for a particular event.
"We're like one big family," said Cindy Cowan, a contestant from Texas, who still recalls how quickly everyone sprung into action to help when she broke her leg in Santa Fe. She spoke as she stood beside her horse, Superman. This would be Superman's final rodeo season before retiring; she's had him 22 years. "Everybody helps everybody," Cowan said, "even if you're competing against them."
The community is strong, but it's still small. In all, there were only about three dozen participants today. Kirsten Winkler, a participant from Colorado, would compete in six events today.
"This is a really small rodeo, this time, contestant-wise," she said. And it required running from one event to another. She noted that there'd been a decline in participation since the pandemic. "I hope that it will rally and come back."
After the rodeo ended at sunset, happy hour began. Then the karaoke started, where drag queens and cowboys performed to Toby Keith and Dolly Parton songs to raise money for charity. People mingled, laughed, drank their drinks. Off to the side, a couple danced as Horseman's Arena was enveloped by the night.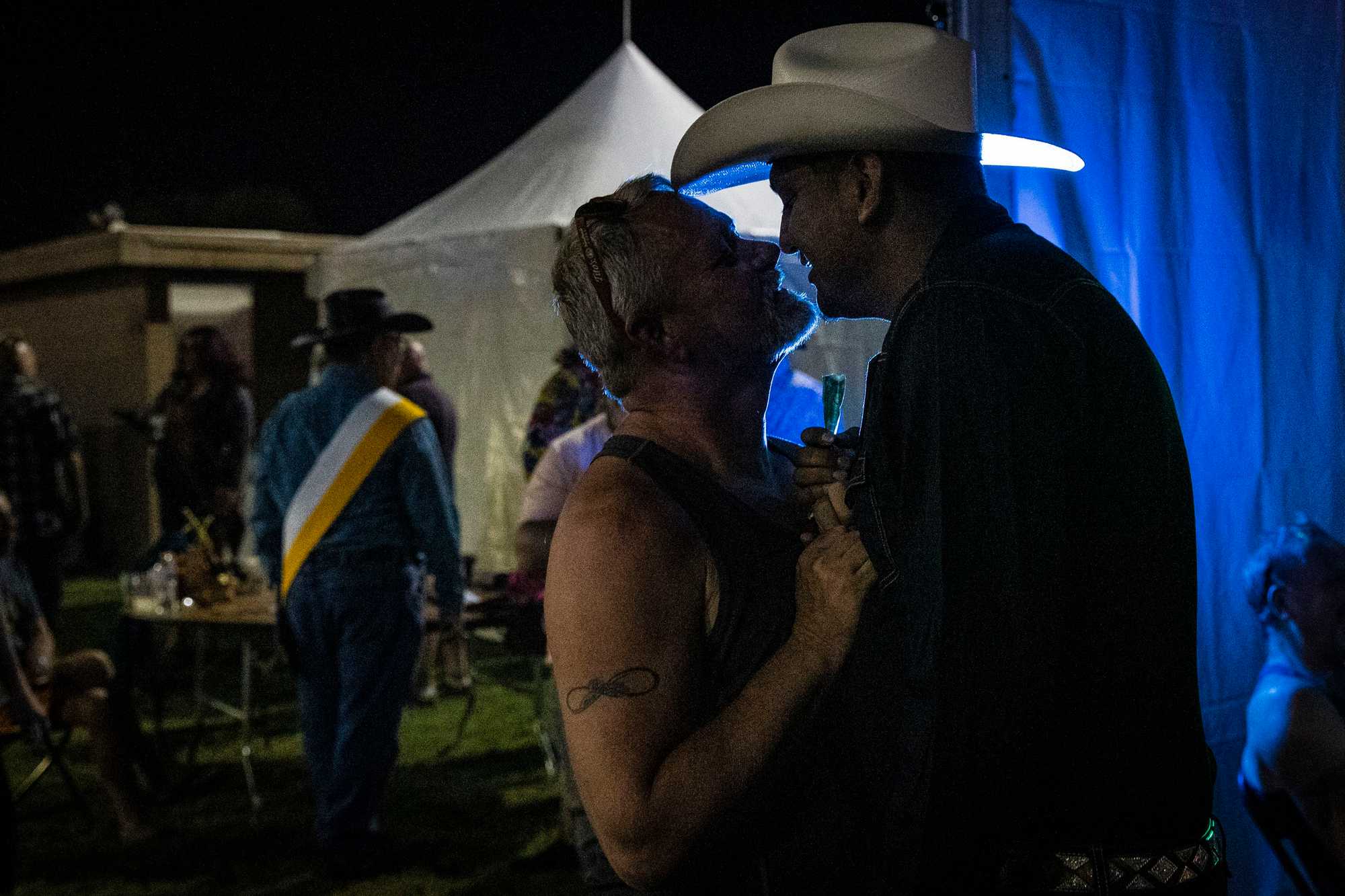 Credits
Reporters:

Julian Benbow, Diti Kohli, Hanna Krueger, Emma Platoff, Annalisa Quinn, Jenna Russell, Mark Shanahan, Lissandra Villa Huerta

Photographers:

Erin Clark, Pat Greenhouse, Jessica Rinaldi, and Craig F. Walker

Editor:

Francis Storrs

Managing editor:

Stacey Myers

Photo editors:

William Greene and Leanne Burden Seidel

Video editor:

Anush Elbakyan

Digital editor:

Christina Prignano

Design:

Ryan Huddle

Development:

John Hancock

Copy editors:

Carrie Simonelli, Michael Bailey, Marie Piard, and Ashlee Korlach

Homepage strategy:

Leah Becerra

Audience engagement:

Lauren Booker, Heather Ciras, Sadie Layher, Maddie Mortell, and Devin Smith

Newsletter:

LaDonna LaGuerre

Quality assurance:

Nalini Dokula

Additional research:

Chelsea Henderson and Jeremiah Manion
© 2022 Boston Globe Media Partners, LLC