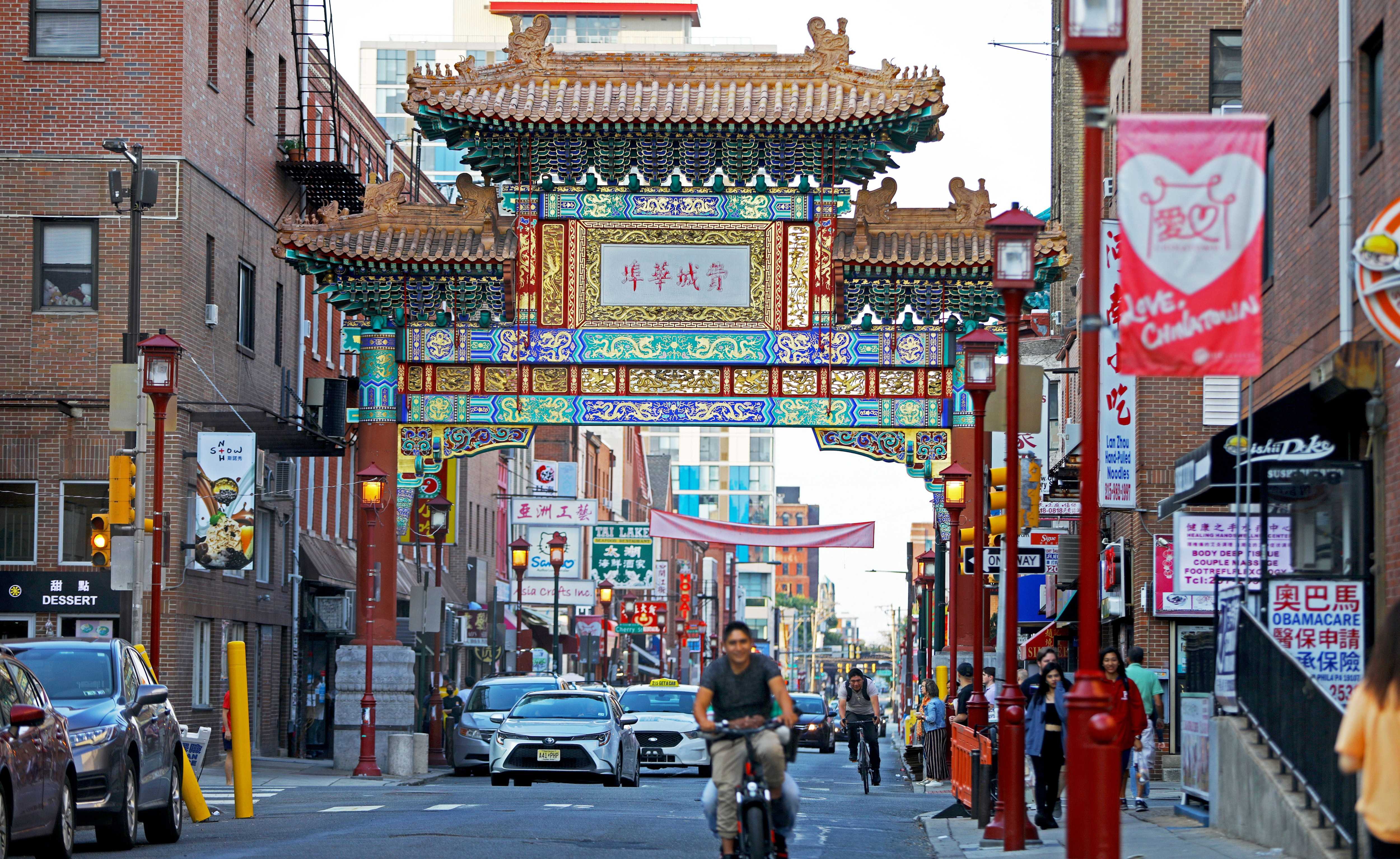 A brief tour of mooncake makers in Philly's Chinatown
PHILADELPHIA — In the eighth month of the Lunar New Year, Philly's Chinatown erupts into celebrations for the Mid-Autumn Festival, with kung fu demonstrations, taiko drumming, and a dragon parade. Among all the traditions, one is ubiquitous: the mooncake.
The flour pastry — baked by the thousands in the seven-block neighborhood come September — is a holiday staple. Displayed in glass cases, next to Napoleons and tamarind teas, each mooncake is embossed with an intricate design, usually a symbol of good fortune.
The pastries vary in size and density. But they represent a single message: unity and prosperity for all.
Asia Bakery
The mooncake recipe is straightforward, at least according to Kim Huynh, who opened Asia Bakery on 10th Street four decades ago. "Easy," she said with a laugh — just golden syrup, lye water, vegetable oil, and flour. Bakers sometimes add salted duck egg yolks to the cakes during the holiday.
And as the festival nears, sharing a mooncake with friends and family represents "their becoming one," explained customer Thuy Hoang. Moonlight, she added, brings bright energy to the world, vanquishing spirits that lurk in the dark.
Hong Kong Bakery
Ben Zhang, wearing a Larry Bird jersey, acts as manager of the family-run bakery. His aunt, the owner, takes charge at the front.
To meet the demand, their bakers work late into the night to prep, proof, and mold mooncakes. They pack finished dough and fillings into the traditional round wooden molds or into oval and heart-shaped alternatives popular with some customers. Employees slam the molds on countertops in the kitchen, until the uncooked mooncakes fall onto the surface. Those are then baked and left to cool for a day.
Standing by a metal bread warmer that doubles as storage for pastries, Zhang said, "My favorite mooncake is the lotus bean."
KC's Pastries
A petite storefront with cracked floor tiles, KC's normally sells a host of mooncake flavors — jujube, matcha, taro. But by 4 p.m. on one September Sunday, they had sold them all, save for a mixed-nut version. An employee's preferred sweet red bean variety, she said, "is already gone."
That's not uncommon.
Families buy the cakes in abundance to share during evening tea or after dinner. Traditionally, people break them into bite-sized pieces and distribute them to mothers, sons, and siblings — a custom that began over 1,000 years ago during the Tang Dynasty and continues to this day.
Emma Platoff contributed to this report.
Join the discussion: Comment on this story.
Credits
Reporters:

Julian Benbow, Diti Kohli, Hanna Krueger, Emma Platoff, Annalisa Quinn, Jenna Russell, Mark Shanahan, Lissandra Villa Huerta

Photographers:

Erin Clark, Pat Greenhouse, Jessica Rinaldi, and Craig F. Walker

Editor:

Francis Storrs

Managing editor:

Stacey Myers

Photo editors:

William Greene and Leanne Burden Seidel

Video editor:

Anush Elbakyan

Digital editor:

Christina Prignano

Design:

Ryan Huddle

Development:

John Hancock

Copy editors:

Carrie Simonelli, Michael Bailey, Marie Piard, and Ashlee Korlach

Homepage strategy:

Leah Becerra

Audience engagement:

Lauren Booker, Heather Ciras, Sadie Layher, Maddie Mortell, and Devin Smith

Newsletter:

LaDonna LaGuerre

Quality assurance:

Nalini Dokula

Additional research:

Chelsea Henderson and Jeremiah Manion
© 2022 Boston Globe Media Partners, LLC