Merrilyn Mann's secret to serenity: Regular trips to Hickory Nut Mountain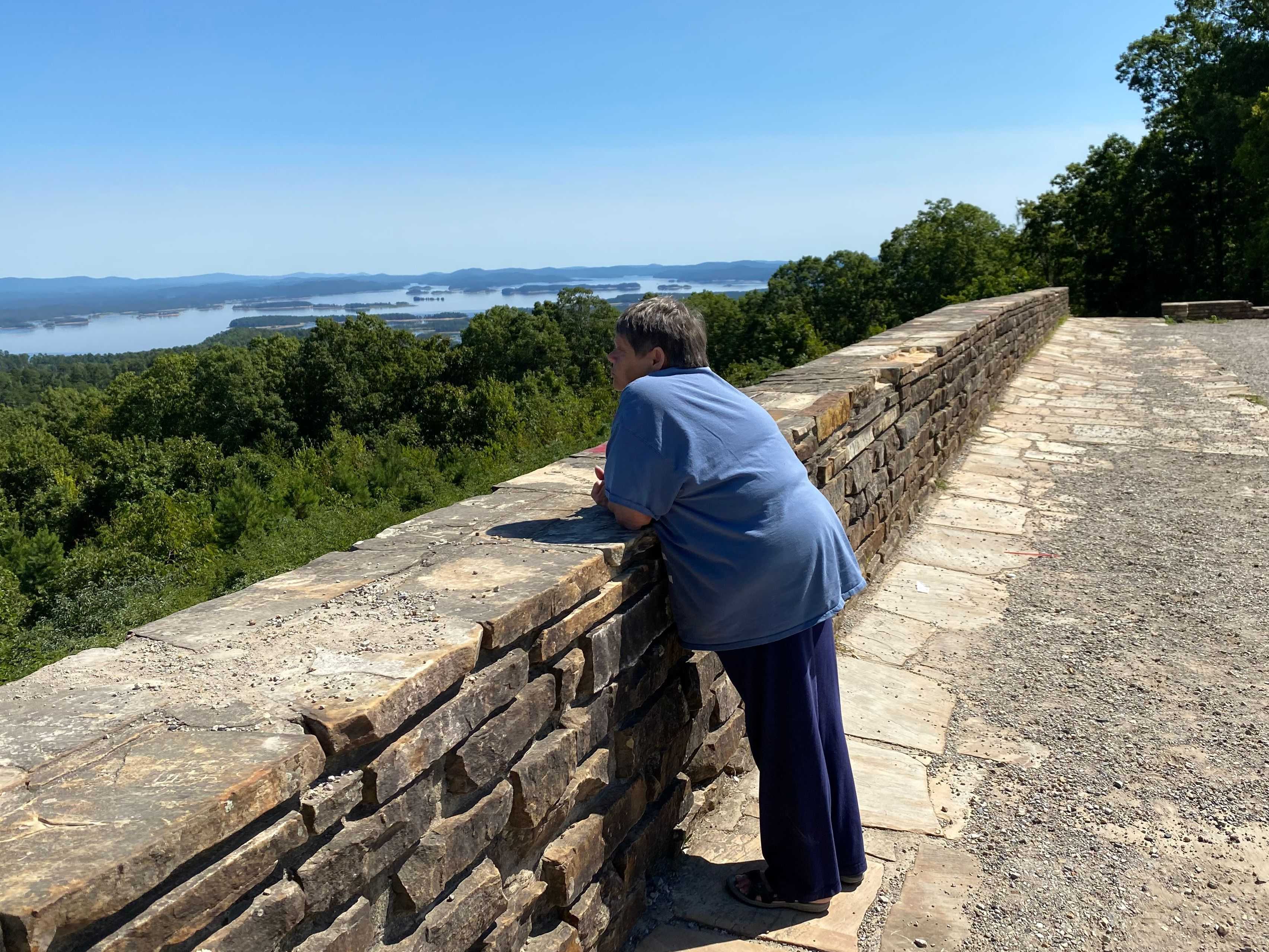 HOT SPRINGS, Ark. — Merrilyn Mann couldn't hide her personality if she tried — not when she's playing pickleball and certainly not when she's bounding through life.
"I'm a cut-up," she said. "I cut up."
I came to the Hot Springs YMCA one morning to play basketball, only to find the court had been transformed into a pickleball center. That's how I met Mann, mayor of the courts.
Mann spent most of her life working at her grandfather's printing company before becoming a massage therapist. One of the places she gave massages was at the Y. She'll proudly tell you about a group of friends she calls "The Picklelettes."
She knows all the faces that come through every morning and she can tell you how they're connected to each other and, it turns out, to you, even if you're just passing through. The guitarist I'd met at The Ohio Club the night before? That's his father-in-law, John, on the middle court. Matter of fact, she's good friends with the owner of the club, Dona Pettey. Pettey is a tennis player, and she's starting to get into pickleball. The tall guy in the knee brace? That's Charles Hiett. His dad was longtime Boston University president John Silber.
Mann and I talked for over an hour about pickleball, growing up in Hot Springs, and everything in between. She loves people, she loves Hot Springs, and she loves telling people about Hot Springs. "There's just so much that I could show you," she said.
One of her favorite places is Hickory Nut Mountain, the part that overlooks Lake Ouachita. It's a trip, 23 miles west of Hot Springs, but she makes a point to go there maybe four times a year. It's a slice of peace for her. "The area is very serene, very quiet," she said.
She said I should go before I leave. Then she offered to take me herself. I couldn't say no.
The next morning she picked me up from my hotel. We stopped to pick up her dog Max from the Bed, Bath & Bark, and then we hit the road. Along the way, she pointed out lake houses, and campgrounds, and gorges.
At Hickory Nut Mountain, there's a 10-mile stretch of gravel road to get up to the top. The closer we got, the quieter it got.
When we reached the vista, the tranquility was almost overwhelming. The wry smile on Mann's face said, "I told you."
"When you come up here and don't talk, you hear nothing," she finally said. "Maybe a bird, maybe a hawk. You might even see an eagle or two. The beauty of the trees and the water. It's just a gorgeous, God-given land."
The beauty was a gift. So was the peace. So was Merrilyn Mann.
Join the discussion: Comment on this story.
Credits
Reporters:

Julian Benbow, Diti Kohli, Hanna Krueger, Emma Platoff, Annalisa Quinn, Jenna Russell, Mark Shanahan, Lissandra Villa Huerta

Photographers:

Erin Clark, Pat Greenhouse, Jessica Rinaldi, and Craig F. Walker

Editor:

Francis Storrs

Managing editor:

Stacey Myers

Photo editors:

William Greene and Leanne Burden Seidel

Video editor:

Anush Elbakyan

Digital editor:

Christina Prignano

Design:

Ryan Huddle

Development:

John Hancock

Copy editors:

Carrie Simonelli, Michael Bailey, Marie Piard, and Ashlee Korlach

Homepage strategy:

Leah Becerra

Audience engagement:

Lauren Booker, Heather Ciras, Sadie Layher, Maddie Mortell, and Devin Smith

Newsletter:

LaDonna LaGuerre

Quality assurance:

Nalini Dokula

Additional research:

Chelsea Henderson and Jeremiah Manion
© 2022 Boston Globe Media Partners, LLC