'It's my stupid human trick': Secrets of Hersheypark's best carnival game player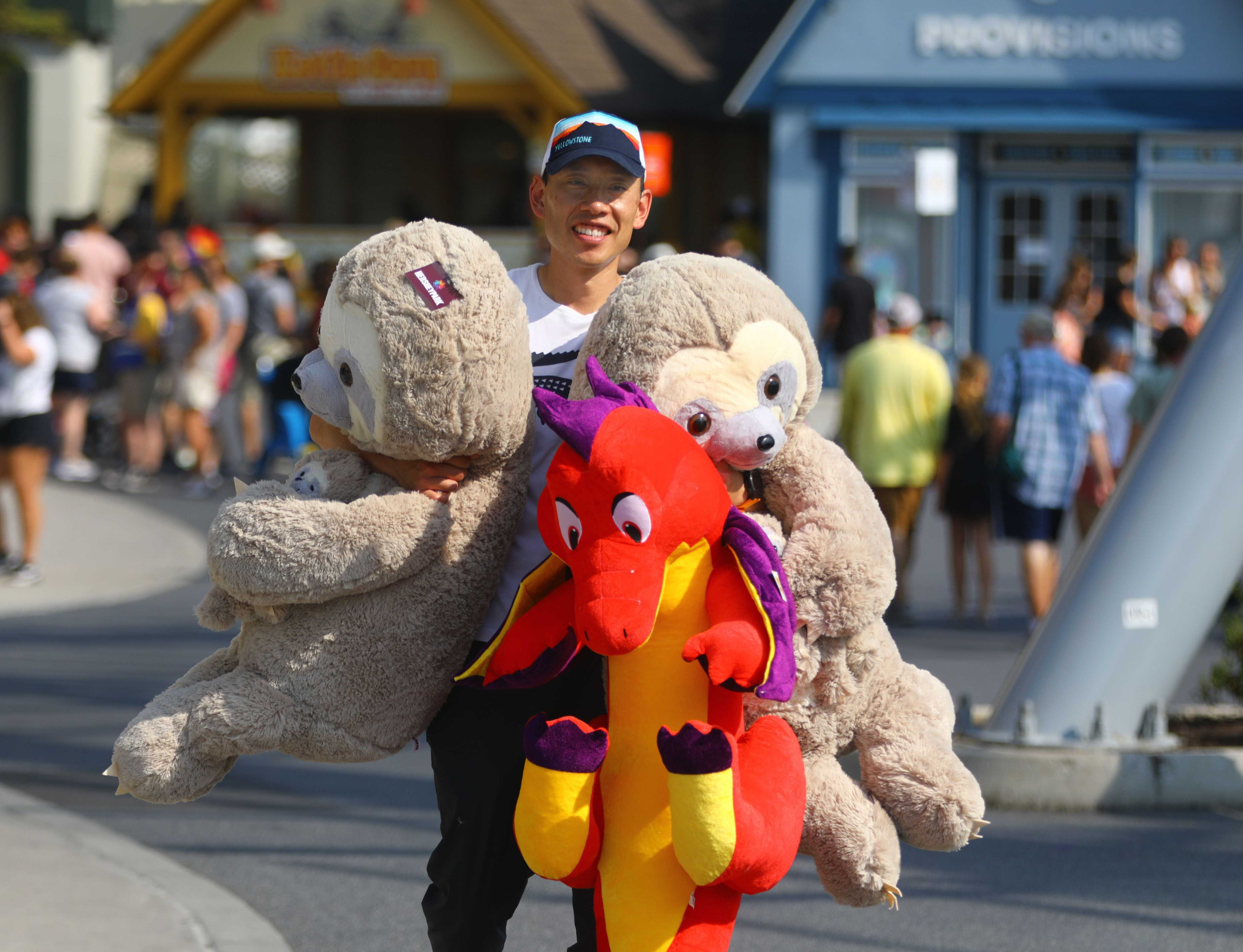 HERSHEYPARK, Pa. — On a summer Saturday, with two enormous stuffed sloths and a dragon tucked under his arms, Lawrence Ho is speeding through a crowd that smells like chocolate and sunscreen.
And we're in pursuit.
We're desperate to know his story. Amusement park games aren't meant to be won, but to part families from their money. How had he beat the system?
"It's my stupid human trick," Ho said when we finally caught up to him, sweating from the effort.
A longtime season pass holder who lives nearby, Ho can win almost any carnival game there is; he expertly tosses rings, shoots Wiffle balls, and knocks down bottles. His talents delight his two kids, 8 and 11, and they've filled a closet at home with 50 stuffed animals he's under strict orders not to discard.
It turns out that the 44-year-old benefits from steady hands, honed during his career as an eye surgeon. And he's an avid athlete — soccer, tennis, snowboarding, pickleball, mountain biking, and more.
Today, Ho is fresh off three victories at "Can Do," a game with a deceptively optimistic name. It requires you to land a softball on the opening of an oversized milk jug, a feat so difficult in practice that one successful shot is all you need to earn the grand prize.
We decide to give it a try for ourselves. At the stand near the bumper cars, a bucket of 10 balls cost $10. Several times, we hit the sloths hanging frustratingly close to the target, or watched the ball ping the lip of the jug and fall to the floor.
Ho had bought two buckets of balls and won three enormous stuffed animals. We bought two buckets and won zero.
What's his secret? He said you have to resist the urge to throw the softball underhand. Instead, start with the back of your hand facing the jugs, and toss the ball with a flick of your wrist. One gentle bounce off the back rim of the jug, and the ball settles right into place.
Well, at least that's how it works when he does it.
Join the discussion: Comment on this story.
Credits
Reporters:

Julian Benbow, Diti Kohli, Hanna Krueger, Emma Platoff, Annalisa Quinn, Jenna Russell, Mark Shanahan, Lissandra Villa Huerta

Photographers:

Erin Clark, Pat Greenhouse, Jessica Rinaldi, and Craig F. Walker

Editor:

Francis Storrs

Managing editor:

Stacey Myers

Photo editors:

William Greene and Leanne Burden Seidel

Video editor:

Anush Elbakyan

Digital editor:

Christina Prignano

Design:

Ryan Huddle

Development:

John Hancock

Copy editors:

Carrie Simonelli, Michael Bailey, Marie Piard, and Ashlee Korlach

Homepage strategy:

Leah Becerra

Audience engagement:

Lauren Booker, Heather Ciras, Sadie Layher, Maddie Mortell, and Devin Smith

Newsletter:

LaDonna LaGuerre

Quality assurance:

Nalini Dokula

Additional research:

Chelsea Henderson and Jeremiah Manion
© 2022 Boston Globe Media Partners, LLC