Los Angeles team
Oct. 30, 2022
He engineered oil rigs for a living. His life's work is this 190-foot Texas cross.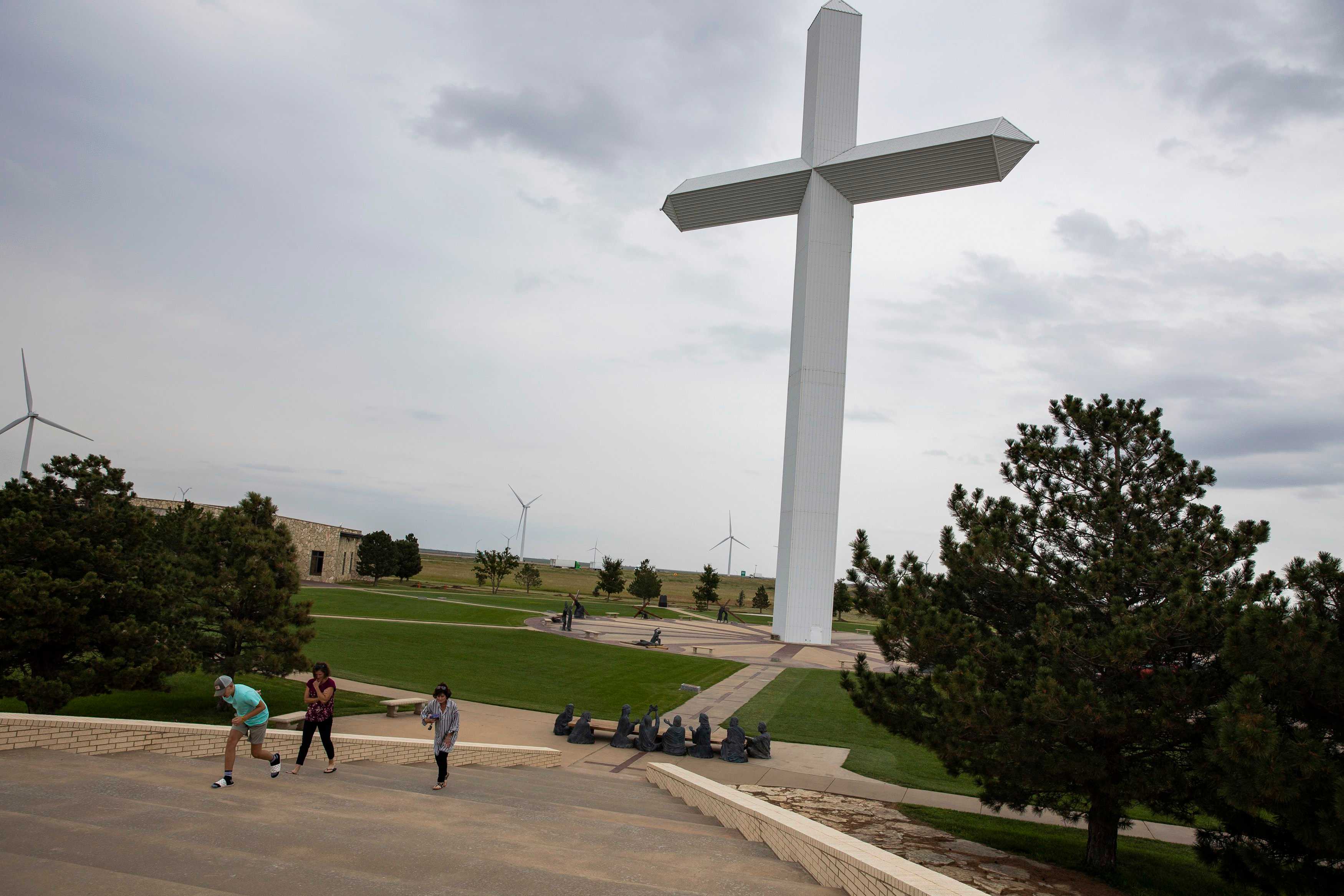 GROOM, Texas — It's visible for miles over the Texas Panhandle landscape of flat fields, ranches, and wind farms, a 19-story metal cross scraping the sky.
Located just off of Route 66, it attracts a mix of believers, locals, and international tourists who happen across it while driving America's most iconic highway.
Many visitors are unaware that the man behind the cross, a hoarse-voiced, patrician Texan named Steve Thomas, is often sitting just a few yards away. Thomas, who recently sold the oil and gas company he had owned for 35 years, likes to sit in his office in the attraction's rest area, and watch through his window as travelers gawk at his life's great work.
"I like to do big things, big projects. And I've always wanted to do one for the Lord," Thomas said, leaning back in his chair. "So my wife came in my office one day and laid down a picture of a cross about half this size in Central Texas. And I had one of those" — he slaps his forehead — "moments again. I can do that."
And, he figured, he could do it even bigger.
The cross measures 190 feet tall — just under the height that would require blinking lights to warn planes — and weighs 2.5 million pounds, according to Thomas. A longtime oil and gas engineer, he borrowed from the design of drilling rig masts.
Thomas had wanted to be a missionary, but he didn't want to leave home, his ranch in Texas, to travel the world. Instead, he found a spot where the world comes to Texas. "When people come to America, they go to Route 66," he said. Now, on average, a third of a million people sign the guest book every year.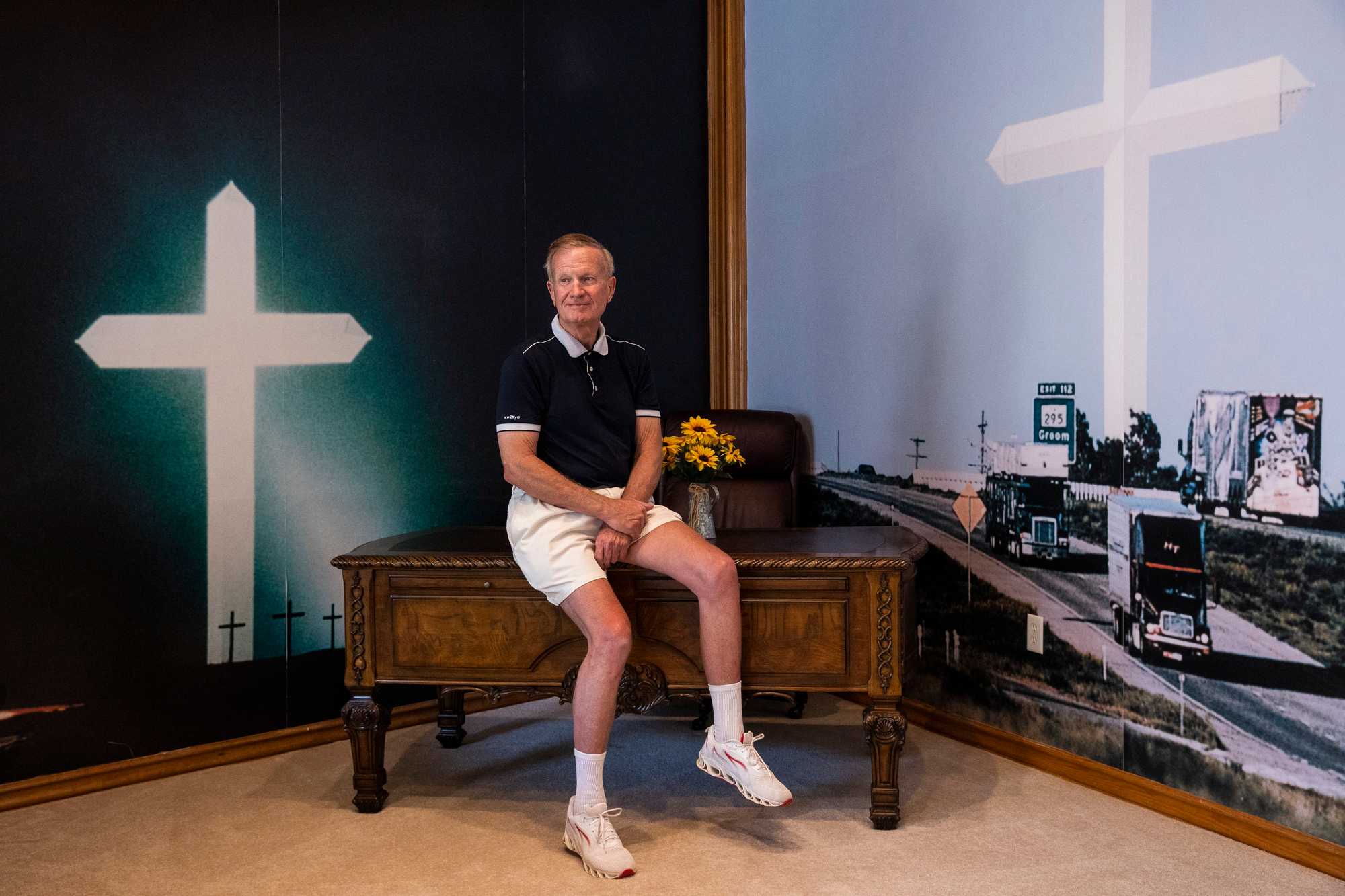 The cross has another advantage, as he sees it. "When you're evangelizing, you work as long as your mouth's moving," he said. But even while Thomas is sleeping, the cross is there, proclaiming its message 24 hours a day, seven days a week to travelers. "They come in, they read all the Scriptures, they see what Christ went through for us."
He's been building this place for 27 years now. And while the cross is complete, Thomas is still adding sculptures along its base. There's already a Last Supper, a replica of Jesus's empty tomb, and 14 sculptures of Jesus at the Stations of the Cross.
Thomas is 73 now and plans to keep adding to it for however long he has left. "Because what we're here for in our short term — whether it's 30, 40, 50, 70, 80 years, 90, 100 — it's gonna be so fast, and we're gonna be facing our creator," he said.
Until that time comes, Thomas will be at his window, watching.
Join the discussion: Comment on this story.
Credits
Reporters:

Julian Benbow, Diti Kohli, Hanna Krueger, Emma Platoff, Annalisa Quinn, Jenna Russell, Mark Shanahan, Lissandra Villa Huerta

Photographers:

Erin Clark, Pat Greenhouse, Jessica Rinaldi, and Craig F. Walker

Editor:

Francis Storrs

Managing editor:

Stacey Myers

Photo editors:

William Greene and Leanne Burden Seidel

Video editor:

Anush Elbakyan

Digital editor:

Christina Prignano

Design:

Ryan Huddle

Development:

John Hancock

Copy editors:

Carrie Simonelli, Michael Bailey, Marie Piard, and Ashlee Korlach

Homepage strategy:

Leah Becerra

Audience engagement:

Lauren Booker, Heather Ciras, Sadie Layher, Maddie Mortell, and Devin Smith

Newsletter:

LaDonna LaGuerre

Quality assurance:

Nalini Dokula

Additional research:

Chelsea Henderson and Jeremiah Manion
© 2022 Boston Globe Media Partners, LLC