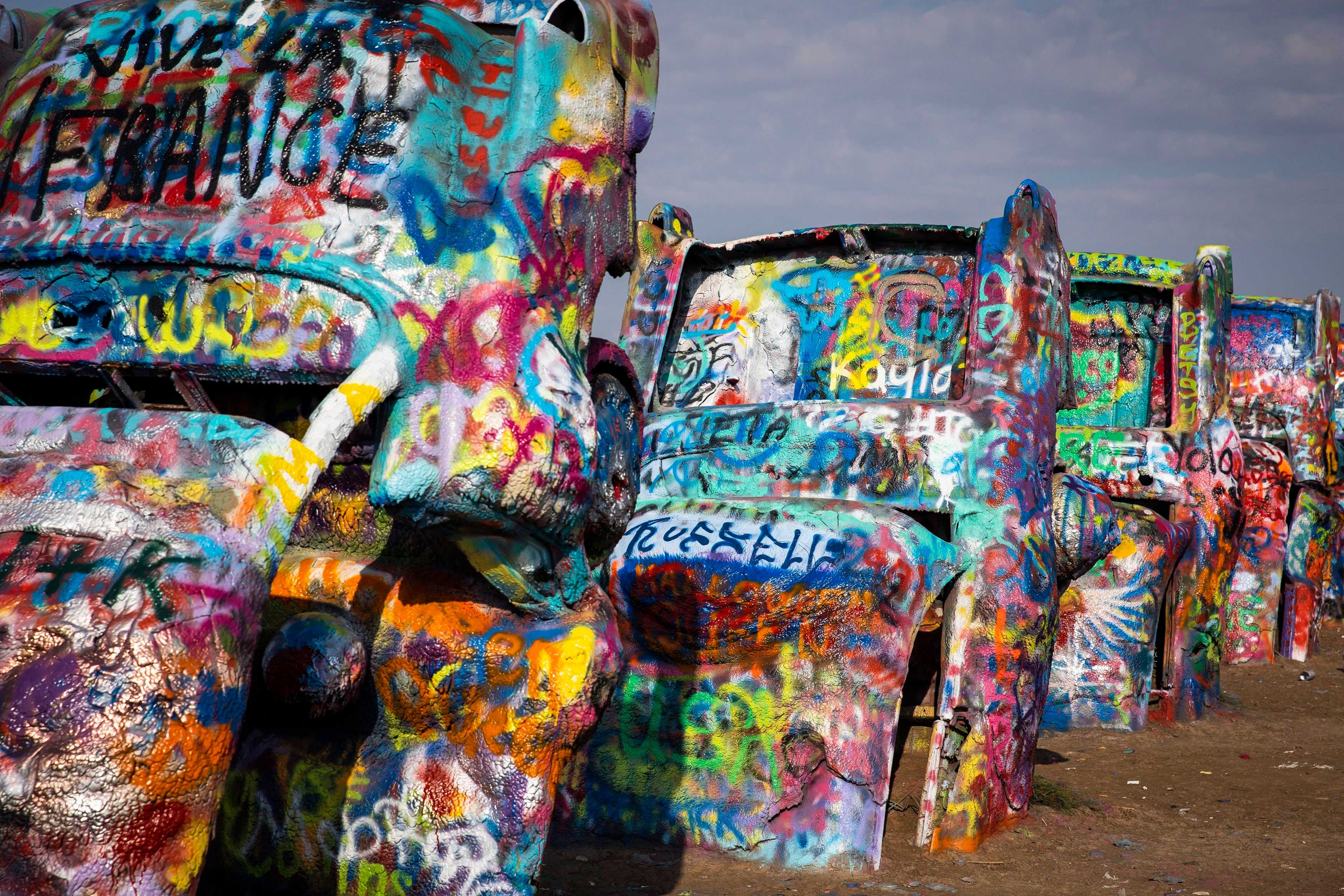 Los Angeles team
Oct. 31, 2022
Postcard from Cadillac Ranch
AMARILLO, Texas — It's windy enough that you need to be careful about where you point the spray paint, and cold enough to keep some of the usual crowds at bay.
In a field just west of Amarillo are 10 vintage Cadillacs, covered in Technicolor graffiti and half buried in the sand with their rear bumpers in the air at, apparently, the same angle as the Great Pyramids. Why were those cars brought to the outskirts of the city nearly a half-century ago? Because a late local millionaire decided it would be so.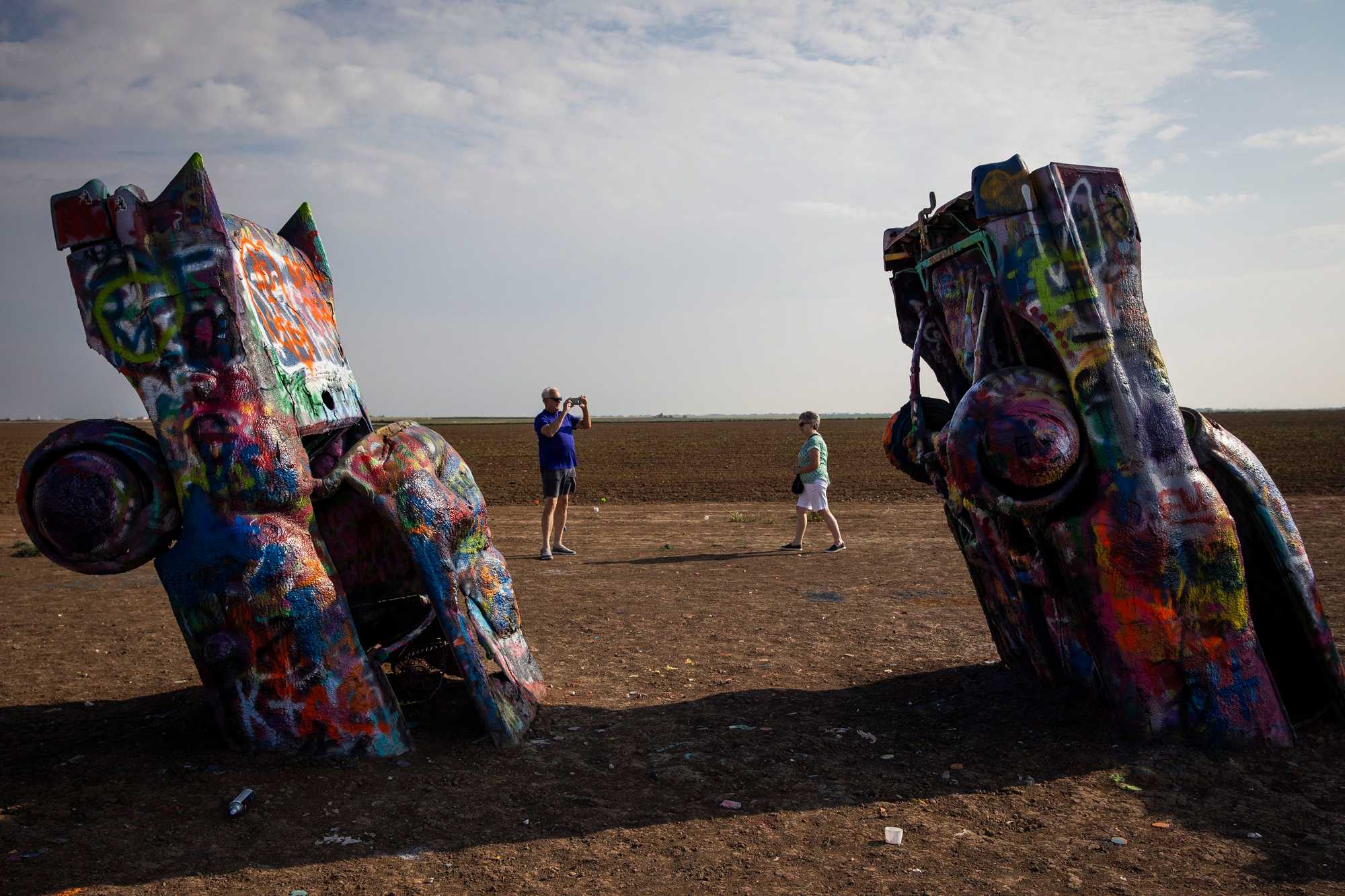 In 1974, Stanley Marsh 3, known for his quixotic art installations, brought a group of San Francisco artists here to create the installation. Cadillac Ranch has captivated the minds of tourists ever since.
Marsh died in 2014 amid accusations of sexually abusing minors, and there was talk of plowing Cadillac Ranch under; according to Texas Monthly, in a settlement there was agreement that Marsh did not own it. Now, there isn't anything reckoning with his legacy in sight.
On Saturday, one couple is here as part of their final vacation before their baby is born. They added their names to one of the cars with spray paint they'd picked up at Walmart. Another family found Cadillac Ranch when searching for something to do while in Amarillo.
Pam and Mike Moman, here on an epic road trip from their home in Alabama to the Grand Canyon, had talked about coming here for years. They were hoping to stop at as many of the Route 66 stops as they could.
Asked what he made of it, now that he was finally here, Mike said, "It's a good waste of an old Cadillac."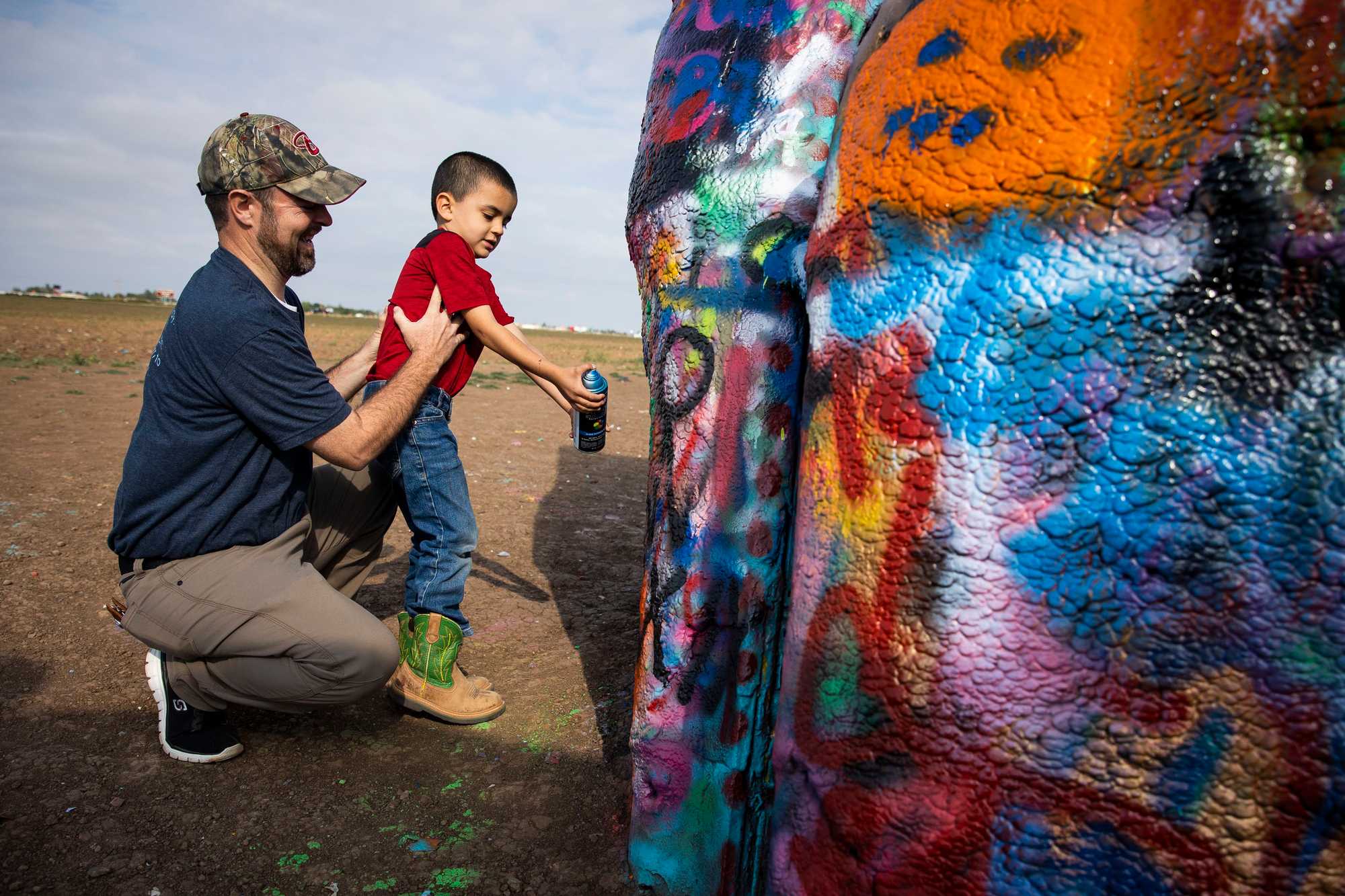 Join the discussion: Comment on this story.
Credits
Reporters:

Julian Benbow, Diti Kohli, Hanna Krueger, Emma Platoff, Annalisa Quinn, Jenna Russell, Mark Shanahan, Lissandra Villa Huerta

Photographers:

Erin Clark, Pat Greenhouse, Jessica Rinaldi, and Craig F. Walker

Editor:

Francis Storrs

Managing editor:

Stacey Myers

Photo editors:

William Greene and Leanne Burden Seidel

Video editor:

Anush Elbakyan

Digital editor:

Christina Prignano

Design:

Ryan Huddle

Development:

John Hancock

Copy editors:

Carrie Simonelli, Michael Bailey, Marie Piard, and Ashlee Korlach

Homepage strategy:

Leah Becerra

Audience engagement:

Lauren Booker, Heather Ciras, Sadie Layher, Maddie Mortell, and Devin Smith

Newsletter:

LaDonna LaGuerre

Quality assurance:

Nalini Dokula

Additional research:

Chelsea Henderson and Jeremiah Manion
© 2022 Boston Globe Media Partners, LLC