Los Angeles team
Nov. 1, 2022
'When we build something, it's together': Visit the famous Pimentel family guitar business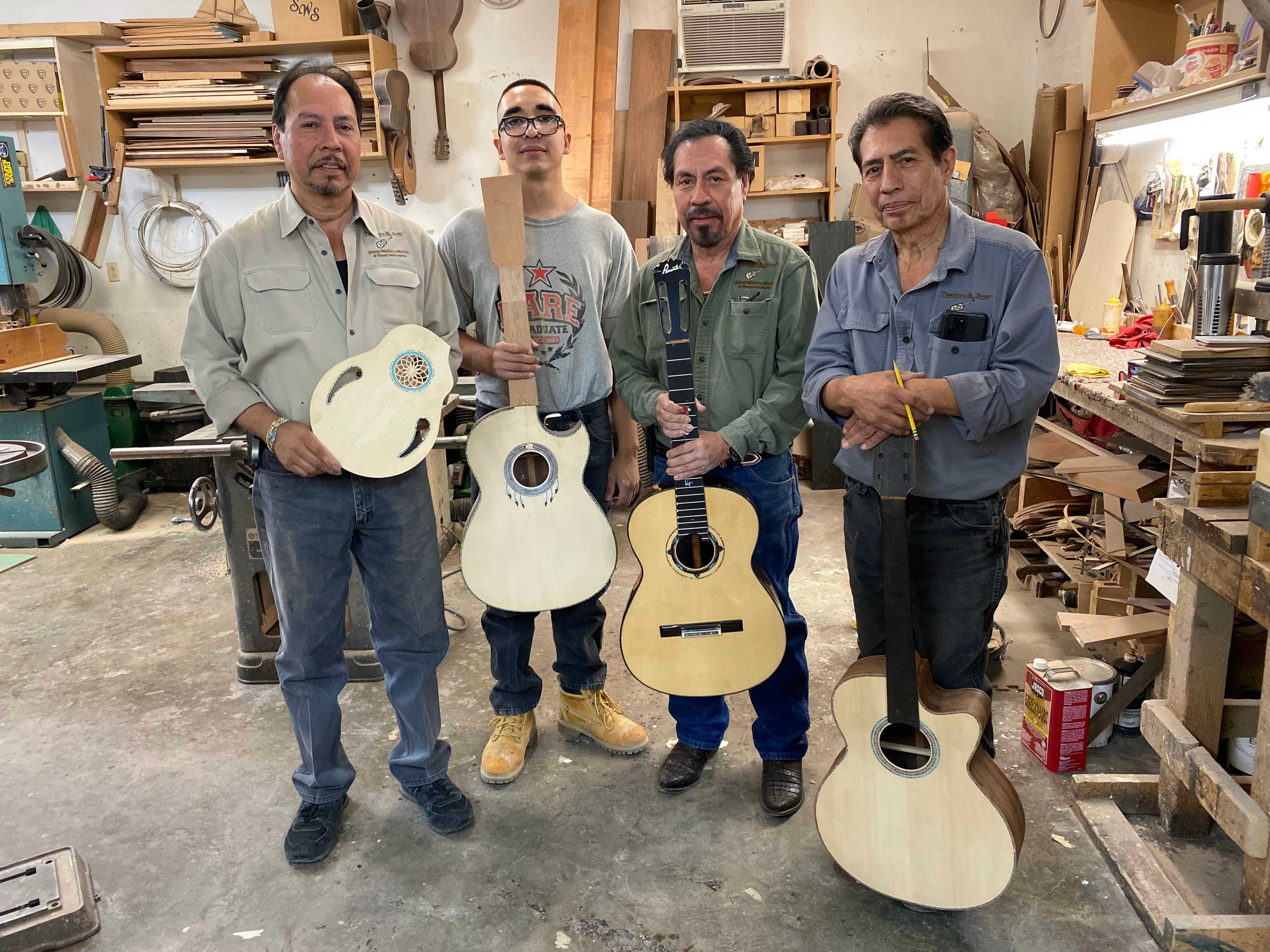 ALBUQUERQUE, N.M. — Rick Pimentel uses an old file he sharpened into a chisel. When he shapes the inside of a guitar, he falls into a meditative state — the chisel becomes an extension of his arm. He often gets goosebumps thinking about how magical the instrument is going to sound, and about his late father, Lorenzo, who founded Pimentel & Sons Guitarmakers.
"We always remember dad when we're chiseling or holding that chisel," Rick said in the workshop, "because he's the one who said 'create your own tools, because there's not really any tools out there that are made for guitar builders.'"
Rick, one of 12 siblings, is part of the second generation to run the business, crafting guitars and teaching lessons. Their father started making guitars in the 1940s in Juarez, Mexico. He and his wife, Josefina, started the business in the United States and eventually moved it to Albuquerque in 1964, into a building then surrounded by nothing but brush, where their sons used to chase rabbits. In the decades that followed, the city, like Lorenzo's business and his family, would expand.
The shop, now at the edge of a residential neighborhood, has an international reputation for fine guitars made entirely by hand. They often appear on the cover of Mel Bay guitar lesson books, which many use to learn to play guitar, and they've been inducted into the New Mexico Hall of Fame. They designed the state's official guitar, and instruments in various stages of completion are arrayed around the shop. One, with coral and turquoise flowers and a hummingbird inlaid into the neck, is priced at $45,000.
---
It can take a year for Pimentel to deliver a custom guitar, but the process of making one starts years before the order is even placed.
The wood gets aged for a decade at a warehouse about 15 miles away, then the brothers bring it to the shop. Some of it is Brazilian rosewood, the rare and threatened "holy grail" of wood for guitars. They have a supply from their father, but now even that is dwindling — there's only enough left for 35 or 40 more instruments. They've traveled far and wide to source other species, including cypress from Spain and spruce from Germany's Black Forest.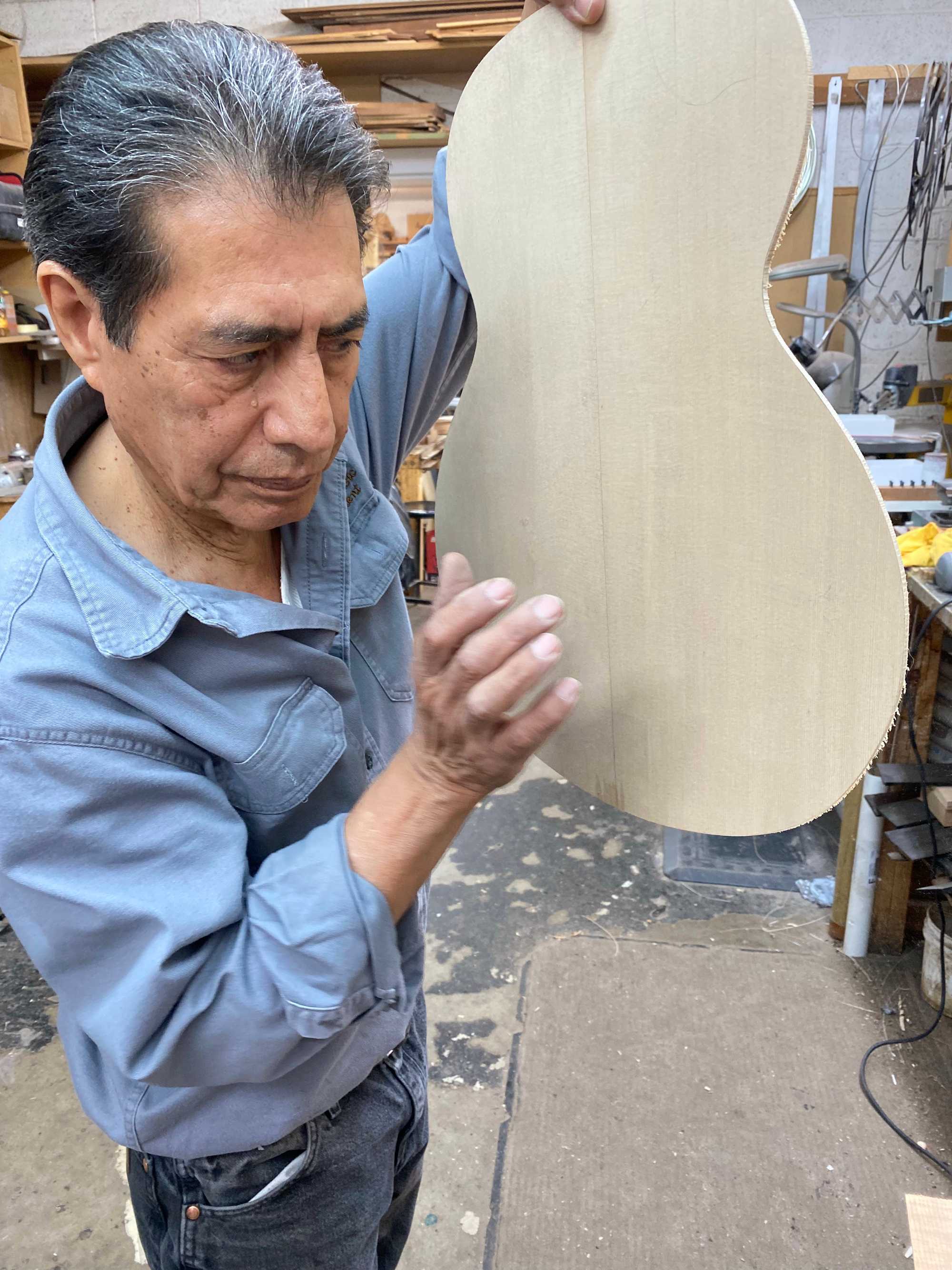 The brothers have a hand in all aspects of the process. Stored around the shop are giant hunks of turquoise, conch shells, and animal bones — from customers who didn't pay their bills, the brothers joke — that they cut down for their intricate inlay work.
The family believes each guitar tells a story, and so they draw a design that suits the customer: bears, snakes, flowers. Pimentel also makes unique rosettes designed to go around the sound hole, spliced together so neatly that the lines for the different pieces are nearly invisible. One design was created by their father, made to look like New Mexico's Santuario de Chimayo. Another common design element is a dreamcatcher laid over the sound hole — the joke is that they catch the bad notes.
Much of the most creative work is inside of the instrument, where different types of bracing create different sounds. When they tap along the wood relatively early in the process, the brothers can tell how it's going to sound at the end.
---
Pranks and shenanigans are part of the family business's lore — like the time Lorenzo smashed a guitar in a pretend fit of anger when it really just wasn't up to his standards — but so is the discipline.
Robert Pimentel III is a member of the family's fourth generation, and he's been working there for seven years. He started, like other relatives before him, by sweeping the shop on Saturdays.
"I fell in love with just everything," he said. "Just the woods, and being around the guitars and hearing the music. Just everything was so captivating. It really inspired me to just continue on with this."
I went into the shop convinced it must be difficult to work, day in and day out, with your family. Sure, there have been some disagreements over the years, often in Spanish over English. But overall, they told me, working with family is easy because you always come back together.
"I don't think it's hard, not anymore," said Victor, the third brother from the second generation in the business that I'd met. "I think we took care of that when we were kids."
Working with family, "it's the best thing ever," Rick said. "We help each other. We're always striving to make the very best."
"When we build something, it's together."
Join the discussion: Comment on this story.
Credits
Reporters:

Julian Benbow, Diti Kohli, Hanna Krueger, Emma Platoff, Annalisa Quinn, Jenna Russell, Mark Shanahan, Lissandra Villa Huerta

Photographers:

Erin Clark, Pat Greenhouse, Jessica Rinaldi, and Craig F. Walker

Editor:

Francis Storrs

Managing editor:

Stacey Myers

Photo editors:

William Greene and Leanne Burden Seidel

Video editor:

Anush Elbakyan

Digital editor:

Christina Prignano

Design:

Ryan Huddle

Development:

John Hancock

Copy editors:

Carrie Simonelli, Michael Bailey, Marie Piard, and Ashlee Korlach

Homepage strategy:

Leah Becerra

Audience engagement:

Lauren Booker, Heather Ciras, Sadie Layher, Maddie Mortell, and Devin Smith

Newsletter:

LaDonna LaGuerre

Quality assurance:

Nalini Dokula

Additional research:

Chelsea Henderson and Jeremiah Manion
© 2022 Boston Globe Media Partners, LLC