Climate resilience
Rising seas are coming for Boston. Let's lift the city.
We know how to protect the region from flooding and other climate-related catastrophes. Now we need to fund the work.

Photo illustration by H. Hopp-Bruce; Lane Turner / Globe Staff
The stormwater washed over the decks of Boston's waterfront condos. It poured through the roof of the Blue Line's Aquarium Station.
And in the North End, it breached a sea wall and swamped a city park that has lured generations of baseball and bocce players to the harbor's edge.
For the stewards of that beloved patch of green, Langone Park, the March 2018 nor'easter was more than just a mess to be cleaned up. It was a warning that a once-distant climate threat was getting closer.
"It's coming," said Cathy Baker-Eclipse, director of the capital plan for the Boston Parks and Recreation Department, standing in the park on a recent afternoon. "It's coming."
Since that storm, concern about the threat that climate change poses to the region has only mounted.
A recent University of Massachusetts Boston study found that sea levels in the Boston area are likely to rise 3.4 feet by the end of the century — and could surge by as much as 15.6 feet, depending on how much of Greenland's and Antarctica's ice melts.
And nearly half of Suffolk County's critical infrastructure, including Logan Airport, police and fire stations, ports, and hospitals, could be rendered inoperable by floodwaters, according to the First Street Foundation, a nonprofit that studies climate risk.
But there is a pretty broad consensus among advocates that the best response to this gargantuan challenge is not some cure-all megaproject.
A second UMass Boston study, of a proposed nearly four-mile-long sea barrier stretching from Winthrop to Hull, found it would take decades to build, at enormous cost.
The smarter approach, most experts agree, is a series of smaller, land-based measures: raising select streets and buildings, making strategic use of berms, and fortifying city parks and turning them into first lines of defense for a threatened city.
That's exactly what Baker-Eclipse and her colleagues decided to do at Langone after the March 2018 storm.
Crews elevated a portion of the Boston Harborwalk that runs along the northern side of the park and replaced the asphalt with an attractive pressure-treated wood.
Just behind the path, they built a new, secondary sea wall, disguising it as a bench with a view of the passing boats. The ball fields were raised by several feet. And the walking paths were sloped to direct water across the park and into the harbor.
It was an expensive project: $15 million. And Baker-Eclipse said it will cost quite a bit more to apply a similar treatment to all the other city parks that could use it.
There is federal money on the way for a big overhaul of Joe Moakley Park in South Boston. Funding is coming together for work at John J. Ryan Playground in Charlestown, too. But Christopher Columbus Park, right down the street from Langone, still needs attending to. Porzio Park in East Boston has to be remade as well.
And even if the city is able to raise its waterfront parks, that's just a small part of what's required to defend Boston.
The city is well aware of that. And it has done an admirable job of mapping out a broad strategy. Boston is "probably the best example of a city in the US that has proactively planned for climate change before being really affected by a significant climate or water event," says Deanna Moran, director of environmental planning at Conservation Law Foundation.
The problem is figuring out how to pay for all the lifting and berming.
Beyond Boston, in smaller coastal towns, a managed retreat from the shore will be a costly endeavor, too. The other great climate threat to the region, extreme heat, will also require substantial investment — in trees, fountains, and heat-resistant road materials.
Ultimately, a massive federal outlay will be required.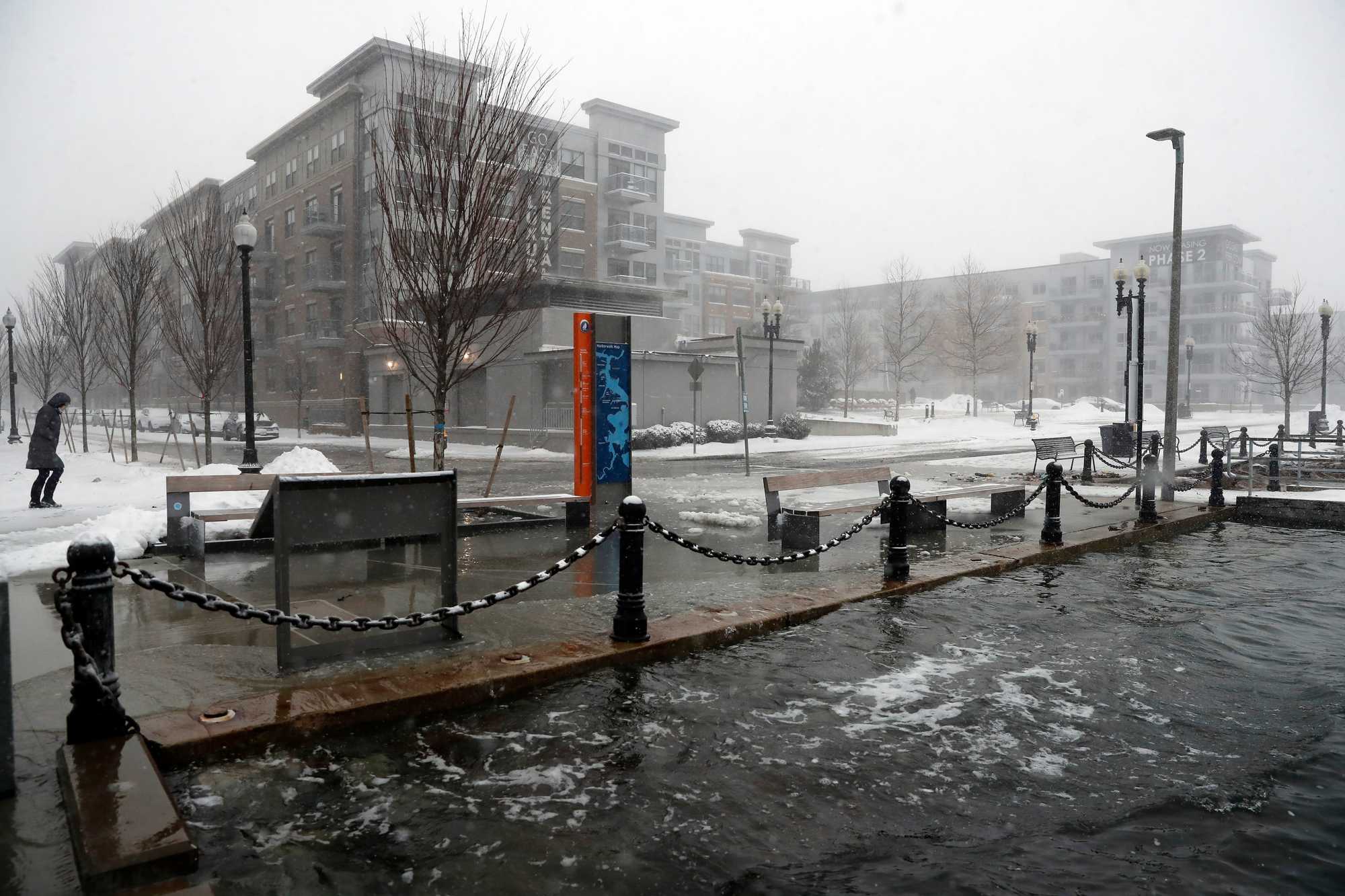 But Massachusetts needs to have some skin in the game.
Three years ago, Governor Charlie Baker proposed raising the real estate transfer tax and funneling the proceeds — more than $1 billion over the course of a decade — into climate resilience.
The proposal didn't go anywhere, in part because housing advocates had long eyed the tax as a source of funding for affordable housing.
But since then, housing and climate activists have rallied around legislation that would raise twice as much as the Baker proposal and split the proceeds between the two priorities.
Even with that hike, though, many of the region's enormous needs would go unmet.
The state Legislature, then, should go for an even bigger tax hike — one that could be combined with new federal funding to build meaningful protections against rising tides and extreme heat.
That's a heavy political lift, no doubt.
But if Beacon Hill Democrats can't summon the courage to act on the climate emergency, then what's the point of Beacon Hill Democrats?