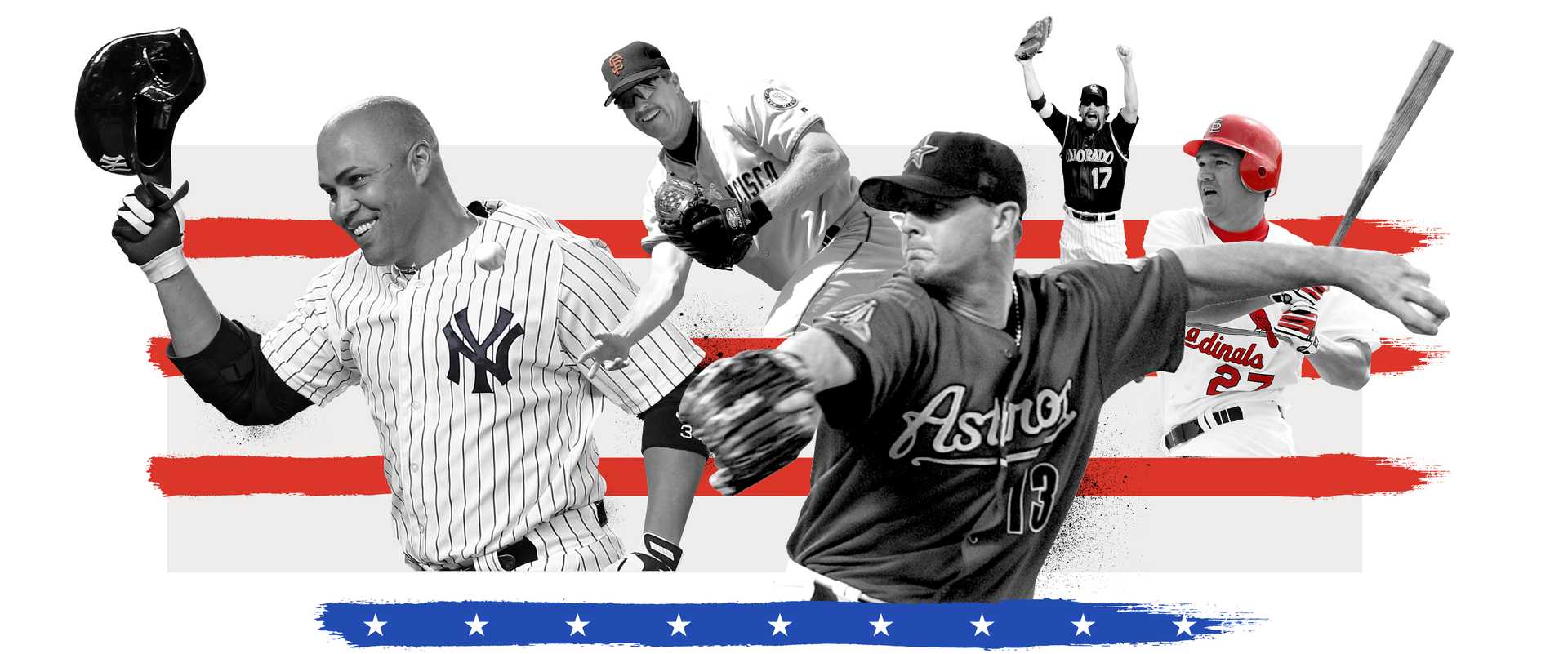 Can any candidates crack open the door to the Hall of Fame this year?
The last two writers' elections produced just one entrant to Cooperstown — David Ortiz — and that stingy trend is expected to continue
The Baseball Writers' Association of America elected 13 players to the Hall of Fame from 2017-20, seven on the first ballot, including the first unanimous choice in history, Mariano Rivera.
Now the spigot is being turned off.
The 2021 election did not produce any Hall of Famers. In 2022, David Ortiz was the lone choice and the only candidate to receive more than 66 percent of the vote.
Do not expect that stingy trend to change for 2023.
With Barry Bonds, Roger Clemens, and Curt Schilling off the ballot after 10 years of eligibility, Todd Helton, Scott Rolen, and Billy Wagner are the top remaining candidates.
Helton and Rolen have progressed beyond 60 percent, a sign they will eventually gain admission. But vote tracking shows that is unlikely to be this year when the results are announced Jan. 24, although there is a chance.
The same is true for Wagner, who reached 51 percent last year in his fourth season on the ballot.
Carlos Beltrán is the top newcomer, but his role as one of the ringleaders of Houston's sign-stealing scheme in 2017 is holding down his numbers.
If no player emerges via the BBWAA vote, Fred McGriff would be the lone inductee on July 23. The well-traveled slugger was a unanimous selection by the Contemporary Baseball Era Committee last month.
These shifts are evident in how six BBWAA members affiliated with the Globe voted.
Rolen and Wagner each received four votes. Beltrán, Helton, and Jeff Kent had three.
This is the final year of eligibility for Kent, who has yet to clear 33 percent. In all, 10 of the 24 players on the ballot received at least one vote from Globe writers.
Former Red Sox great Manny Ramirez, who failed multiple tests for performing-enhancing drugs, received only two votes. He has yet to receive more than 28.9 percent of the votes in six years on the ballot.
Globe writers averaged 4.3 votes per ballot.
Players on the 2023 Baseball Hall of Fame ballot and how the Globe writers voted
75 percent of the vote is needed to gain election to the Hall of Fame. Candidates remain on the BBWAA ballot for 10 years provided they are not elected and they are named on at least 5 percent of all ballots cast each year.
Click on header to sort
| | | | | | | | | | | |
| --- | --- | --- | --- | --- | --- | --- | --- | --- | --- | --- |
| Scott Rolen | 3B | 6 | 4 | 63.2% | | | | | | |
| Billy Wagner | LHP | 8 | 4 | 51% | | | | | | |
| Todd Helton | 1B | 5 | 3 | 52% | | | | | | |
| Jeff Kent | 2B | 10 | 3 | 32.7% | | | | | | |
| Carlos Beltrán | OF/DH | 1 | 3 | | | | | | | |
| Andruw Jones | OF | 6 | 2 | 41.4% | | | | | | |
| Gary Sheffield | OF | 9 | 2 | 40.6% | | | | | | |
| Manny Ramirez | OF/DH | 7 | 2 | 28.9% | | | | | | |
| Alex Rodriguez | SS/3B | 2 | 1 | 34.3% | | | | | | |
| Andy Pettitte | LHP | 5 | 1 | 10.7% | | | | | | |
| Omar Vizquel | SS | 6 | 0 | 23.9% | | | | | | |
| Jimmy Rollins | SS | 2 | 0 | 9.4% | | | | | | |
| Bobby Abreu | RF | 4 | 0 | 8.6% | | | | | | |
| Mark Buehrle | LHP | 3 | 0 | 5.8% | | | | | | |
| Torii Hunter | OF | 3 | 0 | 5.3% | | | | | | |
| Bronson Arroyo | RHP | 1 | 0 | | | | | | | |
| Matt Cain | RHP | 1 | 0 | | | | | | | |
| R.A. Dickey | RHP | 1 | 0 | | | | | | | |
| Jacoby Ellsbury | CF | 1 | 0 | | | | | | | |
| Andre Ethier | RF | 1 | 0 | | | | | | | |
| J.J. Hardy | SS | 1 | 0 | | | | | | | |
| John Lackey | RHP | 1 | 0 | | | | | | | |
| Mike Napoli | 1B/C/DH | 1 | 0 | | | | | | | |
| Jhonny Peralta | SS | 1 | 0 | | | | | | | |
| Francisco Rodriguez | RHP | 1 | 0 | | | | | | | |
| Huston Street | RHP | 1 | 0 | | | | | | | |
| Jered Weaver | RHP | 1 | 0 | | | | | | | |
| Jayson Werth | OF | 1 | 0 | | | | | | | |
A fresh perspective emerges after visiting the shrine
Peter Abraham's ballot
Scott Rolen

Todd Helton

Billy Wagner

Carlos Beltrán
Voting for the Hall of Fame is not the tortuous struggle some would have you believe.
Sitting at home in the cold of December and reviewing the qualifications of excellent players you were privileged to watch play in person is hardly a burdensome chore. It's fun.
For me, the tough part was finding enough spots on the ballot.
From 2013-22, I averaged eight votes per year and hit the maximum of 10 three years in a row. From 2014-19, I filled 57 votes of a possible 60 spots.
Then something changed — I visited the Hall of Fame three times last year.
As part of the Globe's coverage of David Ortiz being elected, I made the trip to Cooperstown twice to work on advance stories and again in July for his induction. During every trip, I spent time in the plaque gallery, including one memorable night at a reception many of the Hall of Famers attended.
It was a reminder that the Hall of Fame is a special place for the very best in baseball and your voting should reflect that.
So only four names were checked off my ballot this year: Carlos Beltrán, Todd Helton, Scott Rolen, and Billy Wagner.
Bobby Abreu, Jeff Kent, Gary Sheffield, Francisco Rodriguez, and Jimmy Rollins were given strong consideration.
Perhaps over time new perspectives could change my opinion on one or more of these players. But checking their names just to help keep a conversation going didn't feel right.
Alex Rodriguez and Manny Ramirez were left off because they tested positive for steroid use after MLB started a testing program.
Helton and Rolen require a voter to be open-minded. I do not fault Helton for being drafted by the Rockies and having great statistics at Coors Field. He also had a strong .855 OPS on the road.
Rolen had 70.4 WAR from 1997-2012. Only four players had more during that time: Rodriguez, Barry Bonds, Albert Pujols, and Chipper Jones.
Jones was a first-ballot Hall of Famer and Pujols almost certainly will be. Bonds and Rodriguez were not, only because of their drug use.
Wagner's statistics rival those of Hall of Famer Trevor Hoffman, who was inducted in '18. Relievers are tricky because even a moderately above-average starter is more valuable. But, as with Helton, I can't see punishing a player who excelled in the position he was put in.
Beltrán's accomplishments are those of a Hall of Famer in every way. He was an outstanding all-around player who excelled in the postseason. That he was a ringleader of Houston's cheating scandal in 2017 doesn't change his credentials.
Béltran paid the price by being fired as manager of the Mets and hasn't been given another chance since. Denying him a vote feels petty.
On this writer's final ballot, no one makes the cut
Bob Hohler's ballot
A blank ballot
Once you receive the privilege to cast Hall of Fame ballots, the honor is hard to lose. You can continue voting after you have stopped regularly covering the game, and even when you are no longer an active member of the Baseball Writers' Association of America, the organization permits you to continue voting for 10 more years.
"The BBWAA trusts that its voters take their responsibility seriously, and even those honorary members who are no longer covering baseball do their due diligence to produce a thoughtful ballot," the organization states.
Since I cast my first Hall of Fame ballot in 2012, I have contributed periodically to the Globe's baseball coverage. I have taken my voting seriously, done my due diligence, and tried to navigate the most turbulent issues, none rockier than the impact of performance-enhancing drugs.
Now I'm done. This was my last Hall of Fame ballot. After 43 years of sports and news writing, the last 36 for the Globe, I'm turning toward the homestretch and moving on from Hall of Fame elections.
I'm going quietly, as it turns out, having decided for the first time to cast a blank ballot. In my view, only the very best players deserve a plaque in Cooperstown, and though I've made exceptions through the years, I've tried to stay true to that standard.
The only surefire Hall of Fame talents I saw on this year's ballot were Manny Ramirez and Alex Rodriguez, two of the greatest righthanded power hitters since Hank Aaron and Willie Mays. Neither received my vote, though, because they admitted cheating with performance enhancers.
Rodriguez claims to have stopped juicing before Major League Baseball began formally testing and penalizing players for PEDs in 2004. If I were to continue casting Hall of Fame ballots, I might one day have voted for Rodriguez, as I did for Barry Bonds and Roger Clemens after passing them over for eight years.
Ramirez, sadly, was a serial juicer, having gotten busted in 2009 and 2011, after reportedly testing positive in 2003. For all the guys who played clean — there were plenty — I couldn't justify honoring Ramirez, as spectacularly gifted and entertaining as he was.
The only box I came close to checking was Scott Rolen's. If the smooth-fielding, hard-hitting third baseman makes it to Cooperstown, in his sixth year of eligibility, I won't complain. Rolen was great, just not great enough in my estimation.
As a baseball-obsessed kid who grew up an easy walk from Fenway Park, I dreamed of one day hitting like Ted Williams. I swung and missed at that fantasy, but I'm forever grateful to the Globe for the opportunities to have covered the Red Sox for five years, including the historic 2004 championship season, and to have participated in Hall of Fame elections. Thanks also to the readers who joined me on the journey.
Committee gave us some guidance — and validation
Dan Shaughnessy's ballot
Jeff Kent
Hello, again.
Happily, many of the cheaters and scoundrels have been swept off the Hall of Fame ballot this year. Baseball writers, ever the dartboard ornaments for enraged fans with strong opinions, will never again have to consider the cases of steroid guys Barry Bonds, Roger Clemens, and Rafael Palmeiro. All have failed to pass the 75 percent bar in 10 years on the ballot and are therefore broomed from consideration by us.
Same goes for Curt Schilling, the first man to tweet his way out of Cooperstown. Curt threw a fit after getting 71 percent of the votes two years ago, insulted all writers, and asked to be considered by "folks he respected" on the Veterans Committee, which features many Hall of Famers. He got only 44 percent of votes from the "Contemporary Era Committee." It turned out that Schill's peers are more reluctant to honor him than the writers were.
Seeing the Veterans Committee pass on the likes of Bonds, Clemens & Co. was somewhat validating for those of us who've tried to honor the Hall's request and keep cheaters out of Cooperstown. Had the committee said yes to those guys, I would have become a "strictly numbers" voter. That is easy. I can count. I know who the Hall of Famers are. Clemens and Bonds would be easy. Sammy Sosa would be another one. The guy hit 60 homers three times.
In this spirit, I was all set to vote for Manny Ramirez, Carlos Beltrán, Gary Sheffield, and Alex Rodriguez — players on this year's ballot who have Hall of Fame numbers. But since the Hall of Fame players on the Vets Committee have indicated they don't want these guys in, I will stay on the wall and steer clear.
This leaves me in the same stupid place I've been for the last two years. One vote. For second baseman Jeff Kent. Who has no chance to be elected.
Theo Epstein told me last winter, "Jeff Kent might not be the hill to die on," and I understand how dumb it looks. But he's the only guy on this year's ballot who is both good enough and not tainted by cheating.
Laugh all you want, but Kent was an NL MVP, a five-time All Star, and has a higher WAR than Hall of Fame second baseman Bobby Doerr. He was dominant at his position in the time he played. Among all second basemen, Kent ranks first in homers and third in RBIs — better than Hall of Famers Ryne Sandberg and Joe Morgan.
Among others on this ballot, Scott Rolen might be the only player who gains election. Young voters and WAR guys love Rolen. Not me. He's probably a wonderful guy and was certainly a good player, but he is not a Hall of Famer. He's a career .281 hitter who played more than 142 games in only five of his 17 big league seasons. He made it into the top 10 of MVP voting in only one season. He also went 0 for 15 when the Cardinals were swept by the Red Sox in the 2004 World Series.
Happily, in the next couple of years, we'll have new candidates such as Joe Mauer, Adrian Beltre, Ichiro Suzuki, and Dustin Pedroia to consider.
No more ballots with a single check mark for Jeff Kent.
That'll feel better.
Controversial candidates still get the nod
Michael Silverman's ballot
Scott Rolen

Billy Wagner

Carlos Beltrán

Alex Rodriguez

Manny Ramirez
Old writing and voting habits die hard.
That is why, even though they're no longer on the ballot, Barry Bonds and Roger Clemens still get top billing as they step aside to make room for the next bad-boy duo on the ballot, Alex Rodriguez and Manny Ramirez.
While Bonds and Clemens did not test positive for performance-enhancing drugs under MLB's program, Rodriguez and Ramirez did. While that makes a negative difference in the eyes of roughly half the Bonds/Clemens voters, I'm sticking with my amoral if unpersuasive reluctance to rank their poor choices above my estimations of their baseball careers.
My other repeat vote goes to Scott Rolen, whose career feats place him just inside the hallowed precincts of Hall of Fame third basemen.
In his first appearance on the ballot, Carlos Beltrán grazes but still clears the bar for a Hall of Famer. His two decades of mostly five-tool production add up to a candidate who ranks in the lower, but still eminently worthy, tier of outfielders.
As egregious as his role apparently was in the Astros' cheating scandal, it's not disqualifying. I feel comfortable speculating, as I do with performance enhancement, that he'd find plenty of company among the plaque-holders when it comes to gaining a similar type of edge. Doesn't make it right what he did. And doesn't make him wrong for the Hall.
After scrutinizing his case even more closely — thanks, Jay Jaffe and Elaina and John Pakutka — I'm adding closer Billy Wagner to my ballot. Relievers are still viewed as something of an exotic creature by many, myself included. Perhaps we were spoiled by how high a bar Mariano Rivera set, but there's no harm in making more room for closers with elite and dominant credentials like those posted by Wagner.
The case for more relievers is a workable segue to a concluding wish masquerading as a pet peeve — that we put on mute the usage of "small Hall" and "large Hall" labels on voters. The size and growth rate of the Hall is an irrelevant, illogical, and distracting phenomenon.
The Hall has room for whoever is elected.
The cases are solid for these great eight
Alex Speier's ballot
Scott Rolen

Billy Wagner

Todd Helton

Andruw Jones

Gary Sheffield

Jeff Kent

Carlos Beltrán

Andy Pettitte
This year marked my second crack at voting. I voted for eight players and wrestled with four more.
Holdovers: Todd Helton, Andruw Jones, Scott Rolen, Gary Sheffield, Billy Wagner
New selections
Carlos Beltrán: In his first year on the ballot, Beltrán stands out as one of the preeminent five-tool players of the last 25 years, a player whose Hall of Fame credentials are obvious. I wrestled with whether to withhold my vote, at least this year, based on his role as a central figure in the Astros scandal, but decided against doing so because a) players weren't subject to penalties for electronic sign-stealing during Beltrán's career and b) I don't see the point of withholding a vote for a year if I believe that I'll ultimately vote for the player.
Jeff Kent: Like Sheffield, he gets dinged for defense based on metrics that might not be much better than being pulled out of thin air. Offensively, there's not a lot of doubt about his qualifications as one of the greatest-hitting second basemen ever. There wasn't room on my ballot for him last year; with David Ortiz, Barry Bonds, Roger Clemens, Curt Schilling, and Sammy Sosa off the ballot, that's not an issue this year.
Andy Pettitte: Since 2000, the BBWAA has elected 31 position players, 5 closers, and 8 starting pitchers — a ridiculous squeeze of starters, who are held to almost impossible-to-achieve standards that have never properly adjusted to reflect drastically changing roles across eras. It's probably time to decouple the expectations of perennial Cy Young contention and incredible durability as a prerequisite for Hall election, and to recognize both as remarkable.
Along those lines: Pettitte's 256-153 record, 3.85 ERA, and 117 ERA+ in a career that featured a) nearly 1,800 innings in the Steroid Era, and b) nearly 2,800 innings in the AL East stand out. He was a top-six Cy Young candidate five times and a staple of October rotations. His career numbers are strikingly similar to those of CC Sabathia (251-161, 3.74 ERA, 116 ERA+), who is considered a shoo-in for the Hall based on a superior peak. But Pettitte ran the same — or at least a similar — marathon, and did so with incredible distinction.
Not quite
Bobby Abreu: I'm on the fence. For now, I'm swayed by the fact that the two-time All-Star would seem out of place in a hall of fame. He delivered under-the-radar excellence over a long career — though he was no Dwight Evans (who should be in the Hall). I can't recall thinking or hearing a case for him as an all-time luminary among right fielders.
Mark Buehrle: His career numbers are similar to those of Pettitte, but 13 of his 16 years were spent in the AL Central and NL East, making the degree of difficulty of his career vastly different. Baseball Prospectus factors quality of opposing hitters into its DRA stat (Deserved Run Average). Pettitte's DRA was 19 percent better than league average for his career. Buerhle was just 6 percent better.
Manny Ramirez and Alex Rodriguez: Last year, I left them off because I was out of space and viewed them as less deserving than other candidates given their repeated, shameless violations of baseball's PED policies. I figured I'd add them this year. But with the benefit of another year (and a chance to mull Doug Glanville's brilliant essay on the ethics of Hall voting), I'm simply not ready to reward players who so flagrantly tilted the field.
Plenty of room on this ballot — but not for A-Rod
Tara Sullivan's ballot
Scott Rolen

Billy Wagner

Manny Ramirez

Todd Helton

Andruw Jones

Gary Sheffield

Jeff Kent
Well, David Ortiz is in, Curt Schilling is over, Barry Bonds and Roger Clemens are off the ballot. What's left to argue about?
We still have Alex Rodriguez of course, but for me, no entry on the Hall of Fame ballot for A-Rod.
Yet.
I still won't rule him out, because there's no doubt his talent alone is enough for enshrinement. But I'm not ready yet to accept the admitted steroid abuse and vote him in.
Instead, let's talk about those who made my cut, starting with holdover Jeff Kent. Kent was one of the best second basemen of his generation, a five-time All-Star, and an MVP in 2000 with 33 of his 377 career homers, 125 RBIs, 114 runs, and 12 stolen bases. In his 10th year on the ballot, this is his last shot.
I also kept Manny Ramirez on there, a nod to one of the greatest hitters I ever saw in person, someone who never should have used steroids. He cost himself a legacy.
The biggest change of heart comes regarding reliever Billy Wagner. Much like the thinking I have used in defense of Ortiz or Edgar Martinez, if it's a position on the field, it should be considered equal to all others. I confess I wasn't always doing that for closers. But Wagner, who made one of the quickest and most impressive returns from Tommy John surgery I ever saw, is sixth in career saves. He was as automatic as anyone, and more than ever, relievers are an enormous part of baseball strategy.
I also added Andruw Jones, Todd Helton, Scott Rolen, and Gary Sheffield, another nod to not having a recency bias, where it's so easy to feel as if recent players don't match up against the generations before them. They were all among the best players of their times, and my ballot has opened up.
Bob Ryan did not participate in the Globe's ballot reveal this year.
Credits
Reporters:

Peter Abraham, Bob Hohler, Dan Shaughnessy, Michael Silverman, Alex Speier, and Tara Sullivan

Editor:

Katie McInerney

Design:

Ryan Huddle

Development:

Daigo Fujiwara

Copy editor:

John Carney

Quality assurance:

Nalini Dokula
© 2023 Boston Globe Media Partners, LLC