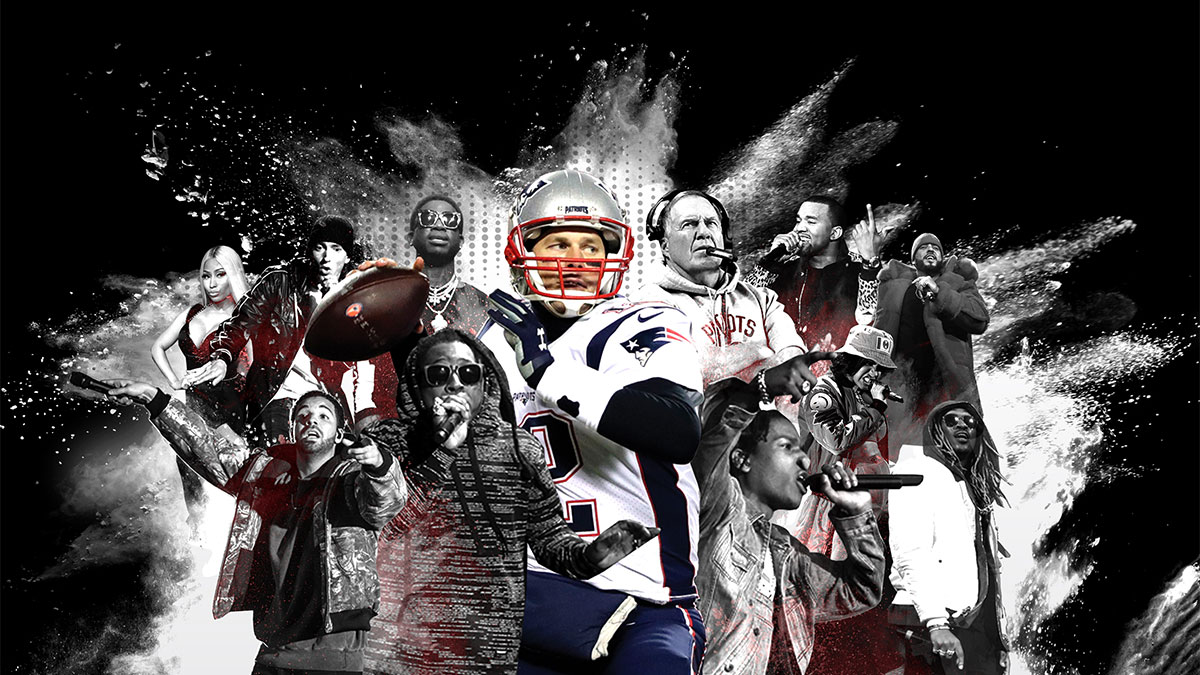 Tom Brady and
the rap game
From Lil Wayne and Gucci Mane to Kanye West and Eminem, the Patriots quarterback is hip-hop's perfect avatar for excellence.
January 31, 2019
ATLANTA – It was a couple of weeks ago, during a Patriots practice in chilly Foxborough. Drake was on the speakers.
Tight end Stephen Anderson, just signed to the 53-man roster, looked over at his quarterback. Tom Brady dropped back and threw a pass to an equipment manager, oblivious to the line from "Yes Indeed" containing his name.
"That wasn't the first time I heard the lyric, but I was like, 'Oh!' " said Anderson. "That was the first time I was able to hear it and look at him at the same time. It was really cool."
Disclaimer: Songs embedded throughout contain explicit language.
Drake, Kanye, Future, Rick Ross, Eminem. They've all rapped about Brady and the Patriots. In a musical genre obsessed with success and competition, Brady is an avatar for excellence. If the quarterback wanted to drive from his home in Brookline to Gillette Stadium and back, listening only to tracks that mention him, he could do so, and still have plenty to spare.
"That's always really cool," Brady said. "I'm a big fan of so many of those guys. I have a lot of friends [in music] that I've met over the years that are fans of what we do, too.
"I just appreciate people that love what they do, and musicians are certainly the same way. They live, dream, think about music all day long. It's in their head, and for so many ways, that's me too. I think about football and plays and schemes all day long.
"I think that mutual appreciation or admiration is really flattering."
Brady's name started to pop up in hip-hop in the mid to late 2000s, once he already had three Super Bowl rings. In 2007, rapper Trife Da God used Brady as a metaphor for his work ethic on the Ghostface Killah track "Paisley Darts."
Then came Lil Wayne, in 2009, on "That's All I Have." Patriots right guard Shaq Mason remembers being 15 and loving "No Ceilings," the mixtape that song came out on, listening to Wayne liken himself to the quarterback he'd one day protect.
"That's pretty good," Brady said, wondering out loud whether that lyric marked the first time he heard himself mentioned in a song.
Why Brady? Same reason Aston Martin wants him selling cars.
"I think that rappers are going to say not only are they the best, but that they're, like, indisputably the best," said William Ketchum III, deputy editor at Vibe Magazine. "Unless it's a very specific rhyme scheme or they're from the same city, you aren't going to hear a rapper compare themself to Jake Delhomme."
It's in some ways an odd pairing – Brady, the early-to-bed avocado enthusiast who plays in a region of the country that's not exactly a hip-hop hotbed, and a bunch of rappers. The Patriots and Bill Belichick, too, have been lyrical source material.
It's not a natural personality fit, nor does Brady carry the political/cultural gravitas of a Marshawn Lynch or Colin Kaepernick. But what the quarterback, coach, and team share with most figures whose names pop up in rap lyrics is this: Everyone knows what you mean when you bring them up.
With Brady, it's winning, and winning at just about any cost. Hip-hop is one area in which something that's commonly used to detract from the Patriots' success – their reputation for bending the rules – is a good thing.
"Not only have these guys won so much and no one can do anything about it, but they've also done so by both figuratively and literally breaking the rules," Ketchum said. "The big thing in hip-hop is breaking the rules."
Take "MotorSport," by Migos, Cardi B, and Nicki Minaj. It's probably not on the practice playlist at Gillette Stadium, but when Quavo talks about Deflategate, he's not criticizing.
The song treats the scandal so casually that one Patriots player, in mid-conversation about all the lyrics mentioning his team and his quarterback, forgot it was a reference to something typically taboo with the team.
"Y'all have the other one? 'MotorSport'?" he asked, glancing at a playlist.
"Oh. Never mind," he said, realizing.
The song has been rubbed in the Patriots' faces. Last season, when they lost to the Dolphins in Miami, then-Dolphins wide receiver Jarvis Landry played "MotorSport" in the winning locker room after the game. He'd also posted the lyrics in a caption on his Instagram.
In the world of hip-hop, though, scandal is OK, even cool. Rap battles, rap beefs . . . it's a genre that embraces conflict and uses it as fuel, and low blows are just a part of the game. It's a natural pairing with sports, where competition and winners and losers are a given, even if what's at stake is relatively trivial. Brady used 50 Cent's song "Many Men" in an Instagram video after beating the Chargers in this year's divisional round, the lines "many men wish death upon me" an apparent reference to those who didn't think he'd play so well for so long. 50 Cent, who gave Brady's use of the song his stamp of approval on Twitter, wrote it about getting shot.
In some cases, Brady references tie together rappers who are typically adversaries. Pusha T uses Brady's name on the Kanye West-produced "Infrared," a diss track directed at Drake.
A good line, but at least Drake had the mind to rap about Brady's throwing arm, far superior to his mobility.
Drake, a Lil Wayne protege, comes by his Brady lyrics honestly. Lil Wayne started early with "That's All I Have," and his catalog now contains as many Brady references as the Patriots' trophy case has Lombardis. It makes sense, both because Lil Wayne is a sports fanatic and because of his rap style.
"Wayne's rap style isn't always linear, so even though he has storytelling abilities, he's not telling a story from beginning to end all the time," Ketchum said. "With Wayne, what makes him brilliant is the way that he will tie one phrase to the next phrase.
"In that sense, a rap style like that is very conducive for comparisons for athletes because it's conducive to comparisons in general."
Especially comparisons to athletes like Brady, who have been around so long that everyone knows who they are and what they represent.
"It means they're good at what they do," said Sony Michel, the Patriots running back who has a side career as a rapper. "Rappers only shine light on things that are relevant, and if it's referencing an athlete, that means they're the GOAT, like Tom Brady."
Hear the song,
read the
Patriots

reference