July 10, 2017
Hitters offer groans and expletives when asked about facing Red Sox pitcher Chris Sale. For most, the experience is a distinctly unpleasant one.
"He's definitely the toughest pitcher I've ever faced," said Red Sox outfielder Jackie Bradley Jr.
In 18 starts spanning a league-leading 127⅔ innings, Sale is 11-4 with a 2.75 ERA. He has struck out 10 or more batters 12 times – tied for the fifth most in major league history through 89 team games – with 35.9 percent of all hitters who have walked to the plate against him making a U-turn to the dugout following a strikeout, the second-highest rate by a starter in American League history. He's on pace to strike out 324 batters, a mark that would surpass Pedro Martinez's Red Sox record of 313, and will start for the American League in the All-Star Game.
Sale's dominance results from a combination of factors. Everything he does on the mound is intended to leave hitters feeling lost.
"It's like taking five ways home instead of one way home," Sale said. "If you take one way to your house every day from work, you'll get comfortable. You can basically drive with your eyes closed. If you're taking five different places home, you're probably going to have to put the GPS in for at least two or three of them."
Sale's arsenal forces his opponents to consider all kinds of routes, yet in many ways, he manages to deactivate their satellite signals. There are times when hitters look almost as if they're trying to figure out a route while blindfolded.
How does he do it? What makes Sale such a formidable opponent?
"I can't pinpoint one thing that makes him different than anyone else," said Tigers second baseman Ian Kinsler. "There are a lot of things that make him different."
The delivery
Conversations about Sale's distinctiveness start with the way he gets the ball to the plate.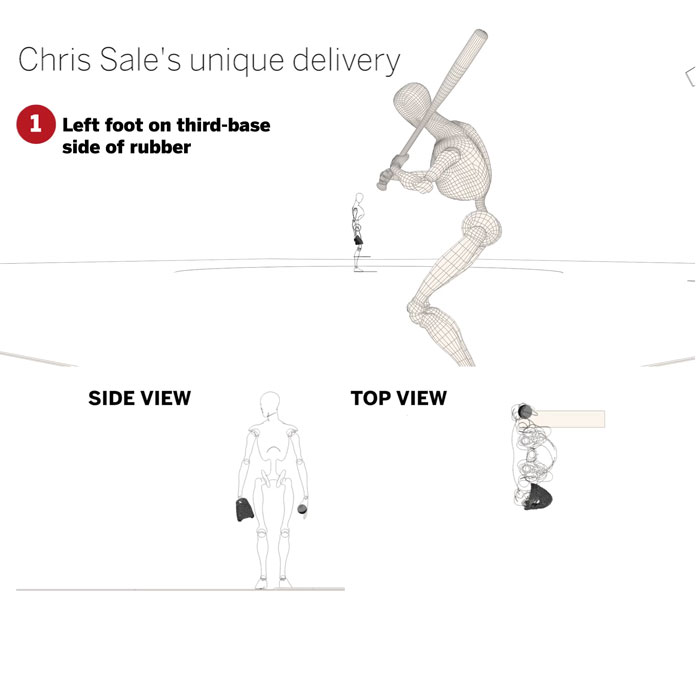 Pitchers are taught to work in straight lines toward home plate to increase the likelihood that they'll repeat their delivery and command their pitches. Sale does nothing of the sort.
Sale starts his delivery with his left foot on the third base side of the pitching rubber, but instead of trying to move in a line with the plate, he puts down his front foot in front of the opposite side, roughly two feet to the left. The follow-through as he rotates his hips and shoulders takes him to the first-base side of the mound – a position the 6-foot-6-inch lefthander sometimes reaches with a jump or a wide sweep of his back leg.
"There's something to a hitter when you're focused on a guy and all of a sudden everything shifts laterally," said Red Sox assistant pitching coach Brian Bannister. "I think it's hard to refocus and calibrate what angle he's coming in."
The recalibration must occur quickly, because the pace of Sale's delivery is almost on fast-forward.
"His windup is very fast, which makes you want to go fast," said Tigers slugger J.D. Martinez. "Everything jumps at you."
Sale cannot recall when he started throwing with his signature crossfire delivery.
"Obviously, it's probably not the prettiest thing to watch or see," said Sale. "But I think for anybody, no matter what your delivery is, if you can repeat it, that's the key. It doesn't matter how you get there. Are you doing it consistently over and over again?"
The release point
To explain the effectiveness of his own sidewinding release and that of a pitcher like Sale, Orioles righthander Darren O'Day recalled the memorable performances of softball star Jennie Finch against some of baseball's most prominent hitters last decade.
Hitters like Albert Pujols and Barry Bonds repeatedly missed her underhanded offerings. Their brains hadn't been trained to process the relationship between where Finch's pitches were coming from and how they moved from that spot.
"These hitters just build up a library of pitch recognition over their careers and lives," said O'Day. "When you throw something a little bit different at them, sometimes some guys can't make the adjustment.
"There are some guys who just don't have that software program to tell them, 'That's going to go that way,' or, 'That's going to sink.' "
Sale breaks hitters' mental databases because the whip of his arm is primarily east to west rather than north to south, and because the trajectories of his pitches defy expectations.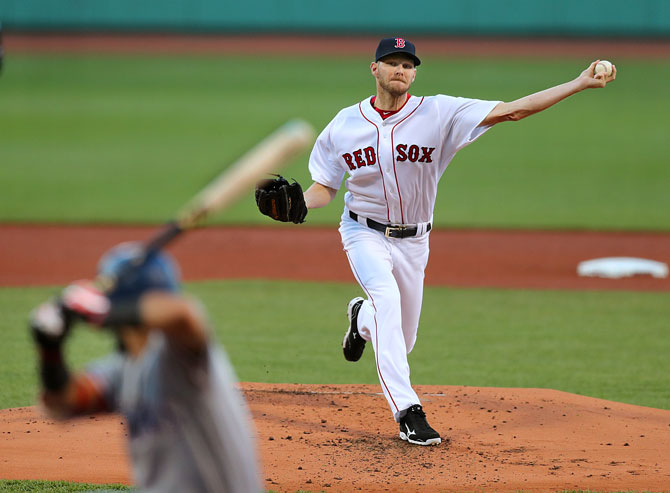 Typically, if a hitter sees a pitch from a lefthander moving from his right to his left, he knows something very specific about its type and eventual location: It's a breaking ball moving toward a righthander and away from a lefty. In Sale's case, because of where he releases the ball, everything he throws starts by moving from the batter's right to his left, yet that initial movement reveals little about the ball's ultimate flight pattern. The initial movement of Sale's pitches is the same, but the late movement can go in any number of directions.
"That is true deception," said Red Sox pitching coach Carl Willis. "The hitter's anticipation is, 'I see the ball. The ball is going to be here.' Yet it's not."
"Everything is coming from that same plane — the slider, fastball, changeup," lamented Rangers first baseman Mike Napoli. "You think you're swinging at one thing and it could be something else."
Sale employs a low three-quarters arm slot – the angle of his arm elevated only slightly above a sidearmer – that confronts opponents with a sense of unfamiliarity.
"Most guys try to throw over the top or at a down angle," said Bannister. "He literally whips it like a Frisbee. He's able to do the arm action of throwing a Frisbee but do it at 98 miles per hour, which I think is unique."
Of 148 lefthanders who have thrown at least 50 pitches this year, Sale's average horizontal release point is the 11th most extreme. His vertical release is 21st lowest in that group. Sean Manaea of the A's has a similar horizontal and vertical release point, and four other pitchers – all relievers – have both a lower release point and are shifted further toward first base. None throws in the mid-to-upper 90-m.p.h. range.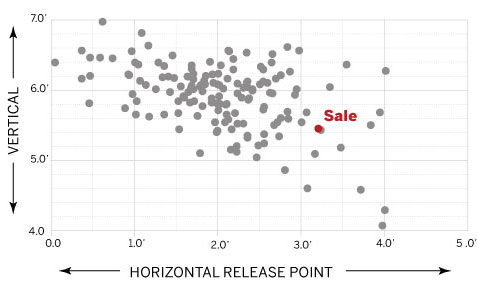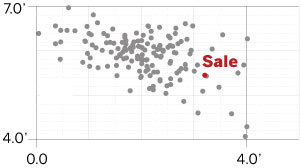 This shows the average release point for lefthanded pitchers in 2017. What's important to note is Sale's location toward both the lower and right portions, far from the average.
The effect of throwing from that position, while not unique, can be unsettling, particularly for lefthanded hitters.
"You see it coming out of his arm slot, it's almost behind you," said Twins first baseman Joe Mauer, noting that the only other starter he'd faced with a similar motion was Hall of Famer Randy Johnson.
Righthanders don't experience the same sort of knee-buckling uncertainty as lefties, but the line of Sale's pitches toward the plate nonetheless confounds them.
"Sale creates an angle, we say, from right-center field, that's pretty rare around the league," said Twins second baseman Brian Dozier. "I don't know if you see that from really anyone else around the league."
The arsenal
Sale defies patterns and predictability, interchangeably throwing a two- and four-seam fastball, a changeup, and his sweeping breaking ball. He's an expert at throwing all of those offerings from the same window, offering few clues to opposing hitters about whether they're swinging at a pitch that might sail up and away, down and away, down and in, or up and in.
"That's the whole point of pitching – to make all your pitches look the same coming out of your hand," said Sale. "That's a skill I've tried to refine since basically the day I started pitching. You want to have the same arm speed, the same delivery, the same mechanics. Repeating your delivery helps that even more. If you can make every pitch in your arsenal look the same coming out of your hand, the better off you'll be."
Four-seam fastball
Usage rate

95.2

Average velocity

second-hardest among lefthanded starters

Horizontal break

10.5

Inches

toward the lefthanded batter's box, second-most among lefthanded starters

Vertical break

16.5

Inches

Ranks 14th among lefthanded starters – relative to Sale's other pitches, a pitch that stays on a true plane
In many ways, Sale's four-seam fastball sets up everything else. Hitters must respect that he throws hard and that he attacks both sides of the plate.
"He throws it about 96 miles an hour, and if you throw that to a certain spot, you can eliminate some hitters because some people can't handle 96," said Cooper. "And when you've got both sides of the plate, now the hitter can't sit in one area. That's where the head games start to come in. That's it with his fastball."
While Sale tries to work around the hitter's waist with his four-seamer, he'll periodically throw pitches to the top of the strike zone or above that have explosive movement toward a lefthander. Those are mostly mistakes.
"A lot of times when my ball takes off, up and away to a righty, you can watch – [catcher] Sandy [Leon] is calling fastball in and I just miss and it kind of takes off," said Sale. "It's not like I'm trying to do that."
Still, the effect can be devastating. Pablo Sandoval once offered one of the most dramatic illustrations of the point.
On July 30, 2015, Sandoval anticipated that on an 0-and-2 count, he'd receive a fastball. He got it, saw a pitch that he thought would be over the plate, swung … and had the ball careen off his forearm, leaving him to miss the rest of that game as well as the next two.
"I [thought] the ball is going to be a strike and the pitch hit me right here," Sandoval said. "I expected fastball, but the way he throws, the fastball is going to move – it [went] straight up to me.
"I've never had anything happen like that before."
Slider
Usage rate

79.7

Average velocity

second-lowest of the 19 lefthanded starters who throw sliders

Horizontal break

5.2

inches

toward righthanded hitters, third-most among lefthanded starters

Vertical break

42.7

inches

most among lefthanded starters
Sale calls his breaking ball a slider, and so do hitters, based on the pitch's sweep across the plate. Yet the high-70s to low-80s velocity and action suggest that the pitch is more accurately described as a curveball.
To White Sox pitching coach Don Cooper, who worked with Sale for the lefty's first seven seasons in the big leagues, "curveball" and "slider" are Muggle terms. Instead, Cooper believes Sale's breaking ball is best captured in terms used in Harry Potter's chosen sport of Quidditch, in which a buzzing, winged golden sphere – "the Snitch" – darts in a fashion unconstrained by physics.
"When he first was here, the first two, three years, I could stand by the catcher and be standing in as a righty, and his curveball, or his breaking ball, it would make me buckle as a righty," said Cooper. "It's like … 'It's there, and then it's there, and it's gone.'
"It's devastating. That's what I called it, the Snitch."
Sale's slider starts on the same plane as his fastball but has a radically different shape and velocity. Pitches that look like they might be heading for the middle of the lefthanded batter's box sweep back to clip the corner. Those that look to righthanded hitters like they might be heading toward the middle of the plate come in further, resulting in an unusual form of humiliation: A pitch at which batters swing despite the fact that it hits them, usually in the back leg.
"He could groove you a four-seamer inside," said White Sox catcher Kevan Smith, "but he might start that slider in the same spot, and you're like, 'Oh, there's the heater.' That's your natural reaction.
"You swing, it hits you, you just kind of put your head down and walk back to the dugout."
The numbers on Sale's slider movement fail to account for the experience of the pitch. The idea of 5.2 inches of horizontal break, for instance, doesn't capture the angle of Sale's pitches – those 3 horizontal feet from his release point to the plate. Nor does it capture the fact that his fastball moves somewhere in the vicinity of 10 inches to a foot in the opposite direction of the slider.
Meanwhile, the combination of Sale's breaking ball being thrown so much slower than his fastball and the spin on the pitch is diabolical. It appears to hitters to plummet off a cliff, with more than two additional feet of downward movement compared to a four-seam fastball.
"Hitters misjudge it," said Bannister. "It's the uniqueness of the plane. You just don't see that typical hump you see on a curveball. You don't get that visual cue as a hitter.
"It pops up out of most guys' hands and it comes sideways out of his, and I think guys just don't quite comprehend how it's going to break because it's so unique, and it hits them. They swing and miss and it hits them."
Two-seam fastball
Usage rate

93.4

Average velocity

fifth-hardest among lefthanded starters

Horizontal break

12.6

inches

toward the lefthanded batter's box, most among lefthanded starters

Vertical break

23.5

inches

second-most among lefthanded starters, meaning it drops seven inches more than his four-seamer
While Sale throws his two-seam fastball with the lowest frequency of his four pitches, its increased movement both down and to his arm side creates confusion. The difference in movement and velocity is subtle, suggesting a pitch whose goal is a ground ball rather than a swing-and-miss.
Opponents have struck out just twice this year against a Sale two-seamer; more than half of the sinkers put in play against him, however, have been ground balls, and opponents have yet to hit one for a homer.
Changeup
Usage rate

86.9

Average velocity

hardest among lefthanded starters

Horizontal break

12.5

inches

toward the lefthanded batter's box, the most among lefthanded starters

Vertical break

27.9

inches

12th among lefthanded starters and more than four inches below his two-seamer
Sale sells his circle-changeup with the same arm speed as his fastball, but the pitch fades away from righties and falls toward lefties as it arrives at the plate.
"Guys with low slots just throw really interesting changeups, because they can really get the bottom to fall out," said Bannister. "They're already low, so they're already not putting backspin on the ball; gravity just grabs it early and starts pulling on it."
Despite the pitch's movement, Sale seems to be able to deliver bull's-eyes.
"There's movement, but there's impeccable command of that pitch," said Willis. "That's special."
Sale has enough confidence in his ability to locate the pitch that he's unafraid to throw it to lefties.
"I remember the first time he did it, he threw me a changeup in," said Royals outfielder Alex Gordon. "I'd never seen it before.
"I kind of looked at him, like, 'What are you doing? You've got another pitch now?'
"You face him and all you think about is fastball/slider because they're both really good, and then he mixes in that changeup and it kind of throws everything a little bit off."
The total effect
Whereas many pitchers believe in throwing every pitch as hard as they can, and whereas many will target a specific area of the strike zone with particular offerings, Sale varies his pitch speeds and locations.
He dials his velocities up and down, routinely throwing fastballs at both 90 m.p.h. and 97 m.p.h. in the same game. He alternates four-seam fastballs that seem to rocket above the strike zone with two-seamers that duck into its lower quadrant, attacks in and away with both his fastball and slider. Hitters cannot lock in on a single speed or location.
"You throw your fastball at two different speeds, your changeup at a couple different speeds, it's almost like you have more pitches," said Sale.
Sale focused more on altering the speed and break of his pitches starting last year in Chicago, and his ability to manipulate his arsenal convinced Cooper that, at 28, a pitcher who is off to a Hall of Fame-caliber start to his career is getting better. Opponents reluctantly concede the point.
"That's just him getting older as a pitcher, becoming a pitcher more than just a thrower," said Mauer. "He's figured it out."
For half a season, Sale has lived up to his billing as one of the best pitchers in the game. To the terror of opposing hitters, he is unsatisfied with what he has done and what he is doing.
"You don't ever want to get comfortable or complacent in this game, and you never take anything for granted, either," said Sale. "I don't think we should ever be satisfied with anything."