Super Bowl scouting report
Who has the edge?
Patriots (16-2) vs. Falcons (13-5)
When: Sunday 6:30 p.m.
Where: NRG Stadium, Houston
TV, radio: FOX, WBZ-FM (98.5), WEEI-FM (93.7)
Line: Patriots by 3
Falcons C Alex Mack vs. Patriots DLs Alan Branch and Trey Flowers
Mack is a field general and sets the tone for the offensive line. He's well-prepared, knows defenses, and makes consistently correct calls for his running mates. Mack is quick in his backpedal in pass protection, and he will stack and shed and get to the second level in the run game. He doesn't have to sustain his blocks for long because Matt Ryan has a rapid release and Devonta Freeman explodes to the hole. If his cranky ankle is acting up, he'll have trouble with these two brutes. He'll battle the active and powerful Branch on running downs and the quick and jarring Flowers on dropbacks. Both can apply serious pressure on the center and cause serious disruptions in the backfield.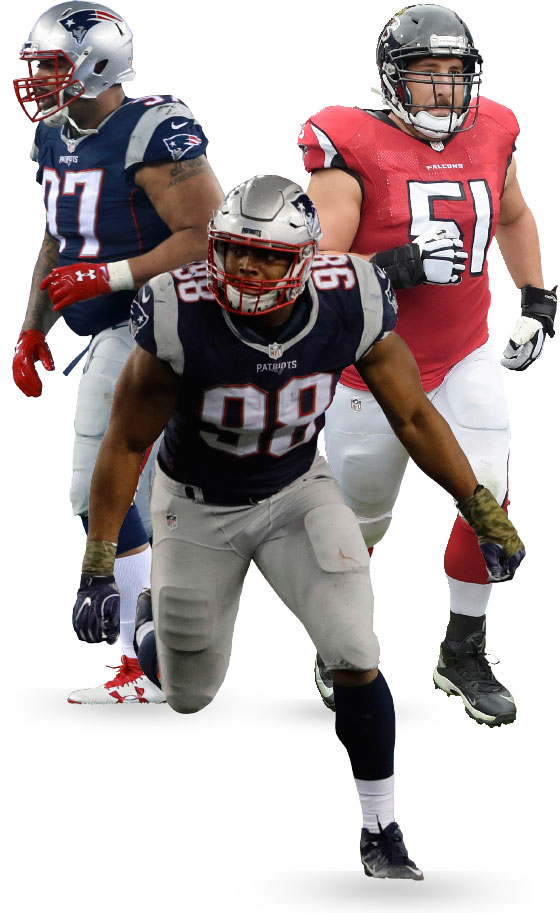 Patriots RBs LeGarrette Blount and Dion Lewis vs. Falcons LB Deion Jones
Blount has major league size and power, deceptive nimbleness, and sneaky speed. He runs at excellent pad level, breaks a ton of tackles, and will dip his shoulder into defenders and drive them backward as he falls forward. He has just 24 carries the last two weeks, so he's fresh and due for a big game. Patience is a virtue with this guy. The payoff is worth it. Lewis is more of a jackrabbit. He can stop, start, spin, and slide seamlessly, and his acceleration will leave defenders flat-footed and grasping at air. Jones, nicknamed "Debo" (a hybrid of Deion Sanders and Bo Jackson), is a phenomenal specimen. He has excellent range and will pursue sideline to sideline but can step up and fill lanes with authority, too.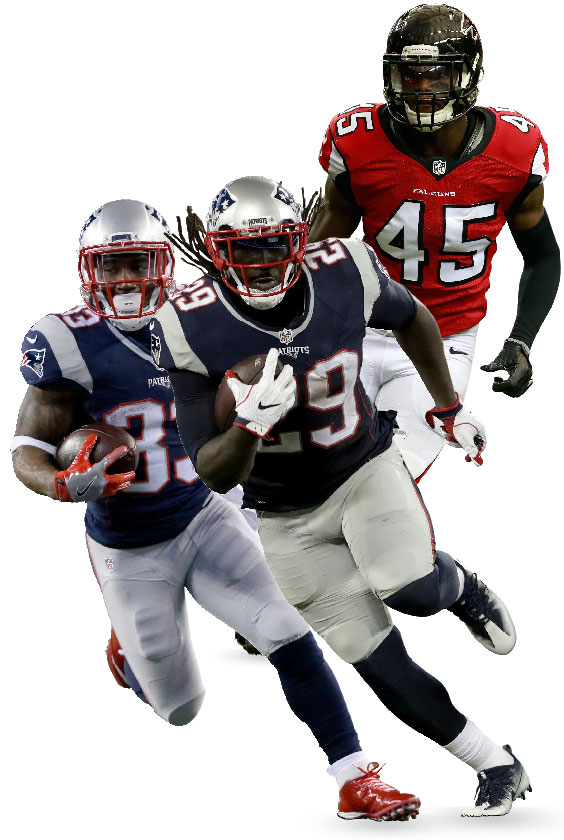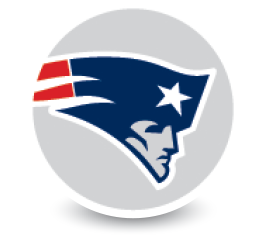 1. Cold as ice
Disguising coverages and mixing things up may be the only way to cool off the red-hot Matt Ryan. He's smart and well-prepared, but even the best can get baited at times. Time to check his homework.
2. Cold-cocked
Getting physical with these receivers at the snap is sound strategy. Mugging it up will knock them off their routes, throwing off their timing, and that sometimes leads to throwing tantrums instead of TDs.
3. Cold comfort
Tom Brady doesn't need big chunks of time to carve up a defense, but he needs some. Make sure the big boys give their big guy enough time to find his big playmakers.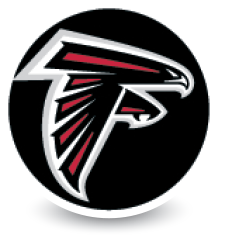 1. Atlanta flames
Getting the ball quickly into the hands of the burners is huge. Julio Jones, Mohamed Sanu, and Taylor Gabriel are exceptional receivers and explosive after the catch.
2. Atlanta thrashers
Outside linebackers Vic Beasley and De'Vondre Campbell (he's a handful) need to get to Tom Brady either off the edge or through the middle and prevent him from setting his feet.
3. Atlanta rhythm section
The offensive line has to play its best game. Giving Matt Ryan time and giving Devonta Freeman and Tevin Coleman space will allow this offense to keep pace in an expected shootout.