Swampscott — Michelle Murray-Mendez hung up the phone, pulled a jacket around her shoulders against the January wind, and drove the 9 miles to King's Beach, bracing herself for what she would see on the sand.
For 82 days, she had known this moment would come. She'd thought of nothing else, fearing it, but also longing for it, for the certainty. In desperation a month earlier, she had walked this shoreline at night, illuminated by the headlights of a friend's car, and dropped to her knees to dig furiously as the tide came in around her. Then, she had wanted nothing more than to find what she believed, even hoped, could be buried there.
Now, she steered her Jeep Cherokee through the freshly fallen snow toward the crushing truth.
The sidewalk in front of the beach wall was blocked off by police vehicles. The waves had receded after the storm, and the wet sand reflected gray sky. Ice coated the metal railings lining the sea wall, and below, investigators with their collars turned up stood in a cluster. At their feet, hidden from Michelle, lay a dark shape.
Police told her to stay back, but Michelle ran from the sea wall onto the beach, spinning away from one officer before being caught by another.
The officers didn't want her to see what they saw: the skeleton that had washed up in the storm, tangled in gill netting and lobster traps; the skull missing its jaw and front teeth; the arms without hands. Michelle had known what awaited her from the moment she got the call: "They found something on the beach." All she wanted was to kneel in the sand with the bones.
The official identification would not come for days, but Michelle was sure on Jan. 28, 2015, as she climbed up on the hood of her car to watch a dump truck cart the bones away.
It was her daughter.
Jaimee Mendez was Michelle's youngest, her boldest and loudest. She had thick dark hair and deep brown eyes she scrunched closed when she laughed hard.
Michelle raised her three children in the house in Lynn where she grew up: a blue and white two-story with a gabled roof and roses climbing up the sides, on Williams Avenue, a narrow one-way street lined with three-deckers and modest single-family homes. Mint leaves and honeysuckle grew in the front yard, and a grapevine crawled along an arbor out back. Michelle's father lived with them, and her sisters sometimes moved home, filling the house with cousins. Jaimee's sister, Alyssa, was two years older, and Jaimee tagged along wherever she went, wearing her clothes. Her brother, Joe, was five years older, and the girls' friends nursed crushes on him.
Michelle and her children's father, Steven Mendez, had separated when the kids were young, but the couple stayed friendly; Steven stayed weekends, came for basketball games and holidays, and joined them on camping trips in the summer. Photographs from those days show crowded backyard birthday parties, with coolers, boomboxes, and 2-liter bottles of soda stacked on picnic tables, and streamers hanging from the fence. And there is Jaimee in pink overalls, grinning at the lit candles on her cake and flinging her arms skyward as she opens her presents.
Michelle stayed at home with the kids and later worked overnights at the Christmas Tree Shops; Steven was a cook and a truck driver. Money was tight, but it didn't feel that way to their kids. Hikes in the Lynn woods were free, and they spent hours prowling miles of trails. In the summertime, they escaped the hot concrete and rundown main streets of Lynn for the campgrounds along the Kancamagus Highway in New Hampshire, the kids sprinting through the trees at night trying to catch each other in games of campfire tag. They always found Jaimee first because her giggle carried, high and warbling.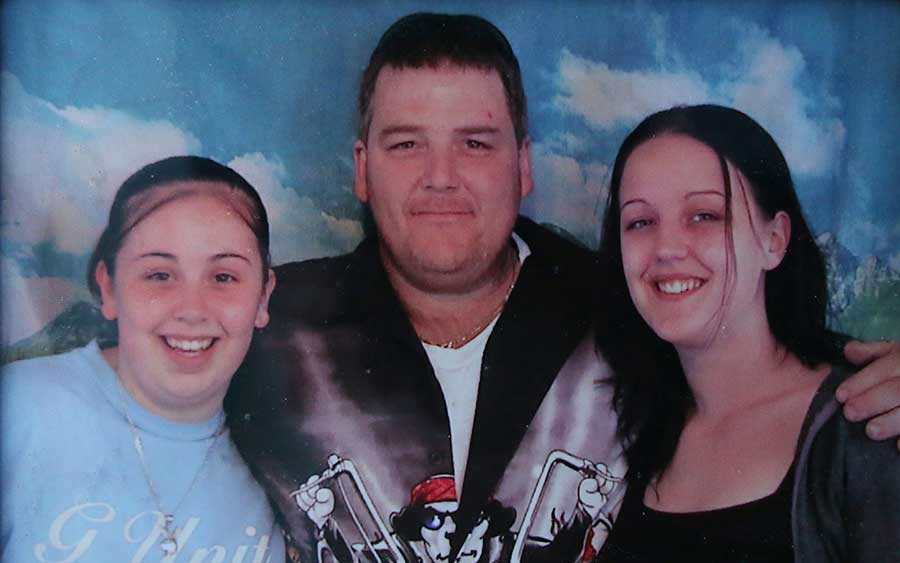 Jaimee was 25 when she went missing in November 2014, the oasis of that childhood replaced by an adult life that somewhere along the line had faltered. She had a son she adored, but a tumultuous relationship, and she had secrets. Strong and stubborn, she had tried to hide the affliction that was pulling her under and into the path of her murderer. In some ways, she had become a mystery to her family, with ghosts that haunted her.
As her family frantically searched for her after she disappeared that fall and into the bleak winter, they wondered what had happened to the girl of their memory, the one who on hot days would walk with them the mile to King's Beach from their house carrying towels and run gleefully into the sea. She was a terrible swimmer, could barely even dog-paddle, but she'd plunge forward until she couldn't touch the bottom, and then slip under the waves.
The first sign she was gone seemed not a sign at all. An office worker found a black fleece jacket at around 10:30 a.m. on Friday, Nov. 7, 2014, crumpled in the driveway of a gray building in a Salem office park ringed by trees. The pockets held a cellphone, a charger, a pack of cigarettes, and a hypodermic needle. There was also a license: Jaimee Mary Mendez.
The Salem police officer who arrived at the office park to take the jacket called the two phone numbers Swampscott police found for Jaimee, but neither worked. A Swampscott police officer went to Jaimee's address. No one answered.
It was just a lost jacket. The officer disposed of the needle, put the jacket into property, and marked the report "cleared/closed normal."
It wasn't until early the next morning that anybody spoke up to say that Jaimee was truly gone. One of her friends and her cousin showed up on Saturday at 2:30 a.m. to the Swampscott police station with a troubling story: Jaimee had called several friends two nights before, on the evening of Thursday, Nov. 6, 2014, saying she was with a man who scared her and she needed a ride. But when her friends had driven out to the CVS where she said she'd meet them, she was nowhere to be found.
The police called Jaimee's mother, Michelle, and Michelle put out the call to her family:
Come. Search. There is no time.
Family members — aunts and cousins and siblings from all over the North Shore — began streaming toward Swampscott, calling Jaimee's friends, assembling a frantic and jumbled to-do list of places to go and people to look for. They managed to find out a little about Jaimee's phone calls, including two hazy possibilities for the name of the man Jaimee said made her uncomfortable: Jay and "Fish."
Michelle had a very bad feeling. She knew her daughter would never leave her 5-year-old son. And Jaimee was a diabetic who needed frequent insulin injections. She couldn't go anywhere without her medicine.
Jaimee's father, Steven, tore down the highway from Fryeburg, Maine, where he had moved for work more than a decade before, headed for the Salem office park where his daughter's jacket had been found. He was big and gruff and covered in tattoos, a man used to knowing what to do. Now, he was baffled and silent.
When he arrived, he watched the beginnings of what would grow into a massive police search that would criss-cross the ponds and swamps and woods and sky of the North Shore. That morning, a handful of officers and their K9s assembled and dispersed into the trees beyond the parking lots and drab, low-slung buildings.
The police knew more than they were saying, Steven thought. They weren't calling anyone or putting up fliers — they were searching the forest floor with dogs.
This was not how police searched for a person, Steven thought. This was how they searched for a body.
The owners of the rose-covered house on Williams Avenue put the property up for sale when Jaimee was in high school. Forced to leave, the Mendez family dispersed. Jaimee moved with her mother and siblings to Danvers, where she found herself at a new school with students who came from money. She felt conspicuous there, and self-conscious. She went from goofy to aloof, quit playing basketball, then quit high school altogether, getting her GED and a job at Dunkin' Donuts.
And she met Danny Newton: a few years older, quiet, cool. She'd never had a serious boyfriend. He thought she was pretty and fierce, and she was infatuated. She showed her cousin pictures of him: The one in the hat, she'd say, adoring. Her cousin would laugh, because Danny kept his brim pulled so low you couldn't see his face.
They moved in together, and soon she got pregnant. She was 19 when she had their little boy, Jayson, born with a full head of hair and his mother's dark eyes.
Jaimee was outgoing while Danny was reserved; she threw herself into her new life, working long hours and doting on her little boy, while feeling less and less connected to her partner. But motherhood lit her up. She took Jayson everywhere, tugging him along behind her on the bus, to the store, to her mother's house. She taught him to dribble a basketball, made him silver dollar pancakes, sang him silly songs, and threw pajama parties they called "jammy jams."
But her world was shrinking. Danny stayed home to look after Jayson, so she carried the rent. She tried a nurses' aide program, but she couldn't fit in the classes with her job so she dropped out. Jayson didn't speak. He had violent tantrums that only got worse. He covered Jaimee in bruises and scratches. He was diagnosed with autism, and Jaimee fought to find him good care.
Jaimee's days were long. Her back hurt. Her feet hurt. And there was dinner to make, the house to clean, the child to bathe.
She was lonesome, her sister, Alyssa, thought. She had been making plans to take her son and leave.
But Jaimee didn't leave. She found a way to forget her pain.
Frantic in their need to find Jaimee, her family saw clues everywhere. Michelle traversed the North Shore in her Jeep that first terrifying day and into the ones that followed, stopping to search almost at random, and sending Alyssa a barrage of text messages with names and possible leads. They all watched the sky for search helicopters, following along in their cars below.
They drove past the staid and proper manses of affluent Swampscott near Jaimee's little apartment, the gritty side streets of Lynn, and the aspiring, tumbledown borderlands where the communities collided. Everywhere, their eyes hunted: If Jaimee were dead, where would her body be?
The day after Jaimee was reported missing, Michelle was waiting for Steven and their son to meet her at a CVS parking lot in Lynn near where their daughter had been last heard from. Her gaze fell on a dumpster. Compelled to look, she got out of her car and began rooting through it.
Inside, among the garbage, she saw a rolled up carpet and a plastic bag. Inside the bag was a pair of high-top Jordan sneakers. Jaimee's sneakers.
Immediately after Jaimee vanished, police wanted to talk to someone named Jason Fleury.
Jason was a level 3 sex offender with a heroin addiction and the Grim Reaper tattooed on his shoulder. He had a long and violent criminal record, filled with allegations of abuse against women. In the '90s, he pleaded guilty to sexually assaulting a teenage girl in Virginia.
He lived an itinerant life, sometimes in Virginia, where he was married, and sometimes on the North Shore of Boston, where he had worked as a lobsterman on a bright yellow boat called the Janet Leigh, anchored off the Swampscott Yacht Club, and later as a landscaper. Now, he lived in a van parked at an aunt and uncle's house in Lynn.
Some thought of him as a "weirdo," a dark and threatening presence with aggressive sexual proclivities. When one girlfriend broke up with him, she said, he took to picking up prostitutes and bringing them to her to make her jealous. Others knew him for his unpredictable, volcanic temper. He was violent. And he harbored bitterness towards women.
"Relationships suck," a 2012 post on his Facebook says. "The only good relationship is one that is 30 minutes long and ends with giving them $20. And tellin them to get the hell out of your car."
Seeking a restraining order against Jason Fleury in 2006, the grandmother of Fleury's child wrote in an affidavit that Fleury had threatened to "shove me into a [lobster] trap and throw me overboard."
He was known to police. They believed he was with Jaimee the night she disappeared. But Jaimee's mother and father did not know who he was. Certainly, Alyssa didn't when she went to the police station on that first day her sister was reported missing, to try to provide officers with as full a picture of her sister, and her sister's final night, as she could. She also had her eye out for people who might know something of what had happened. Waiting in the lobby, she watched a man — tall, burly, with dark curly hair — walk past, into the interior of the station with a police officer. He must be connected to the case, she thought.
She turned to the man who had entered the lobby with him.
Who is that, she asked?
Jason Fleury, the man replied. My nephew.
Jason Fleury, she thought. Jay. Fish.
She waited for him to return, wanting to speak with him. But the time dragged on, Jason's uncle left, and Alyssa walked outside to find an aunt, Danielle, who had come to the station with her and go get a Coke.
Walking back a short time later, they saw Jason leaving the station. Alyssa and her aunt crossed the road to question him.
Danielle, anxious for answers and strained from the emotion of the search, hurried toward him.
Where's my niece, she blurted out.
I didn't do anything to her, Jason replied evenly. I was friends with her.
Alyssa felt dread settle over her like ash. Running down the side of Jason's face and across the back of his hand were long, angry scratches.
Alyssa had been the last of her family to hold onto hope that Jaimee was still alive. Soft-spoken and steady, she was the calm face of the Mendez clan, giving measured television interviews as her parents whirled feverishly around her. She was smart and logical, and the idea that her sister — a devoted mother who had her struggles but arrived at work early and stayed late — had been killed simply did not make any sense.
Or maybe it was just because she couldn't believe that the sister she'd grown so close to could be gone. In the last several years, Alyssa's relationship with Jaimee had blossomed from the churn of teenage jealousies and bickering into a warm adult friendship. They had their boys three and a half years apart. They commiserated about fights with their boyfriends. They talked about getting an apartment together.
Recently, Alyssa had been increasingly worried about her sister. Jaimee told her she was tired of her life with Danny, of feeling inadequate and overwhelmed, and Alyssa had tried to lift her up: "Something's gonna happen. Something's gonna break," she told her sister. "Just hold on."
Alyssa knew the burden Jaimee carried, apart from the chronic struggle for money and the pressures of raising a son with autism. Her sister was ashamed, had told almost no one. But Jaimee had confided in Alyssa, knowing her sister wouldn't judge. Alyssa just couldn't find a way to help.
It had started with Percocet. Her doctor had prescribed the pills for neuropathy, a painful condition brought on by her diabetes. At some point, around the time her son was diagnosed with autism, she started taking the pills to get through days that felt endless. They helped her deal with her stress and aching body so that she could focus on Jayson.
When her prescription ran out, she started getting them on the street and, sometime in the last year had switched to heroin because it was cheaper and easier to get. She also discovered she couldn't stop. She tried repeatedly to get well on her own, and she had been going to a methadone clinic, but even then she kept going back to heroin.
Alyssa always believed Jaimee would pull herself out of it by the sheer force of her incredible will. She was so strong, such a good mother.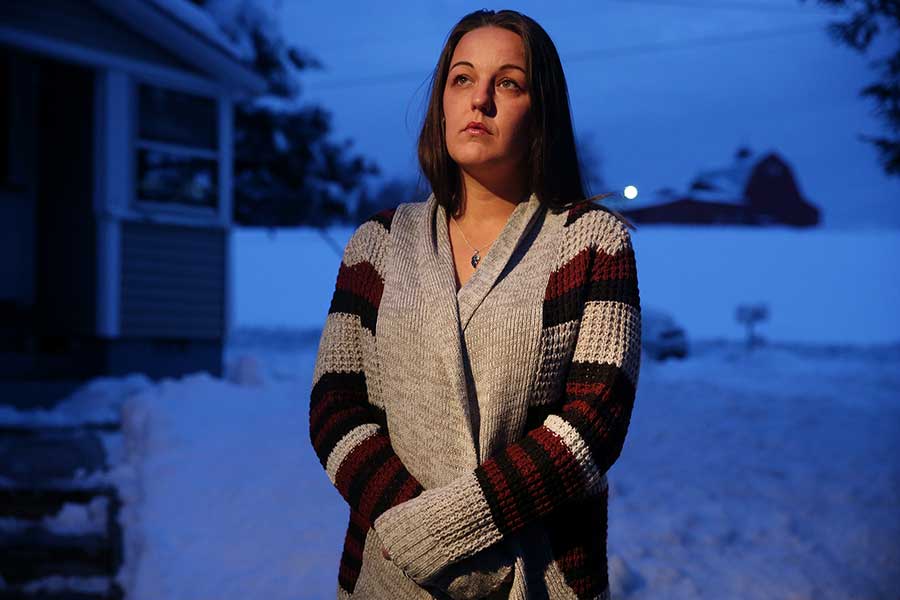 The week before Jaimee vanished, she took her son trick-or-treating for Halloween with Danny and her closest friend, a cousin named Olivia. Jaimee's little boy zipped around the sidewalks in his Spider-Man costume. Every time he saw a dog inside someone's home, he tried to dart in to pet it. Soon, Danny took him home, and Olivia and Jaimee kept walking.
She was using two to four bags a day at that point, one of Jaimee's friends would later tell police. That night, Olivia could see she was unraveling, and she asked gently if she was OK.
"I don't know how it happened," Jaimee told Olivia, and began to cry on the sidewalk in the dark.
The Mendez family organized their own searches alongside the massive police effort. They recruited volunteers through Facebook and fanned out, traipsing through woods and across beaches.
Psychics sent messages, and Alyssa responded to all of them. Jaimee is near the water. Jaimee is in the woods. Jaimee is leaning against a tree.
Steven often went out alone, spending hours following the paths cut by the homeless through the woods and brush near the Lynnway, excavating abandoned camps in search of his daughter.
Everywhere he went, he imagined Jaimee, flung by a drugged-out monster over a pile of rocks; Jaimee, rolled into a filthy rug; Jaimee, crumpled behind every tent flap he flung open. In his mind, she died a thousand times.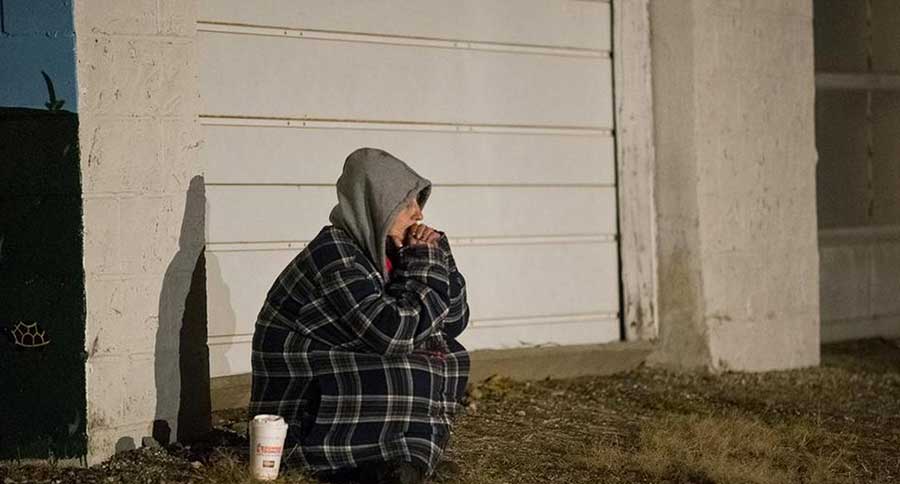 Michelle drove endlessly, often sleeping in her car, waking and driving again. She lost her job. She filled her car up with detritus she found while she searched — a sock, a piece of rope — in case any of it turned out to be evidence later. She felt she could sense her daughter and went wherever the sense took her.
She opened trash bags, poked through piles of leaves. Eventually, a police officer gently told her she didn't have to do that. If a body has been decomposing for weeks, he told her, she'd be able to smell it.
After that, Michelle simply got out of her car and breathed.
There was a time after Jaimee disappeared that Michelle considered killing herself. She didn't want to die, exactly — she just didn't want Jaimee to be alone, wherever she was. But what if she killed herself and her daughter's body was never found? The thought of Jaimee's body sinking slowly into the earth in some undiscovered grave was unbearable, so she willed herself to live.
And still they found nothing.
Crystal Brown was an unlikely detective. A 31-year-old postal worker living in Salem, she had met Jaimee only a few times, because her younger sister knew her, and Crystal had never met Jaimee's family. But she had a son too, and it was the ache in her heart for that little boy missing his mother that drew her to the case. She watched the news on TV, riveted, and found herself wanting to solve it.
Crystal was self-effacing and sharp, with dark red hair and a knack for getting people to open up. She was easy to talk to — nonjudgmental, quick to laugh, slipping naturally into the slang and grammar of her conversation partner. She reached out to the Mendez family on Facebook. She wanted to help. She and Jaimee's family thought there was one person they had to talk to, someone they believed knew exactly what happened the night Jaimee vanished.
Nicole April was a sometimes-homeless 34-year-old who was the mother of Jason's daughter. They had a long and turbulent relationship. And she was his alibi for the night of Nov. 6, 2014. Though she would later change some details of her story, she had told police she and Jason were together that night in his van. Crystal set about finding her.
The women met face to face for the first time on Nov. 26, almost three weeks after Jaimee vanished. Crystal drove to Lynn to meet Nicole. Sitting side by side in Crystal's car drinking Dunkin' Donuts coffee, illuminated by the weak overhead light, Nicole would not make eye contact. She complained that she kept getting jumped by people who thought she was involved in Jaimee's disappearance. She picked at her skin and rambled: Jason hadn't hurt Jaimee, Nicole didn't know Jaimee, Nicole didn't know anything. Later, in an interview with the Globe, she reiterated that she had no knowledge of what happened to Jaimee, and had never been arrested in connection with the case.
That night, though, Nicole did remember one strange thing. She said that as they were together that night, Jason sat rocking back and forth, muttering, "bitch sold me a bad bag, that's what she gets."
Nicole said she asked him what he meant but he wouldn't say any more.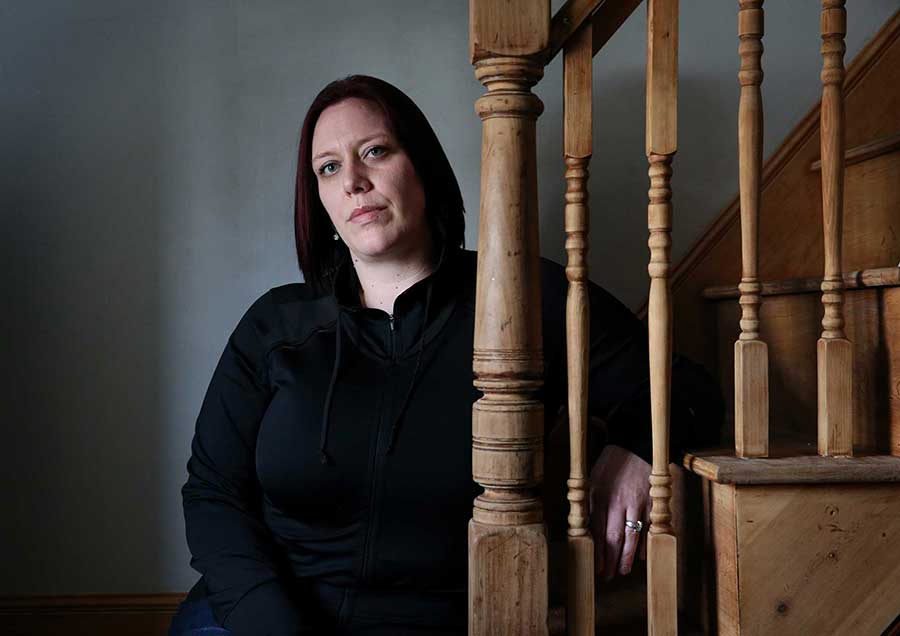 Crystal began recording her conversations with Nicole and turning the tapes over to police. Crystal and Michelle grew close. The two often went out looking for Jaimee together. By late December, it felt like the investigation was going nowhere, and every passing day seemed to bring them further from resolution. Jason had left town, for Virginia. The whole family feared that as winter deepened, snow would begin to fall and destroy their ability to search. With the new year approaching, Crystal reached out again to Nicole. She would lean on her harder this time.
Crystal persuaded Nicole to meet in the Rite Aid parking lot in Lynn where police said Jaimee had stopped with Jason the night she disappeared. Nicole got in her car.
"If you know anything, if he told you anything, now is your time," Crystal told Nicole. "When shit comes crashing down he's gonna put it all on you."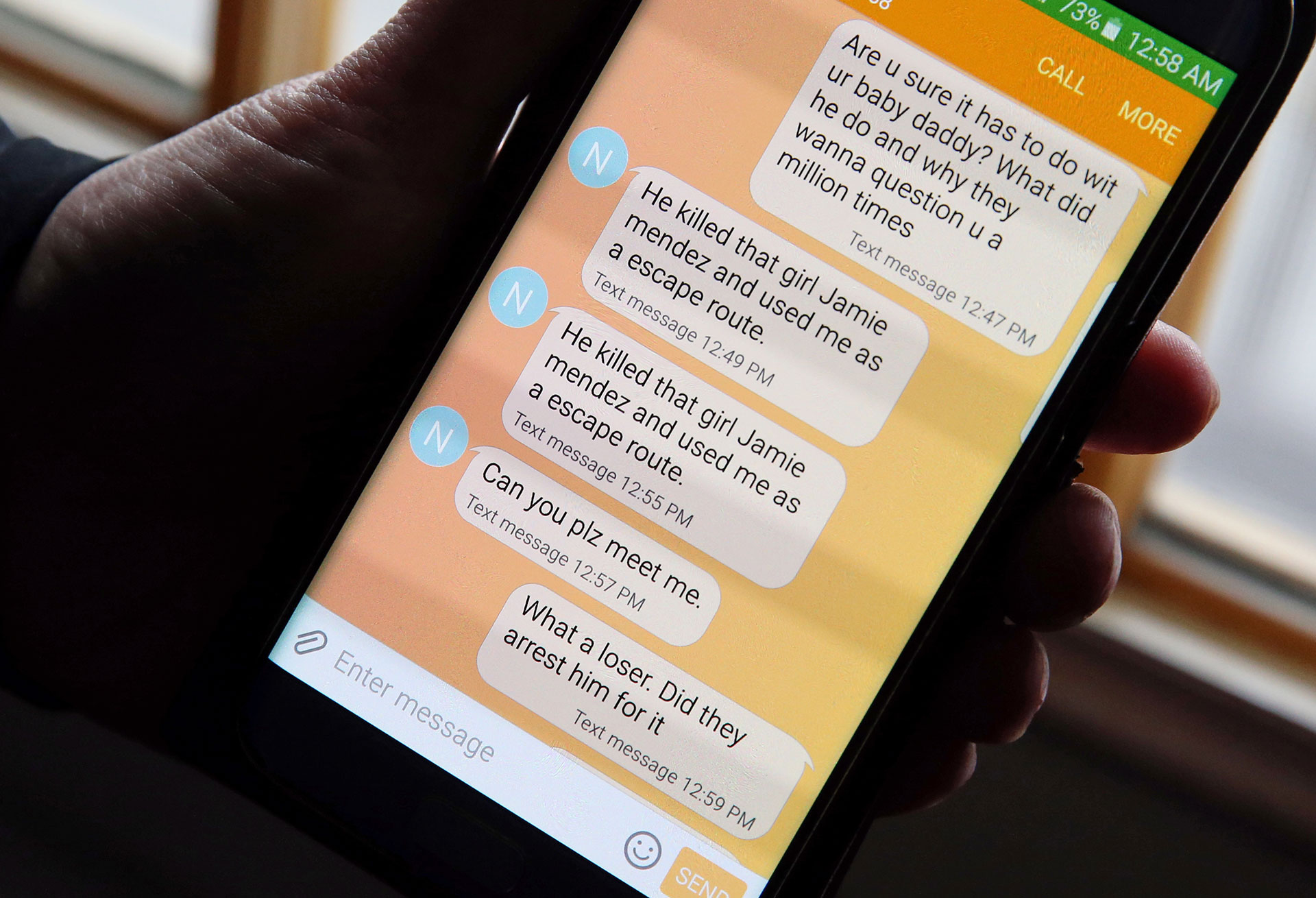 For a long while, Nicole talked in circles, giving elliptical and deflective answers that seemed designed to point away from the truth. She insisted she'd already said everything she knew of that night. She had epilepsy, she said, and couldn't remember much. Crystal pressed. At one point, Nicole pulled out a picture of her daughter and showed it to Crystal, who remarked that the little girl looked like Jason.
"Don't say that," Nicole said.
Then, just as suddenly, she said:
"I'm having nightmares that he put the body in the water," Nicole said. By the Swampscott pier. By the boat he used to work on. By King's Beach.
"I think he'd make sure she'd be tied to — this is my dream. I had a dream," she said. "Tied to a trap. You know what I mean? Like underneath the water?"
Even disguised as a dream and embedded in Nicole's ramblings, this sounded like a clue. Crystal left Nicole and met up with Michelle. They went to the beach where the pier was. Crystal drove onto the sand, lighting the darkness with her headlights, and they searched as the tide came in around them, poking around the pier, digging in the sand while the frigid waves swelled and crashed against their hips.
They did not find Jaimee that night. Her remains came ashore of their own accord a few weeks later, on Jan. 28, 2015, churned up by a violent storm. Police determined that the traps and netting that entangled her belonged to the owner of the Janet Leigh, the bright yellow boat Jason Fleury once worked on.
Jason was indicted on first degree murder charges and brought back to Massachusetts from Virginia that August.
Jaimee's family — for so long tormented by questions: Did he rape her? Did she know she was going to die? Was she still alive when she went into the water? — rejoiced at the prospect of a trial and the answers it might provide. Perhaps Jason would take the stand, where he would be forced to explain in his own words why and how it had happened.
But a trial never came. With a circumstantial case that had big holes, prosecutors eventually agreed to a deal, and Jason pleaded guilty to manslaughter. He received a 17-year sentence and went to a state prison, taking whatever he knew with him.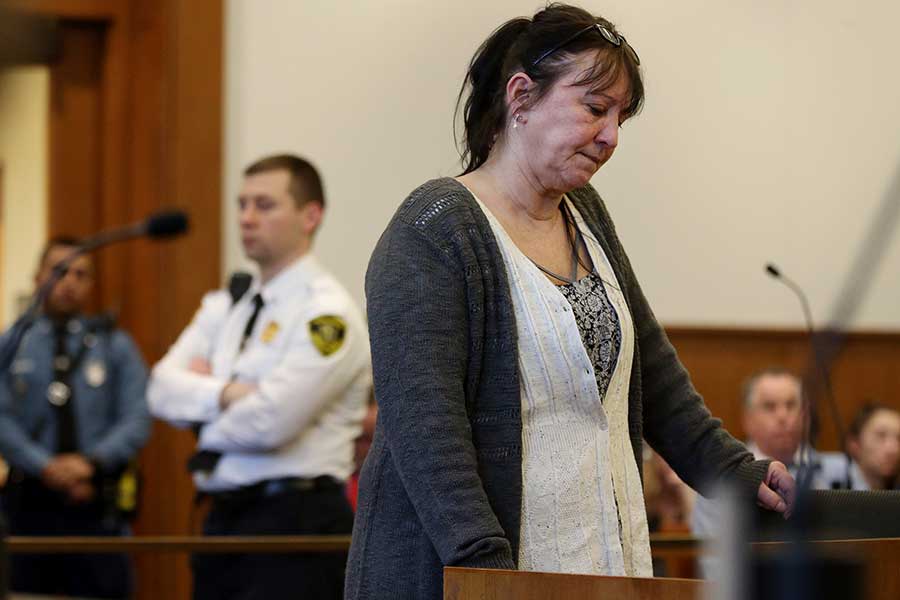 Jaimee's body was so decomposed that the medical examiner's office could not determine how she died. Her death certificate declared the cause "Homicidal violence of undetermined etiology." The date, time, and place of injury were listed as "unknown."
An autopsy commissioned by the family showed that she was missing eight ribs, her hands, her front teeth, her lower jaw, and her left tibia. One of her left ribs showed trauma. Her right and left nasal bones appeared fractured. And a linear fracture ran dark and tremulous down the right side of her skull. The report did not state a conclusion about what killed Jaimee. But the fractures were inflicted around the time she died.
Police found Jaimee's blood all over Jason's van: the ceiling, the mattress, a blanket, a comforter. They found it on the carpeting and side door panel that had been discarded in the CVS dumpster with Jaimee's sneakers that her mother found.
But so much was unknown to the family. Though some details emerged at Jason's plea hearing, he had never had to tell the full story. It was more than three years from Jaimee's death before investigators released evidence gathered in the course of the investigation — witness accounts, security camera footage, interviews of Jaimee's friends and Jason's relatives — at the request of the Globe. In that, finally, was the best glimpse at how the evening of Nov. 6, 2014, unfolded:
Jaimee Mendez spent her last peaceful moments lying with her son in the apartment she shared with her boyfriend, Danny. At about 5:45 p.m., she got up and told Danny that she was going to the Rite Aid in Lynn to pick up a Western Union money order for $25 from her father. Her boyfriend watched her walk down their street and get into a van.
Jaimee knew Jason Fleury, if only as someone who would drive when they needed to buy drugs, a friend of Jaimee's had told police. Jaimee and Jason had bought drugs together maybe three times in the past, the friend said.
Jaimee's family would later hear from some of Jaimee's friends that Jason had asked around about Jaimee: Was she single? Would she sleep with him? People told him "no."
Surveillance video at the Rite Aid picked Jaimee up walking into the store just before 6 p.m., looking calm in leggings, a blue hoodie, and a black jacket. At the counter, she smiled at the clerk, took a phone call, collected her money order, and left, hands tucked in her pockets.
Outside, it was raining. Street lights reflected in the puddles in the parking lot. She got into another car parked there while Jason waited. A moment later, she emerged from the car and got back into Jason's van. The camera captured a fuzzy image of her face as the van drove away, staring ahead, a blur of light.
At around 6:30, according to cellphone records, Jaimee called a friend named Tenysha with a request that appeared to be made on Jason's behalf. She asked if Tenysha could get cocaine and if she knew any girls who wanted to party.
Earlier in the day, Tenysha later told police, Jason himself had called her with those same questions, looking for cocaine and girls.
Within minutes of the first call, Jaimee called Tenysha again. It sounded like Jason was not in the car. Jason had taken cocaine, Jaimee told her. He was out of his mind, acting like a "freak." Tenysha heard Jason get back in the car, and Jaimee ended the phone call.
Tenysha told Jaimee she should get away from him. But Jaimee did not, or could not, get away. She was still alive an hour later, when Jaimee made a final call, this time to a male friend. Her voice now was full of fear. She was on Spring Street, she said, near a CVS. She needed help, a ride.
The friend and a companion drove there, but saw no sign of her. Calls to her cellphone went to voice mail.
Jason's van was next picked up on camera about a half hour later, just before 8, in the Salem office park where Jaimee's jacket was found. The van entered the park and paused. A door opened, and someone threw some items onto the pavement. Then the van drove away.
Jason was late for work the next day. A witness said he saw him that morning, standing alone at the shore, looking silently out across the water.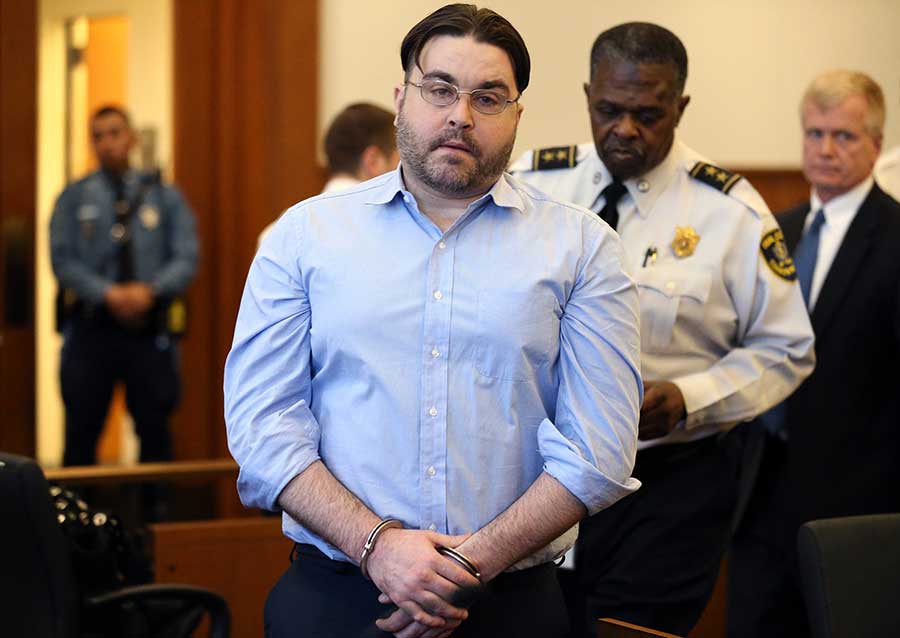 Michelle still searches, no longer for her daughter, but for details she is convinced the investigation missed, like the accomplice she is certain helped Jason dump Jaimee overboard into the dark waves. She combs through mug shots on Most Wanted lists and sends pictures to Alyssa: Could it be him? Each face is a new death.
Steven dwells in Jaimee's final moments, the eternity of all the things he will never know. He imagines Jason, 6 feet tall, 220 pounds, looming over his daughter. Did he use a rock? His fist? Did his daughter open her eyes between blows? Did she cry out, and did she think help would come?
If he only knew, he could be with her in his heart and she wouldn't have to bear her death alone. But there is no knowing, and so he chases her again and again into the ocean, the answers to his questions swallowed up as she disappears beneath the surface of the water.
Steven had big tattoo made on his right arm, Jaimee in a red dress soaring up from the churning water, the ocean below angry but she serene and powerful. Wings unfurl behind her, and her face tips toward heaven.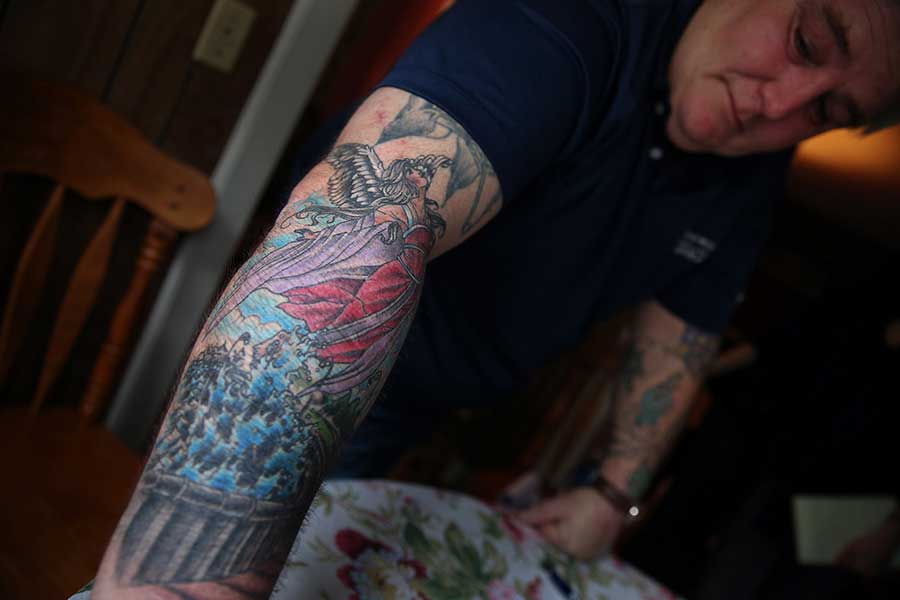 The tattoos are drawn from pictures Steven took three weeks before Jaimee washed up. He had been driving down Lynn Shore Drive and stopped at the sea wall to watch the beauty of the water crashing in. When Jaimee came ashore, it was just feet from where he'd stood.
To him, it was a sign from his scrappy and rambunctious daughter. She had brought herself home.
There will be no more answers for her family. But in the story they tell each other, Jaimee rises.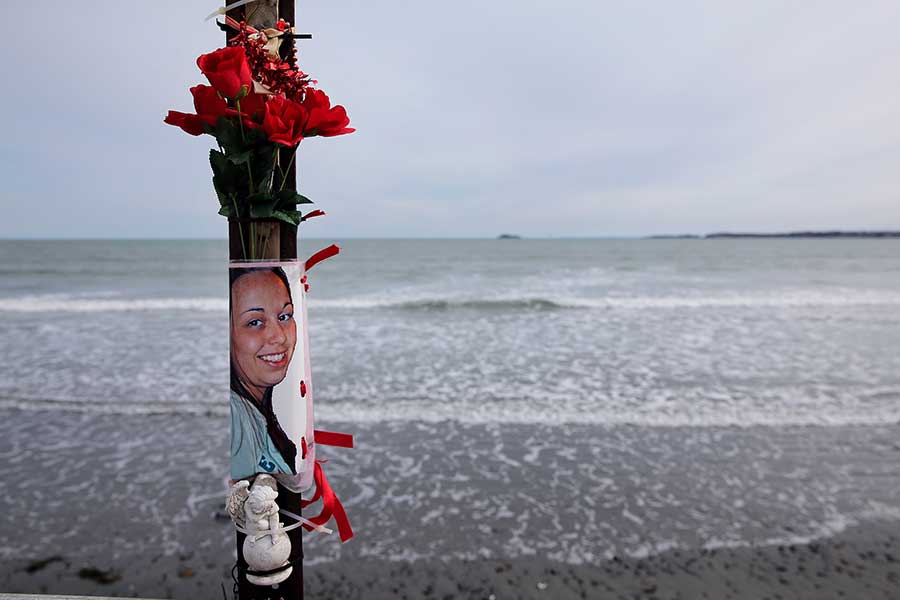 To learn more about efforts to support Jaimee's son Jayson, go to this page.
Credits
Videos by Scott LaPierre
Design by Amanda Erickson
Development by Kevin Wall
Story edited by Steven Wilmsen/Globe Staff
Visual project editor: Anush Elbakyan/Globe Staff
Audience Engagement: Heather Ciras/Globe Staff
Photo editor: Leanne Burden Seidel/Globe Staff
Handout video used in introduction provided by Matthew Power