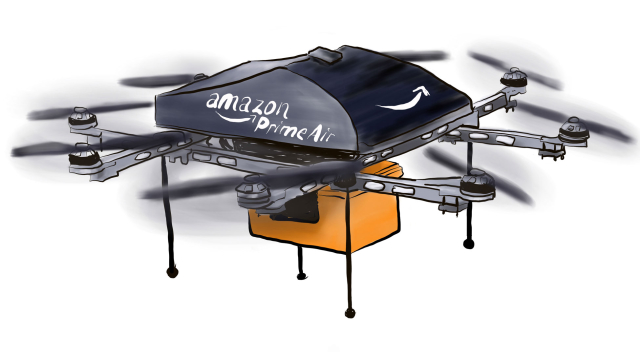 Dear Jeff
October 14, 2017
We hear you're looking for someplace to build a new corporate headquarters for Amazon, a second home, if you will.
Like a lot of other cities, Boston is making a play for your new location, and the thousands of jobs it would bring. Our leaders will no doubt offer you a pledge of incentives and remind you of our intellectual wealth, our Nobel-winning academics, and our legions of bright young workers. Ideas are in our blood, just like they're in yours. And if you want to build Amazon into an even bigger company, we've got the people you need to do it.
You asked cities like ours to think big. We should, and we will. But we challenge you, Jeff Bezos, as the founder and chief executive of Amazon, to also think big, and redefine how a corporation can help shape a city.
We need the creativity and the resources of one of the world's most innovative companies backing Boston as it tackles the thorny challenges of our 21st-century city: Expensive housing. Crowded roads and rails. A mixed bag of public schools that leave too many children behind. We need you, too, to help us address a yawning gap between haves and have-nots that endangers the rest of what we do here. The tech economy has helped deepen inequality in many cities.
You could chase bigger tax breaks and cheaper real estate in any number of other cities. But how about a true partnership that reimagines the relationship between a city and the big companies it hosts? If you choose Boston as your second home, help make our city better for those of us who already live here.
Here's how.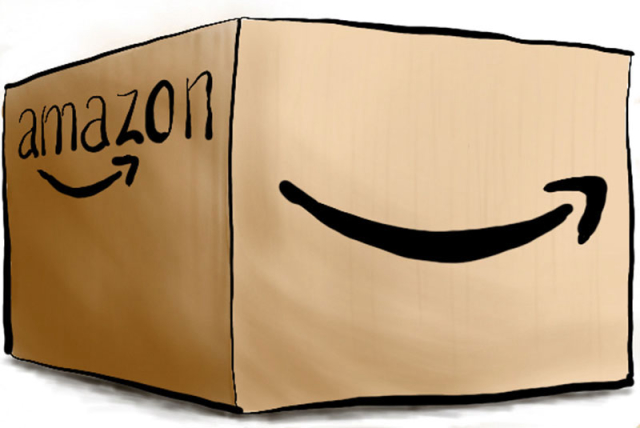 3

right-now problems we could use your help solving
You can't get there from here
Getting around these parts is not for the faint of heart.
Between the troubled T and our tangled roads, commuting can be one of the most frustrating parts of life in Boston. It costs us time and money, and has some in our city questioning whether Amazon, with its 50,000 daily commuters, would just make things worse.
Our answer: Dive in. Your company is full of logistics experts, and we'd love your know-how — and, yes, your money, too — to find new ways to move people, and goods, around the city.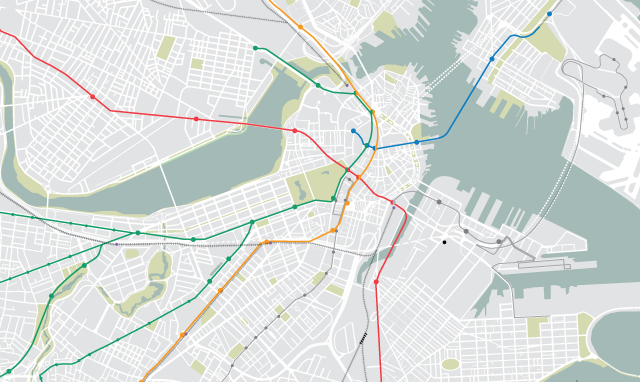 THINK BIG: We need more trains in this town. And we notice that most of the best sites here for an Amazon campus are old rail yards, connected to old rail lines that have fallen out of regular use. That feels like an opportunity.
Imagine reviving the Grand Junction Line, which connects North Station through Kendall Square to Beacon Yards in Allston, with nimble railcars. Or Track 61, an old spur running from the Seaport to Widett Circle, and theoretically Back Bay Station. With demand, and perhaps funding, we could better link an Amazon campus to some of our most dynamic neighborhoods and busy commuter hubs.
For that matter, we could make Mike Dukakis a happy man and finally build the North-South Rail Link, closing a 1.5-mile gap that effectively cleaves Boston's labor market in two. Helping workers from towns south of the city reach a campus to the north, or vice versa, would help you hire from a broader swath of the region, and would spread the benefits of your campus more widely across our population, too. An easy trip from Brockton to Cambridge, for instance, can open up a lot of opportunity for workers and big employers alike.
BUT FIRST: Instead of building garages at your campus, why not buy every Amazon employee a T pass? That's what MIT does. You say you want a campus that's connected to the community. How better than to get your workers out of the car and onto the sidewalks and subways with the rest of us? It'll send a message and save your people the frustration of driving here. And with 50,000 workers, you'd pump tens of millions of dollars into the system, which helps keep those trains running on time.
Where is everyone supposed to live?
Boston already has some of the most expensive housing in the country. We do not need your 50,000 well-paid tech workers making it worse. So if you're coming, let's get building.
THINK BIG: We get that Amazon isn't really in the housing business. But neither were the Pullman railcar company, Hershey chocolate, or Steinway Pianos back in the days of company towns, and they built whole neighborhoods to house their workers.
Why not reinvent that idea for the 21st century (minus the creepy corporate paternalism), and develop a campus where at least some of your workforce can also live? It would sop up demand and keep your workers from pricing even more of our working-class residents out of their neighborhoods, and avoid all the resentments that could create. It would take a load off the roads, too, making commutes easier for everybody.
Housing would also give you the chance to build a true mixed-use campus, with housing and retail alongside the office buildings. Think about Amazon Town as a destination where you can show off your big ideas, a place truly knit into Boston. A company town we can all call home.
BUT FIRST: Use your clout, and maybe your wallet, to help along the efforts launched by the Baker administration and Boston Mayor Martin J. Walsh to address the region's already deep housing shortage.
Boston proper is building fast, with Walsh's plan to add 53,000 units by 2030 running ahead of schedule. But some of our suburbs barely build at all. If you want your employees, even with their six-figure salaries, to be able to buy homes and access some of the region's best public school districts, you want that to change.
So lead the business community in pushing for state laws to enable denser development, especially around transit, and for more senior housing, so empty nesters have someplace to go and sell their houses to young families. Housing advocates are working on this, but they could use more juice on Beacon Hill. So strike a deal with the Baker administration. If you come to Boston, the governor gets serious about zoning changes. Then work together to make it happen. Suburban development might not be sexy, but it's the sort of thing that could make Boston better for us all.
Help wanted: Our kids, your future employees
Can our kids outsmart the robots?
Not unless things change. Schools already do a poor job of educating many students in urban districts, and automation almost certainly will accelerate the inequality of opportunities.
Amazon, no matter where it builds its next headquarters, will struggle to find workers with the right skills. There's got to be a better way to build the tech pipeline.
THINK BIG: The business community, with Amazon at the helm, should lead a fund-raising campaign tapping private and public sources to deliver $1 billion over four years to invest in education and training in Massachusetts.
Executives will open their wallets when they want something. They did it for charter schools, they did it for the Summer Olympics bid, they will do it for a trained workforce.
Last week Google pledged $1 billion nationally to groups that could close the education gap in tech, and, before that, IBM made a similar commitment working with community colleges. How about you, Amazon?
An infusion of funds could allow every public school to hire a computer science teacher. We could create a "public MIT" at one of the University of Massachusetts campuses, and call it MassTech. UMass Lowell, with its science and engineering roots, could make a go of it.
We could put a swath of students on a fast track to a tech degree starting in high school. Working with community colleges, we could design a "Prime" diploma not just for Amazon but any company in need of graduates with these skills.
If the tech industry is short on talent, it's because women and minorities haven't been welcomed. Let's use part of the $1 billion to create scholarships to recruit underrepresented groups.
The state could also give incentives to employers who help pay for a prospective employee's undergraduate education — provided that employee stays in Massachusetts for a few years. Instead of handing out signing bonuses, Amazon and others could invest in educating promising talent that might otherwise not go into tech or be able to afford college.
BUT FIRST: High schools, colleges, and employers must work more closely together to ensure that what's being taught in the classroom keeps up with the fast pace of technological change. Charlestown High School, Bunker Hill Community College, and SAP have a model that is worth replicating throughout the state. More employers should rally to turn around Boston's troubled Madison Park Technical Vocational High School, while others should embrace experiential learning pioneered by Northeastern University, so more students can connect what they're learning in the classroom with what's happening in the real world.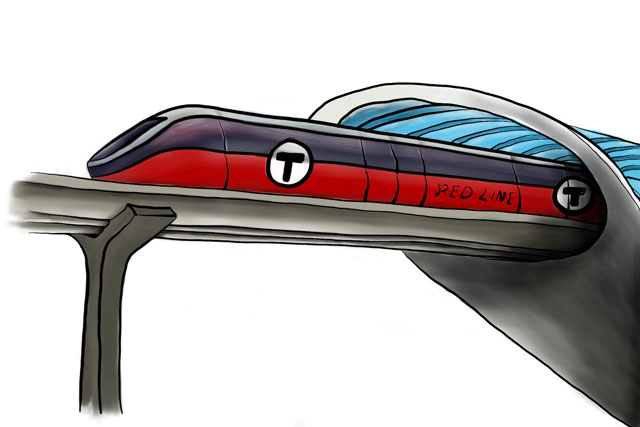 Innovative ideas for taking on future problems now
Drone traffic is moving right along on the Esplanade delivery corridor
In 1942, thunderous military planes approaching the airport next to a North Carolina chicken farm would fly so low over the henhouse that the startled birds would hurl themselves into the walls and die. The irate farmer sued, ultimately leading to Supreme Court precedents for who owns the sky. Property owners control the "immediate reaches" of the atmosphere, the court held, not getting too specific about it. Above that, pilots don't need permission to fly over your land.
We're on the edge of a new set of thorny questions about the sky over our heads. Amazon, which would like to deliver small packages by drone, will be in the thick of debate.
Drones 400 feet overhead could mean fewer cars and trucks on the streets, but the technical and legal barriers to routine drone transport of items — and potentially even human beings — are immense. We prevent airplanes from colliding by employing lots of highly trained people to watch screens all day and speak directly to pilots. Drones would need an automated air traffic control system that is reliable and un-hackable. Maintaining safety would be the biggest issue, but there would also be difficult questions of privacy and property rights to work out. Is your privacy harmed, for instance, if your 10th-floor condo is on the Domino's drone delivery route to the frat house down the street? Would the people you're flying over have to consent to drones overhead? Can a city say consent is implied by anyone on a public street?
These are questions Massachusetts and Amazon could address together, perhaps first by establishing corridors, as New York state is doing, for test drones to navigate, steering clear of any chickens.
Growing old together through data mining
Thirty-three years. That's the difference in life expectancy between children born in one section of the Back Bay and another in Roxbury. Perhaps no other statistic captures the current slant of the field on which Bostonians play.
With geneticists already tinkering around with the building blocks of life, this three-decade chasm could grow far wider. Or it could narrow dramatically. Wipe out diabetes? Engineer healthier children? Both may be possible in the coming decades.
Many more Bostonians will live longer, that much is for certain. But what of the quality of those additional years? And how do we make sure that longer lives don't mean more unequal lives?
The business of DNA editing that will bring us that future isn't something that obviously belongs in the wheelhouse of a retailer like Amazon. But look closely at the companies inside Interstate 495 that are already engineering the next generation of genetic cures, and they need the same things as many businesses — the ability to store and manage massive amounts of data, to secure platforms on which to conduct global business, and to create a logistics network that can ensure their supply chains.
Amazon could use its market influence and data-mining expertise to help create a citywide, or regionwide, trove of clinical and genetic data, with stringent privacy protection, that could be used for decades for research, and perhaps help close that 33-year gap.
Do something about the impending sea level rise
Architects in Boston are already designing buildings in which the transformers and electrical components are not in the basement, but high above the flood plain.
A campus the size of what Amazon has in mind — 100 acres, perhaps dozens of buildings — could become a key piece in Boston's flood defenses, and a model for climate change-resilient development in Boston and other coastal cities.
Much as General Electric will landscape its new headquarters along Fort Point Channel to sit 19 feet above sea level, Amazon could build its campus on higher ground, too. Put it in the right place and it could even protect whole neighborhoods.
Several of the sites local officials may pitch Amazon — Suffolk Downs in East Boston, the Allston rail yards, NorthPoint in Cambridge — sit on low-lying land near the water. One in particular — the long-discussed Widett Circle (where planners briefly envisioned an Olympic stadium) — sits near the end of Fort Point Channel, which is a veritable floodway into the South End, parts of South Boston, and Chinatown. A well-designed Amazon campus there, along with improvements along the channel itself, could help a whole swath of the city stay dry.
One ticket for the Hyper-T to Weymouth, please
Move some of the most innovative transportation thought experiments into the real world, with this city (or region) as a test lab. Collect data, and adapt on the fly. Elon Musk's Hyperloop could become reality (envision it connecting the old South Weymouth Naval Air Station site to downtown Boston, Kendall Square, or both.) Kathy Abbott of Boston Harbor Now contends (as do others) that there's more potential for year-round ferry transport. No expensive rail line required — just new docks and boats. Driverless cars are already being tested in quiet corners of the Seaport, if not yet the old cowpaths of downtown, but they promise to transform the ways we get around, likely in ways we can't yet predict. And what about driverless delivery vans? If we're thinking about this stuff, we're guessing someone at Amazon is too.
A Harbor Island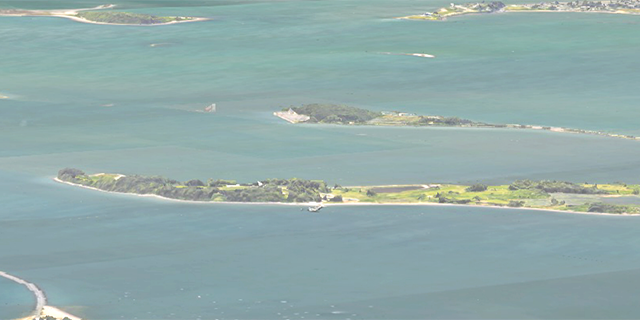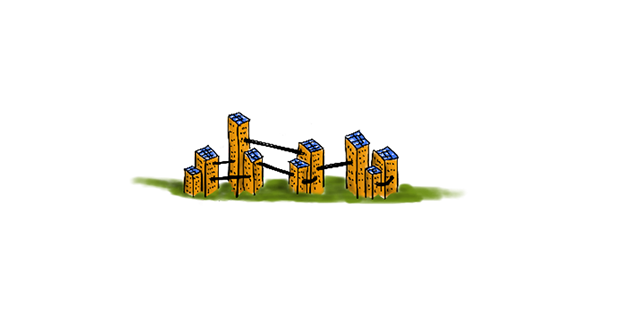 If Amazon wants to build its dream headquarters, what better place for it than one of Boston's 34 harbor islands?
Pros: No pesky neighbors to complain about tall buildings or traffic. No traffic at all, actually. And the ferry ride makes for a pretty commute.
Cons: That ferry ride might be pretty, but come January, it's cold. And meeting someone for lunch could chew up half the day.
Up in the air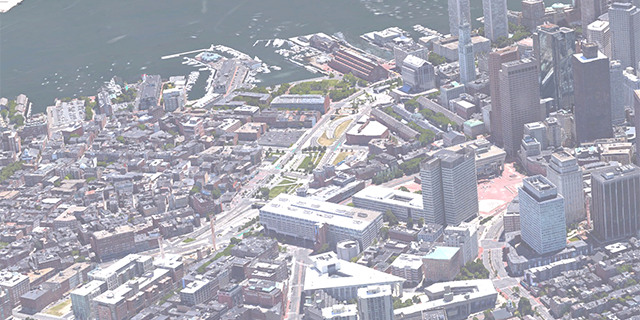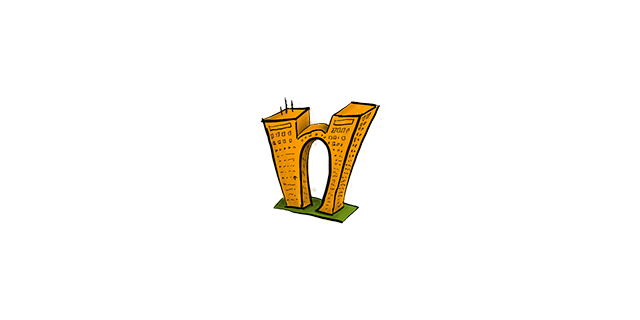 Let's face it, Boston's downtown skyline could use a little pop. How about an Amazon Tower, or three, maybe on top of the Government Center Garage. Yes, there's already a two-tower project planned there, but we're thinking taller. Maybe 800 feet? A new top of the Hub.
Pros: Building up, not out, would save money on land. And a skyscraper would let Amazon plop right into the heart of the city.
Cons: The last thing we need is another fight over shadows from tall buildings, and that'd be likely. Also, the FAA might have something to say about takeoff routes from Logan Airport.
Over the Pike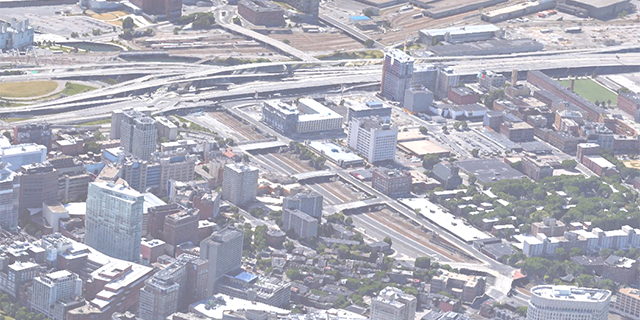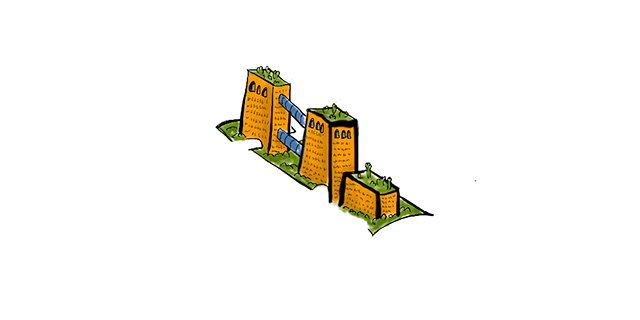 If you want to find open land in a crowded city, sometimes you have to create it yourself. Fortunately, we have the Mass. Turnpike. Think about a deck above the pike, stretching from Clarendon Street to perhaps Harrison Ave. A half-mile-long campus through the heart of Boston. It's ambitious, sure, but so is Amazon.
Pros: You'd be in the middle of everything, bridging some of Boston's most dynamic neighborhoods and literally on top of the T, commuter rail, and a highway.
Cons: Pike air rights projects are the great white whale of Boston development. Nobody has pulled one off since they built Copley Place in the '70s. Good luck.
The Widett floodwall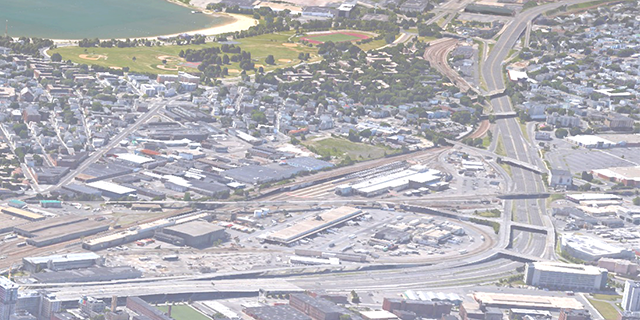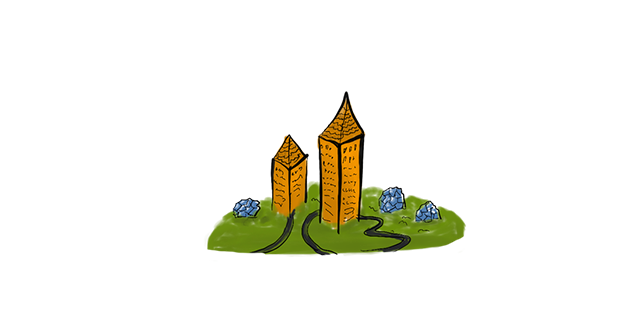 How do you build a big corporate campus and save Boston from rising oceans? Put it at Widett Circle. The rail yard sits at the end of Fort Point Channel, a veritable floodway from Boston Harbor into low-lying parts of the South End, South Boston, and Chinatown. Build there on high ground, and hold back the sea.
Pros: Widett's a good spot for other reasons. The seawall is a cherry on top. But it's an important cherry in our coastal city, and one that would signal Amazon is thinking about the long haul.
Cons: It would take a lot of dirt to rise 20 feet above sea level. And what an engineering challenge! But Amazon's full of engineers who are up for a challenge, right?
"Amazon on the Orange Line"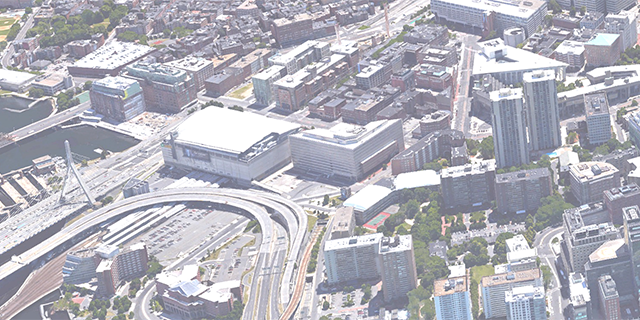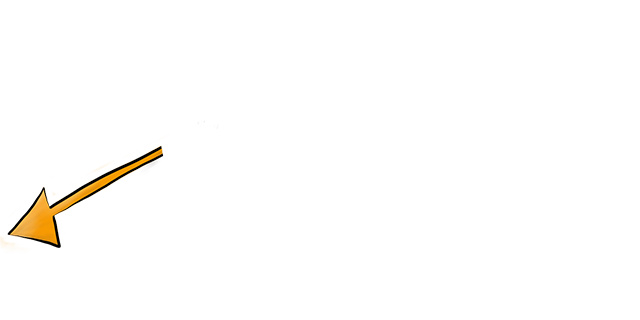 Think of your campus as more than one site. Think of it as the whole city. Or three cities. Imagine a string of Amazon buildings along the Orange Line from Boston to Cambridge and Somerville, with the best all three cities have to offer. And get a T pass.
Pros: Easy access to a pair of community colleges and neighborhoods from Malden to Jamaica Plain. Also keeps your eggs from piling up in just one municipal basket.
Cons: This plan is pretty reliant on the T, which can sometimes go poorly. And have you seen the mess that is Sullivan Square? You'd be right in the middle of it.