Make the most of your 2019 summer weekends with this list of roadtrip-worthy events and entertainment all across New England.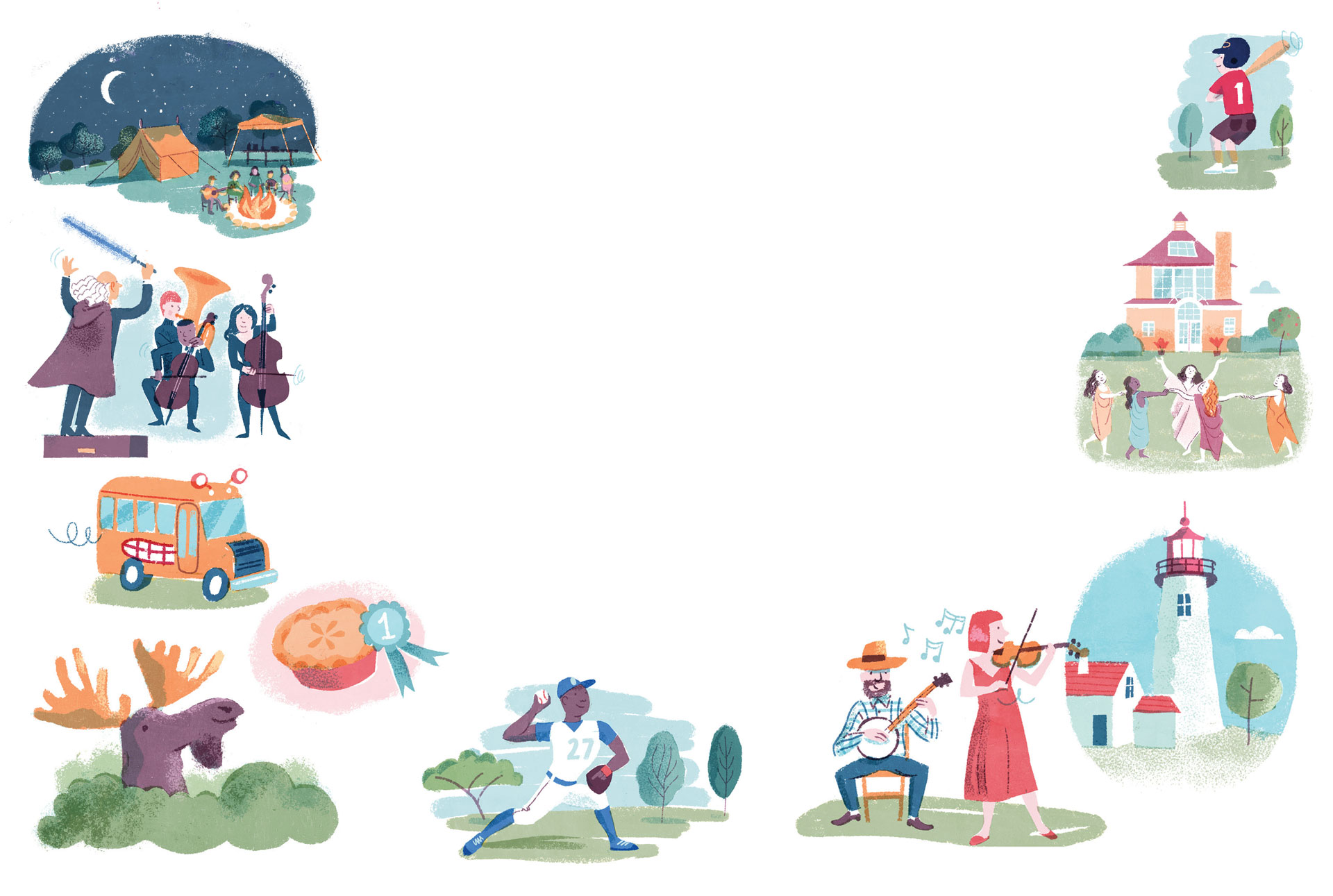 Pioneer Valley Wine & Food Festival
Best known for antiques extravaganzas, Brimfield celebrates its agricultural heritage with this new festival featuring about a dozen local wineries and cideries. A fleet of food trucks guarantees that you can find the perfect dish to pair with your sauvignon blanc, mead, or blueberry wine. Local musicians keep things lively, while farmers offer early summer produce.
The life of Adam Jackson, who was enslaved at the Joshua Hempsted House for more than 30 years, is the departure point for exploring the history of Northern slavery and celebrating emancipation. Activities include dance and music performances, a gospel choir concert, portrayals of historic African-American figures, and a black entrepreneurs' fair. Joseph McGill, founder of the Slave Dwelling Project, will discuss his efforts to preserve these historic spaces.
Sculptor Daniel Chester French considered Chesterwood, his summer home and studio in the Berkshires, nothing short of "heaven." See for yourself when the property opens its doors for a free day of tours and art activities. A modern troupe will re-create the choreography of Isadora Duncan, who once danced on the lush lawn. It's hard to imagine a prettier sight.
Northeast Fiddlers' Convention
Bring your banjo, guitar, or fiddle to this celebration of old-time music at Hancock Shaker Village. You'll find plenty of places to sit and pick as well as workshops led by the musicians of the Down Hill Strugglers string band. See them in action at the Saturday evening concert and square dance. Camping on the village grounds is a bonus.
Classic Auto Festival: Trucks!
Trucks are the stars of this gathering of 200 or more vehicles of every era parked amid the historic buildings on the grounds of the Shelburne Museum. To make it a Father's Day party, the organizers promise car-themed films, games, and art-making activities, along with barbecue and food truck treats.
Wicked Maine Outdoor Fest
Don't even think about lighting out without some of the cool gear showcased at this new festival focused on Maine's great outdoors. Try fly-casting, archery, ax throwing, or rock climbing, and check out the latest in camping gear, water-sports equipment, and more. A craft beer and wine garden, food trucks, and live music add to the party atmosphere.
With John James Audubon's stunning bird prints forming a blockbuster exhibition at Rosecliff mansion this year, the flower show dons ornithological plumage of its own. Competition gardens are either based on a bird (pink flamingo, blue heron) or designed to attract individual species. The indoor floral competitions take an Audubon print as inspiration. Free lectures and demonstrations augment the organic eye candy.
Art and Nature 5K Trail Race
Some of the 200 or so participants are running for a personal best, but it's fine to take it slow — or even walk — on this particularly scenic course. After prerace yoga, runners loop around the deCordova Sculpture Park and then follow a woodsy trail to the finish line. A new 50-yard dash is open to runners age 9 and younger. Advance registration required for both events.
Vintage Bazaar of New England
To entice and inspire buyers, vendors spend two days setting up their displays, often incorporating unusual props and even vintage campers or trucks. Home design show aficionados can draw inspiration from the 175-plus vendors of antique, vintage, repurposed, and handcrafted goods. Check out the live auction on Sunday, or take a break with live music and food trucks, all in the pasture of historic Woodsom Farm.
Geek culture's common denominator is passion, whether for anime, "Star Trek," digital comics, "Game of Thrones," or myriad other pop-culture phenomena. Spilling out from its base hotel into an outdoor wedding tent and across the street to the Maine Mall, PortConMaine is an inclusive gathering of the geek tribes, with games, cosplay, panel discussions, gear vendors, and appearances by video-game and cartoon voice artists and others in the trade.
The Shaker philosophy of "hands to work" lives on at this gathering of more than two dozen artisans at Canterbury Shaker Village. They display their wares and demonstrate such crafts as blacksmithing, rug hooking, weaving, lace making, furniture making, and boat building. For demos of traditional Shaker oval box making and broom making, Canterbury artisans take the lead.
If you were thinking of visiting Dartmouth College to see the newly reopened Hood Museum of Art, the final weekend (June 28-30) of the SHIFT arts festival at the adjacent arts center provides a good excuse. Catch a circus arts performance, an environmental sound installation, or activist singer Iris DeMent in concert.
Home Run! An All American Baseball Day
It's no surprise that the illustrator of classic American scenes had a soft spot for baseball. The Norman Rockwell Museum invites fans of all ages to bring their mitts for a game of catch with college and minor league players. Arts activities, tours, and an illustrated talk about Rockwell's baseball images round out the family festival.
Native American Festival and Basketmakers Market
If you want a basket created by one of Maine's master makers, arrive early at this market sponsored by the Abbe Museum and the Maine Indian Basketmakers Alliance. You'll also have the chance to meet emerging basket makers as well as artisans working in other traditional crafts. The community gathering features music, storytelling, drumming, and Native food, too.
The first Europeans to occupy the peninsula that's now home to Castine were French, so the town has a good excuse to throw a big Bastille Day party. Expect cooking demonstrations, walking and kayaking tours, and a lighthouse climb. Bring your own food or buy box dinners from local restaurants for the signature Picnic en Blanc (call town hall to reserve your spot, and plan to wear white). Then enjoy the last of your wine during the concert on the town common.
Northeast Balloon Festival
Balloon flights begin at 4:30 a.m., which leaves you a full day to check out the craft expo, amusement rides, petting zoo, and 30-plus food vendors. You might also try ax throwing or enter the bacon-eating contest. Late riser? Check out the evening flights and tethered balloon rides. The ethereal "balloon glow" displays on Friday and Saturday are tranquil moments in an otherwise jam-packed schedule.
Yarmouth Country Festival
Cape Cod goes country at this feel-good festival at the Old Yarmouth Drive-In property. It offers plenty of stage-front space for dancing to the Charlie Daniels Band and singalong crowd favorite Uncle Kracker. Local musicians include Ashley Jordan, the Boston Music Awards 2017 and 2018 Country Artist of the Year. Vendors offer everything from jewelry and artisanal glass to cowboy hats and boots, while food ranges from clam chowder to barbecue and tacos.
Southern Vermont Dance Festival
With the goal of opening the world of dance to everybody, this festival features about 100 classes for novices, professionals, and everyone in between. Or you can attend ticketed performances or enjoy the free outdoor shows of live music, dance, and movement-inspired visual art. The Midsummer Night's Picnic, a magical journey through the woods from performance to performance, is a highlight.
Forever Grateful Music Festival
"There will be lots of jams," promise the promoters of this Grateful Dead extravaganza with three stages of continuous music. Some bands play their own music or pay tribute to Janis Joplin or the Allman Brothers, but the Dead rule. Break out an old concert tour T or pick up some new tie-dye duds from one of the vendors.
DJ-led yoga classes begin and end this festival on a family-run farm. It's an ideal spot to merge nature, yoga, music, and art into one exhilarating day. Pack your schedule with yoga classes and workshops such as painting, meditation, and shinrin-yoku ("forest bathing"). Or simply peruse the marketplace and enjoy all-day music and art installations. A children's camp lets adults explore distraction-free.
FRINGEPVD: The Providence Fringe Festival
About 50 performing arts groups from around the country converge on Providence for this quirky celebration of creativity. The "unjuried and uncensored" offerings might range from a punk rock musical to an aerial arts performance to a magic show. Events take place indoors and out; they cost no more than $15, and many are free. Family Fringe Day on Saturday features kid-friendly performances and ice cream.
Antique cars, a classic carousel, and a splash area with a giant treehouse are usually more than enough to keep youngsters engaged. But kids may also want to join the scavenger hunt, play lawn games, learn to make jellyfish from plastic bags, and meet Amazing Animal Ambassadors from around the world. Children love the animal photo ops, while parents appreciate free kids' admission.
Salem's mariners used to crisscross the globe. Now this festival brings the world to Salem, with performances including Canadian fiddling, Irish step dancing, and Afro-Dominican jazz. Hands-on demonstrations of rope making, knot tying, cooking, and spinning give a taste of early New England life. Expect sea chanteys, colorful pirates, and opportunities to board the newly restored Friendship of Salem, a replica of a 1797 East Indiaman Tall Ship.
Charlestown Seafood Festival
Many folks choose the shore dinner of lobster, steamers, corn, and potatoes, but you can assemble your own smorgasbord of lobster rolls, chowder, fried clams, and Rhode Island specialties — clam cakes and stuffed quahogs ("stuffies"). Live music and amusement rides help fill the time between meals. Fireworks light the sky on Saturday, while Sunday features the "Hot Rods and Harley Haul" car show.
BYOB (bring your own blanket) to this free two-day celebration of local blues talent, but leave the food and drinks at home; the Events Center at Mulligan's Island will have plenty for sale. Music ranges from the sly country of duo Cross Rhode Blues to the guitar-and-horns sonic wall of Ed Peabody and the Big Blue Thang. Lawn chairs and umbrellas are welcome, but keep 'em low.
Vermont Cheesemakers Festival
Some of the world's best cheeses originate in Vermont, which boasts more cheese makers per capita than any other state. This festival is organized like a farmers market for cheeseheads, with 40-plus producers offering some 200 varieties to taste and buy. Other vendors include restaurants, breweries, and the WhistlePig whiskey distillery. Learn to pair and evaluate cheese, and see cooking demos from local chefs.
Keith Lockhart Conducts Star Wars: A New Hope
You'll have to start your weekend early. But it's not often that you can view the 1977 film "Star Wars: A New Hope" screened with live orchestral accompaniment. When Keith Lockhart takes the baton to lead the Boston Pops Orchestra, you'll understand why the American Film Institute named the John Williams masterpiece the "greatest American film score of all time."
Dragon Boat & Asian Festival
The Connecticut River becomes a six-lane superhighway when close to 90 dragon boat teams race in what organizers call a "friendly competition." If you can pull your eyes away from the colorful boats, the onshore festival features food vendors, dance performances, and martial arts demonstrations as well as origami and other arts activities for children.
Green Mountain Bluegrass & Roots Festival
Now in its second year, this four-day string-band extravaganza is encouraging a new generation of fans with free admission for kids younger than 16. Festival-goers are encouraged to camp, since jams on the after-hours stage go into the wee hours. Food trucks, Vermont wine and beer, and the Green Mountains backdrop make this event a late summer night's dream.
This 46-year-old community event has it all. More than 100 local craftspeople sell their wares on the Town Common. Look for potters, weavers, glassblowers, woodworkers, and jewelers, among others. The Fire Department holds a chicken barbecue, and Richards Library offers crafts for kids and a book sale. The real crowd-pleaser, though, is the apple pie contest and bake sale.