At dusk the passage seemed safe enough, but then came the unexpected weather.
A lifeboat carrying 70 desperate people, including war refugees and small children, had sailed into the fast-fading light. Halfway across the channel between Turkey and Greece, the engine died. On suddenly rough seas and amid a bank of light fog, mothers struggled to hold onto shrieking children. Some passengers became violently ill.
"We see our deaths," said a passenger, Mohammad, a 27-year-old refugee from Syria, who was fleeing threats from terrorists and feared for his family back home.
The fleeing migrants, with the help of fishermen, made it to this island's shores Saturday — greeted by the incongruous scene of seaside tourists sipping white wine and eating salads. But it is a measure of their desperation that refugees are still braving uncertain waters to reach Europe despite growing roadblocks along their journey and the threat of drowning that has claimed thousands of lives in the past two years.
On Sunday, 34 more refugees, half of them children, drowned off the island of Farmakonisi.
About 500,000 migrants and refugees from Syria, Afghanistan, and other lands have fled to Europe this year, and most have landed in Greece. And they are arriving in the greatest numbers on Lesbos, a picturesque island of stone streets and olive groves where many Greek-Americans in New England have roots.
But few would recognize the island now.
Thousands of discarded life jackets clutter the rocky beaches, deflated rubber rafts hug the shore, and refugees slog for miles on the winding dirt roads into town, hoping to register with Greek authorities before heading to Germany or another nation willing to accept them.
For Greeks already dealing with a economic crisis, the influx is a shock. Many volunteers from Greece, the Netherlands, and other countries are trying to help, handing out water, offering directions, or providing dry clothes.
"What you realize is you have a lot," said Andrea Sarris, a Greek-American who lives on Lesbos but grew up in Dover, Mass. "While we psychologically have gone through a lot in Greece, these people have gone through war. They have the clothes on their backs. They have babies."
Few Syrian refugees have made it to Massachusetts. The United States has accepted just 1,600 refugees from Syria since the unrest began four years ago. This month, the United States pledged to take 10,000 more over the next fiscal year. But the International Rescue Committee says 10,000 refugees arrive on Lesbos each week and Monday urged the United States to accept 10 times more by the end of 2016.
Major migration routes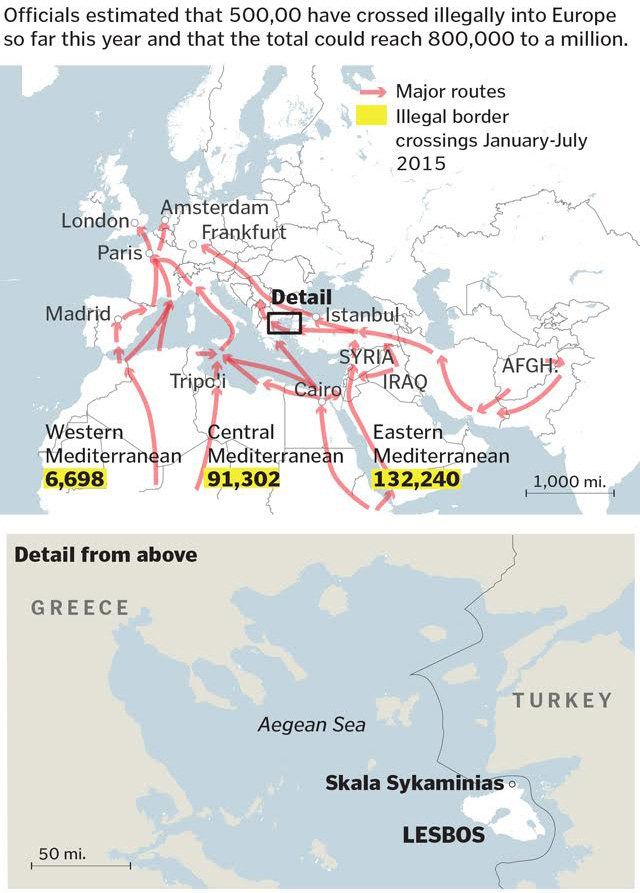 Sources: iMap; Frontex; AP
David Butler/Globe Staff
Four million refugees have fled Syria alone — a number larger than the entire population of Connecticut — since a brutal civil war broke out after peaceful prodemocracy protests in 2011. About half fled to neighboring Turkey, 6 nautical miles across the Aegean Sea from Lesbos. Other migrants come from Iraq, Afghanistan, Iran, Pakistan, and other places.
On Lesbos, 2,000 refugees arrive daily along the northeastern coast, according to the International Rescue Committee, which helps settle the newcomers. The point on Lesbos closest to Turkey is Skala Sykaminias, a fishing and farming village with a quaint marina where tourists sip strong coffee as fishing boats bob nearby.
In Skala Sykaminias, the refugee boats arrived at first light Saturday — and kept coming all day.
At 6:56 a.m., as the fishermen headed out into the Aegean, one of the first refugee boats was speeding toward shore. Everyone aboard smiled broadly.
As soon as the rubber dinghy hit land, the occupants of the overcrowded boat poured onto the beach. Passengers laughed and snapped photos with the driver. Smugglers charge refugees as much as $1,800 apiece for the one-to-two-hour journey — which can take much longer if it goes awry — but the "captains" are often other refugees who cannot sail or swim.
Now that anxiety was behind them. Hassan Al-Baghdadi, a 25-year-old lawyer from Iraq, whipped out a selfie stick to take photos. His friend, a burly gym owner, changed into a dry shirt: a Boston Celtics jersey, a gift from a friend.
They had each paid $1,300 to cross. The lawyer said it was worth every cent.
"Iraq is full of terrorists," he said.
At 10:33 a.m., high on a hill, a stout fisherman named Dimitris Karapanagiotis scanned the horizon for boats. He spends all day waving life jackets to guide the boats to shore, so he can grab their engines and then resell them for cash. Some frown on the practice, saying the authorities should confiscate them instead.
But in Greece, one in four people is unemployed. He needs the money.
"The criminals are the politicians for doing this," Karapanagiotis, 47, barked while waiting for the boats. "They call themselves peacemakers. Actually, they are causing all these problems."
Seconds later, he spotted another boat.
A rubber raft skidded to shore, and a group of Afghan students from an all-boys school in Kabul, some too young to shave, jumped out in T-shirts and jeans. They huddled to figure out what to do next.
Few Afghan migrants speak English. But Mohammad Husain, 16, had taken a class.
Afghanistan is so chaotic and poor that the life expectancy is less than 50 years. He said his family borrowed money from a rich man to send him here.
"It was so dangerous," he said in English. "The situation in Afghanistan is not good. We are compelled to come here." He wants to seek asylum — which would give him official refugee status.
At 10:54 a.m., another boat barreled toward shore, but this time nobody smiled. The passengers leaned forward, as if willing it to land. And when it did, they staggered out, speechless. A white-haired man clad in a soaked business suit under his life vest. A young Afghan interpreter who spoke English and said he used to interpret for the US Army.
Saghar Karimi, 22 and from Afghanistan, clutched her 1-year-old niece and sobbed. "The motor wasn't working," she said.
At noon, a rubber dinghy arrived with a group of men from Damascus, a city in Syria badly damaged by the civil war. The men refused to give their names, saying they feared the repressive government or the Islamic State extremists would harm their families back home.
Instead, they showed a reporter their scars.
One man lifted his shirt to reveal bullet scars in his abdomen and a long scar down his torso.
Another rolled up his shirt sleeve to reveal a round scar on his arm, from a bullet.
A man named Anwar pointed to a jagged scar on his cheek.
Omar, a gaunt man in a green jacket, was on crutches. A friend unwrapped an ACE bandage covering his disfigured right leg. Then, with no buses there to help him, Omar turned with his friends and hobbled to town on the dirt road.
By 12:14 p.m., temperatures soared to 80 degrees. When the next boat landed, everyone fled to the shade.
Except for Hiwa Amine, a 30-year-old from Syria. Thrilled to have arrived safely, he stripped to his shorts and charged back into the sea.
"Everything is OK! Everything is OK!" he shouted in English, splashing in the water. "Because Europe is life. Europe is love."
Minutes later, at 12:56 p.m., a rubber raft veered toward the rocks at the bottom of a steep hill. On land, volunteers shouted at those in the boat to aim for the beach. But then the engine stopped, too far from shore.
The two groups stared at one another, helpless.
Refugees blew emergency whistles. Volunteers strained to search for the coast guard. Finally, a refugee jumped into the water to propel the boat with his legs. With more than 40 people on board, it barely budged. More men jumped in the water. Another paddled with a single oar. Others clawed at the sea with their cupped hands.
As they struggled, a European journalist flew a buzzing camera drone over their heads.
Finally, they arrived at the rocks. A man with Parkinson's disease had been on board. Minutes later, the coast guard sped by.
"We're Syrian," a man said, to nobody in particular.
All day and night, the boats kept coming. At 4:03 p.m., an Afghan family of 10 arrived in rough seas and stood soaking wet just steps from a luxury tour bus ferrying Austrian tourists around the island.
Nobody imagined more refugees would brave the rough seas that night. But more did.
Just after 9 on Saturday night, the dinner crowd gathered at elegant outdoor cafes surrounding a tiny marina in Skala Sykaminias looked up from their meals. Four fishing boats were hauling in the lifeboat that carried the 70 refugees.
Onlookers applauded the fishermen as refugees flooded the port shrieking and sobbing and searching for their children.
A woman in an elegant white dress spotted unattended children hauled off the boat and rushed to hold them for their parents, grabbing one, then another, until she could not hold them all.
Nearby, another woman folded her arms and stared.
Many on Lesbos worry the migrants and refugees are driving away tourists, even though this island has erected statues to honor refugees. One monument, a Greek woman huddled with her children fleeing war in 1922, eerily resembles today's refugees.
But Saturday night, authorities quickly swept the newcomers to an alley out of view.
In the dark, Rima, a teacher from Damascus, huddled with her family. She tugged on a reporter's arm to display photos on her telephone from the life they once had. Her husband had worked at a fancy hotel. She wore a glittering white gown at their wedding four years ago. They have a daughter.
Then her husband's brother was killed. Shelling destroyed the city.
"This trip. It was crazy," the woman said in English, asking that the Globe not reveal their names because their parents are still in Syria. "But what do I do? Let my daughter grow up in Syria with fighting and bombs and killing? I have two choices, and both choices are ugly."